Quiche Lorraine Recipe Video (scroll down for printable recipe)

The famous quiche Lorraine, basically bacon and eggs in a pie. What could be better? Traditional quiche Lorraine doesn't include cheese, but if you just can't get enough of the milky stuff, you can add 4 ounces of diced Gruyere or Comte cheese in the bottom of the pan with the bacon. I think that most quiche Lorraine you'll find in the US does include it.
Most quiche in the US is also made in a pie pan. A large tart pan is best, though most people don't have those I'd wager, which is why pie pan quiches have become standard. If you can get your hands on a 9 or 10-inch round tart pan with a removable bottom, do it. It allows you to remove the quiche from the pan in one piece and doing so will keep the crust from getting soggy. A springform (cheesecake) pan will also work, though the edges of the crust won't look quite as pretty.
For a vegetarian quiche option, try my Very Best Mushroom Quiche. It's the Very Best! (And not only because I say so.) And don't miss the perfect French dessert to go with either quiche: Peach Melba!
Quiche Lorraine Recipe – Printable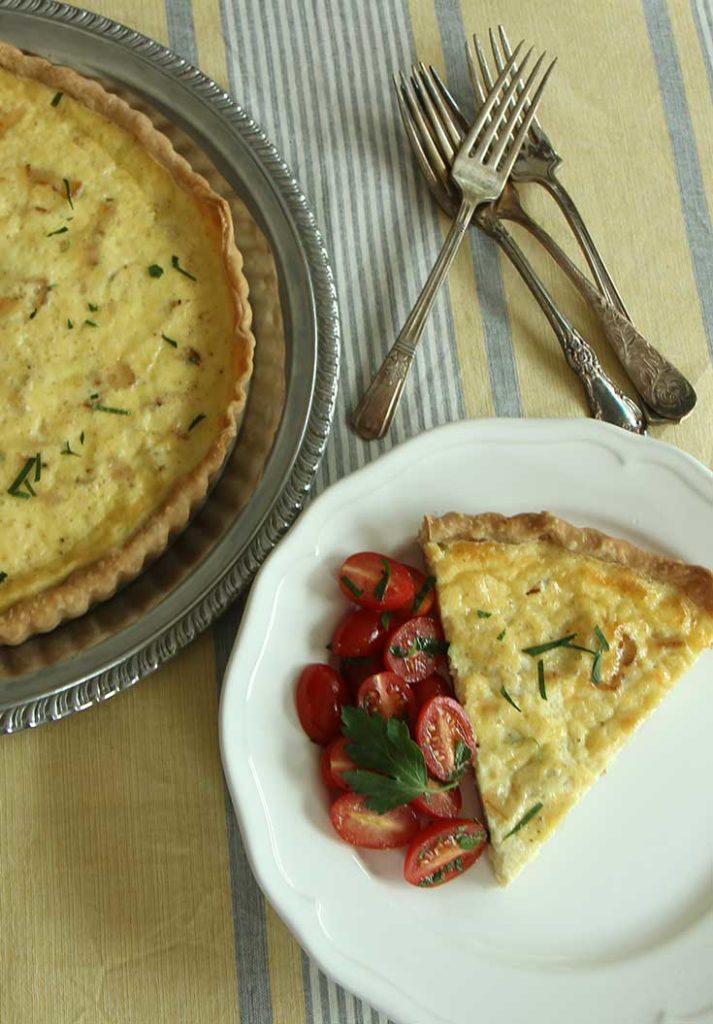 Print
Quiche Lorraine
1

pie crust

6 ounces

diced bacon

3

eggs

1 cup

milk

1 cup

heavy cream

1/2 teaspoon

salt

1/4 teaspoon

pepper

1/8 teaspoon

grated nutmeg
(4 ounces diced cheese)
Instructions
Set oven to 350ºF/ 180ºC
Place the crust in a tart pan or pie pan and trim the edges. Set aside.
Cook the bacon over medium heat for about 5 minutes, until most of the fat is rendered and the bacon is cooked and beginning to crisp up.
Spread the bacon in the bottom of the crust. (add cheese now, too if you are using it)
Beat eggs with milk, cream and seasonings. Pour over crust.
Bake 45-50 minutes.
More French Recipes to Try!
How to make a cheese plate
Mushroom Quiche
Peach Melba
Gougeres
Tips on how to throw a French-themed Brunch Party