Before you say "that does NOT sound like a salad" let me say that peach bacon salad also has arugula in it so it actually IS a salad. But peach bacon arugula salad with almonds has too many words. So peach bacon salad it is!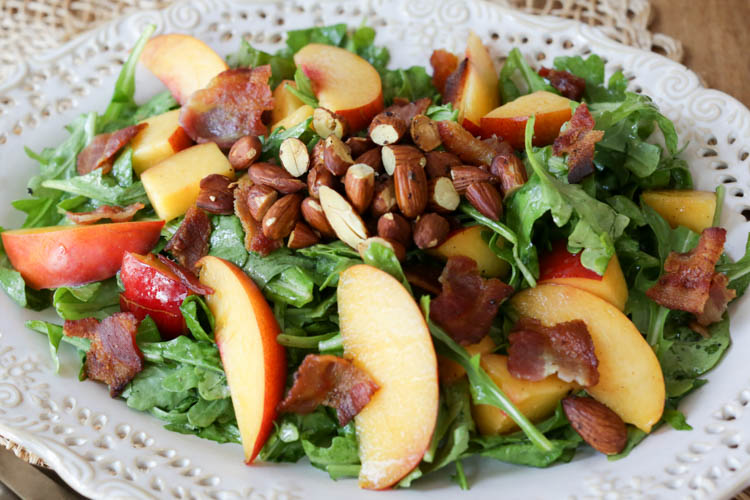 This pretty little number makes a great main-dish salad for hot summer days (or nights). Peppery arugula tossed in an easy homemade honey mustard dressing, fresh ripe peaches or nectarines, crispy bacon and toasted almonds combine for a salad that is juicy and crunchy . . . at the same time. Say what??? I said it. I don't regret it.
If you are serving as a main-dish salad, double the quantities to serve two people. The nutrition info in the recipe card assumes you're making two side dish salad servings. If you want to make it for a big ol' crowd, try cooking your bacon in the oven, remove from baking sheet, add almonds and bake them for about 10 minutes.
If you want more protein, add grilled chicken, but for me, this salad is the tits just like this: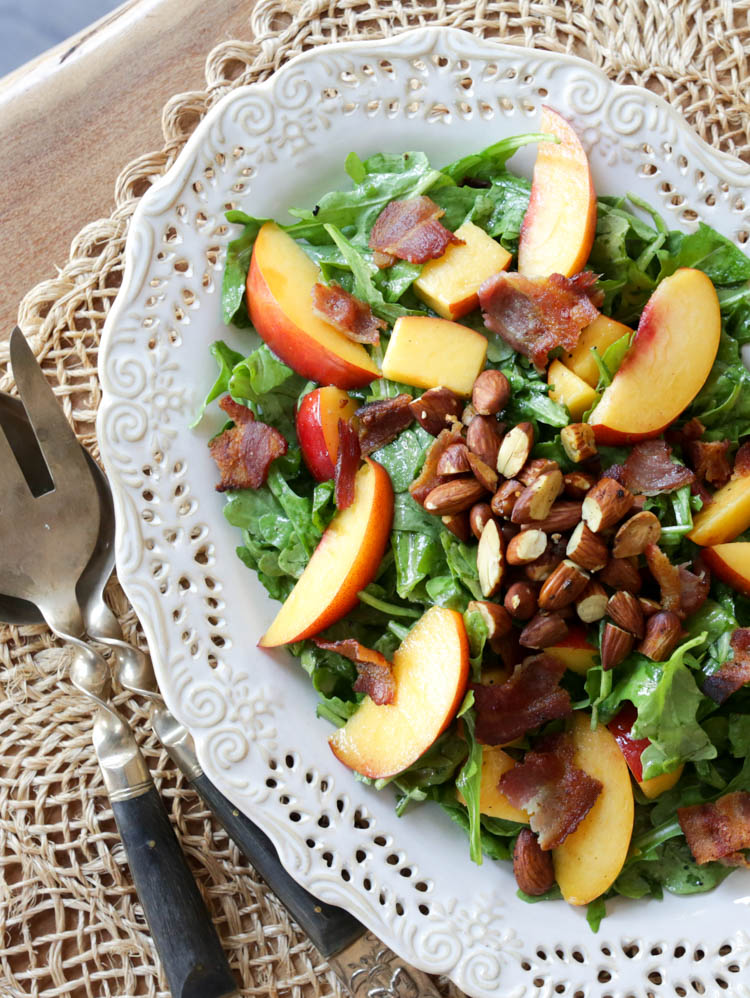 Here's a tip: If you happen to have a bounty of those hella good summer peaches and tomatoes, make my twist on peach tomato salad with a sweet and sour lime-ginger dressing.
Print
Peach Bacon Salad
Author:
Yield:

2

servings

1

x
2 slices bacon
1 ounce raw almonds
1 ripe peach or nectarine
2 1/2 ounces baby arugula (about 2 1/2 large handfuls)
1 tablespoon olive oil
1 1/2 teaspoons apple cider vinegar
1 teaspoon honey
1 teaspoon mild mustard, such as Dijon
1/4 teaspoon salt
1/4 teaspoon coarse ground pepper
Instructions
Cook the bacon first. Place into a cold skillet. Turn to medium-high heat and cook a few minutes on each side, flipping regularly, until crisp. Remove bacon strips and place on paper towel to drain. Crumble into large bits once cooled.
Coarsely chop the almonds and add to the bacon fat. Cook, stirring often, until they look and smell a little toasty, 2-3 minutes. Remove and place next to bacon strips.
Cut peach or nectarine into bite-size pieces. Reserve half to garnish.
In the bottom of a large bowl, whisk together: oil, vinegar, mustard, honey, salt and pepper. Add arugula and half the peach chunks and toss well to coat everything.
Place arugula on a serving dish and top with remaining peaches, toasted almonds and bacon bits.
Nutrition
Serving Size:

2 cups

Calories:

297

Fat:

23

Carbohydrates:

15

Protein:

12