How to cook bacon in the oven
A simple way to cook bacon in the oven to save space on your stove top or to neatly cook a large amount of bacon at once. Use this method to cook thick cut bacon or thin-cut. The time will be shorter for thinner bacon. Some people like to cook the bacon on a rack, but I don't because the rack is a huge pain in the A to clean and it only offers a minimal decrease in cooking time.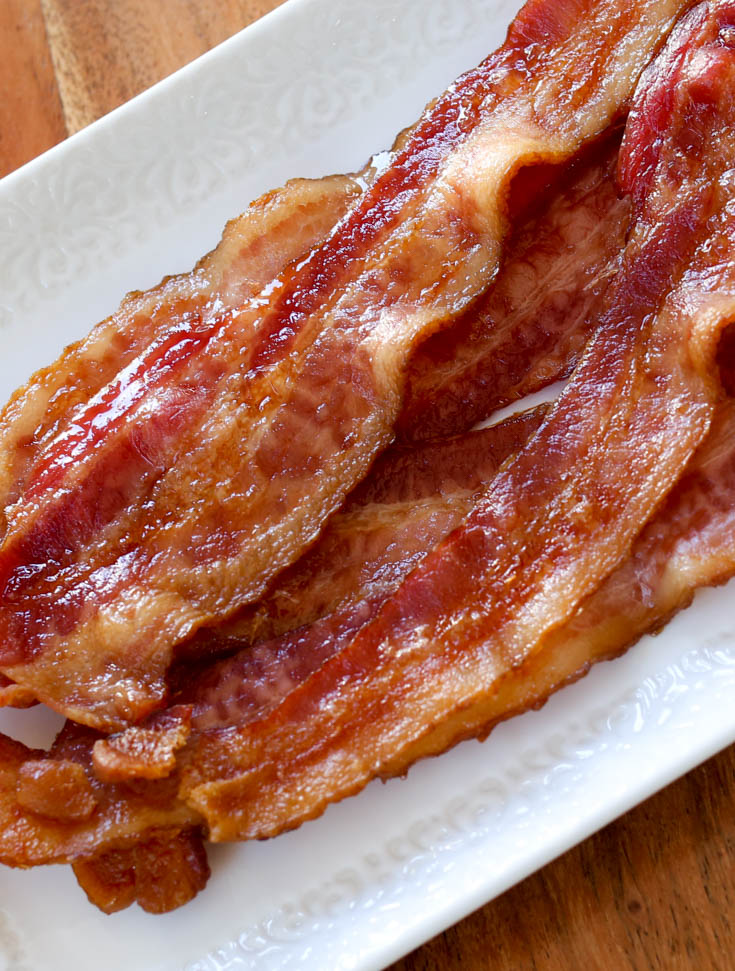 If you want to save the bacon fat, you can either wrap your baking sheet in aluminum foil or go bare. After you've cooked and removed the bacon, carefully strain the fat into a clean jar and refrigerate.
You should be able to fit 8-10 slices of bacon on a 10 inch x 15 inch baking sheet. To cook more than that, use two baking sheets and rotate them (top to bottom and bottom to top) half-way through cooking time so they cook at the same rate.
Use your bacon in a breakfast taco, on a cheeseburger, in a Beet BLT, and on a homemade McGriddle.
how to cook bacon in the oven video
Subscribe to my YouTube channel to get notified of new videos.
how to cook bacon in the oven
Print
How to cook bacon in the oven
Bacon, as much as you want to cook
baking sheet
parchment paper
Optional: brown sugar and/or cinnamon
Instructions
Set oven to 400ºF (204ºC).
Lay your bacon strips out on the baking sheet in a single layer, not overlapping.
Bake for 12 minutes. Check. Depending on the thickness of the bacon and how crispy you like it, it may need up to 30 minutes. Thin bacon should be done around 12-18 minutes for average crispiness. Thick bacon takes 20-25 minutes. By all means, cook your bacon as long as you want.
When it's done, remove bacon strips with tongs, dap lightly on paper to remove excess grease and serve.
Cooked bacon can be refrigerated and reheated in the microwave or just crumbled to make bacon bits for salad.