Mushroom Pierogi Video (scroll down for recipe)
Part one in my Christmas Around the World series! Christmas in Poland, focus on: PIEROGI!  I need to give a warm "Thank You!" and even a round of applause to Marta Z. who helped immensely by emailing me with recipes and advice about making pierogi and Christmas traditions in Poland.
One of the most interesting things I learned was the concept of "maigre" — coming from the French for "lean" and also the root of the English "meager" — maigre is a type of fasting wherein no meat, dairy, eggs, butter are eaten. Fish is still allowed, if I understand correctly.
Wigilia is the traditional Christmas Eve dinner in Poland. Popular recipes that are served at this feast are pierogi (and related to those, uszka, which are made the same way, but folded more like a tortellini) and barszcz (cold beet soup, or borscht) as well as carp, rollmops, mushroom soup, poppy seed cakes, kutia (a sweet wheat berry pudding) and fruit compote made from dried fruits.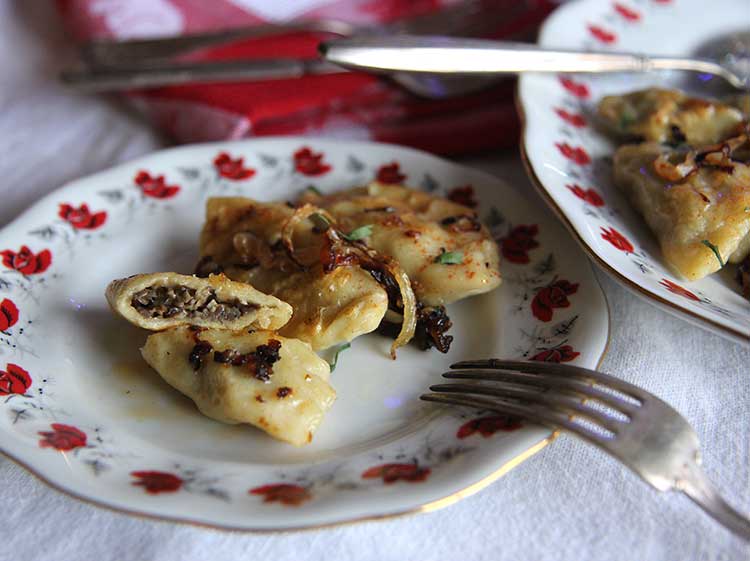 To celebrate Christmas in Poland, I've made for you these delicious mushroom pierogi. While the dough is not maigre because it has egg in it, the filling is meat-free. If you wish, you can replace the egg with 4 tablespoons of oil, but the egg dough tastes better and is easier to work with. Other fillings that can be used are mashed potatoes mixed with cottage cheese or mushrooms mixed with sauerkraut.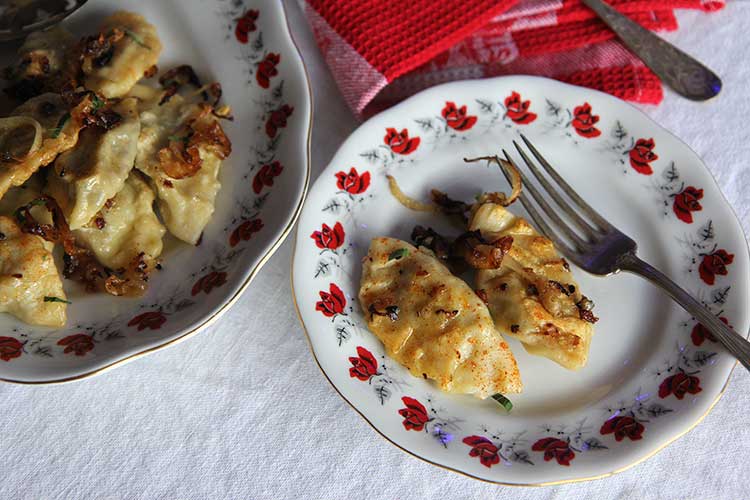 ("Pierogi" is the plural of "pierog", though you'll notice in the video I mistakenly said "pierogies" a few times. Also, I think it is pronounced "per-O-gee" with a hard G as in "go". But I'm no expert. And I've never been to Poland. There's also about a billion spellings of pierogi: perogi, pirogi, pierogie, pyrogy … of course only two of those are recognized by the spell-check software, but nonetheless they are all spellings I have seen on my virtual journey to Poland.)
Mushroom Pierogi Recipe — Printable!
Print
Pierogi
Author:
Prep Time:

30 mins

Cook Time:

10 mins

Total Time:

40 minutes

Yield:

4

-5

1

x
Dough:

1 cup

flour

1/4 teaspoon

salt

1

egg

3 tablespoons

water
Filling

1

:

1 tablespoon

butter

1/2 cup

minced onion

4 ounces

mushrooms, finely chopped

1/2 ounce

dried porcini, soaked overnight

1/4 teaspoon

salt and pepper
Topping:

2 tablespoons

butter or oil

1

small onion, cut into thin rings
Instructions
Sift flour and salt together in a large bowl. Whisk egg and water together. Combine and knead with extra flour 2-3 minutes until smooth. Set aside 20 minutes, covered.
Filling: Saute onion in butter over medium-high heat for a few minutes until soft. Finely chop soaked mushrooms, reserving soaking liquid. Add fresh mushrooms and dried to the onion with salt and pepper and cook about 10 minutes until soft. Strain soaking water and add to pan. Cook another 5-10 minutes until mostly dry. Remove from heat and allow to cool.
Roll dough out to 1/8″ on a floured surface and cut 3″ circles. Re-roll scraps. You will get about 20 pierogi from this recipe.
Fill each with 1 teaspoon filling. Fold over and pinch edges to seal. Set aside on a plate until all are filled. (At this point pierogi can be frozen individually before sealing into bags. When ready to cook, do not thaw; drop into boiling water, still frozen.)
Bring a large pot of water to boil. Drop the pierogi into the water and they will sink. After about a minute they will float. Allow to cool another minute and remove with a slotted spoon.
Set aside on an oiled plate. If the plate is not oiled, they will stick!
For the topping, heat the butter in a large skillet and add the onion. Fry over medium-high heat until onions are soft and lightly brown. How brown you like your onions is a matter of personal taste.
Once onions are browned, push them to the outer edges of the skillet and add the pierogi in a single layer to the center. Fry in butter on both sides until browned and crisp.
Serve topped with fried onions and with a side of sour cream or cottage cheese if you like.
Notes
Other fillings that may be used:
Filling 2:
1 tablespoon butter
1/2 cup minced onion
4 ounces mushrooms, finely chopped
1/2 cup sauerkraut, drained and chopped
1/4 teaspoon salt and pepper
Filling 3:
1 tablespoon butter
1/2 cup minced onion
1 cup mashed potatoes
1 cup cottage cheese, drained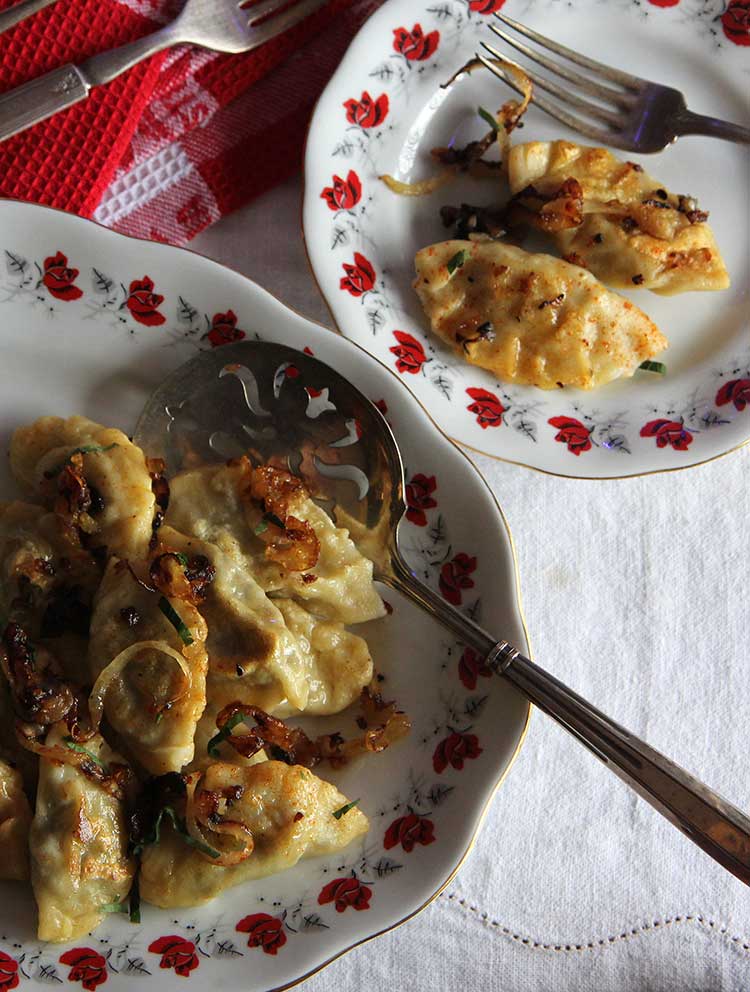 Other Polish Christmas Recipes
Cold Beet Soup — Barczsz
Try this version of vegetarian borscht to complement your pierogi!
Print
Fruit Compote — Christmas in Poland
Serve small bowls of this fruit compote with Christmas cookies
Author:
Cook Time:

30 mins

Total Time:

30 minutes

Yield:

6

-8

1

x
1

pound mixed dried fruit (apricots, plums, apples, pears)

3 cups

water

1

lemon

1

–

1

" cinnamon stick

1/2 cup

sugar
Instructions
Cut the fruit into bite-sized pieces.
Combine in a medium pot with water, zest and juice of the lemon and cinnamon. Bring to a simmer over medium heat. Cover and simmer 20 minutes until the fruit is soft. You may need to add more water and cook a little longer if the fruits are very dried.
Add the sugar and simmer another 5 minutes until sugar is dissolved and sauce is thick.
Serve warm or cold with cookies and/or cream.