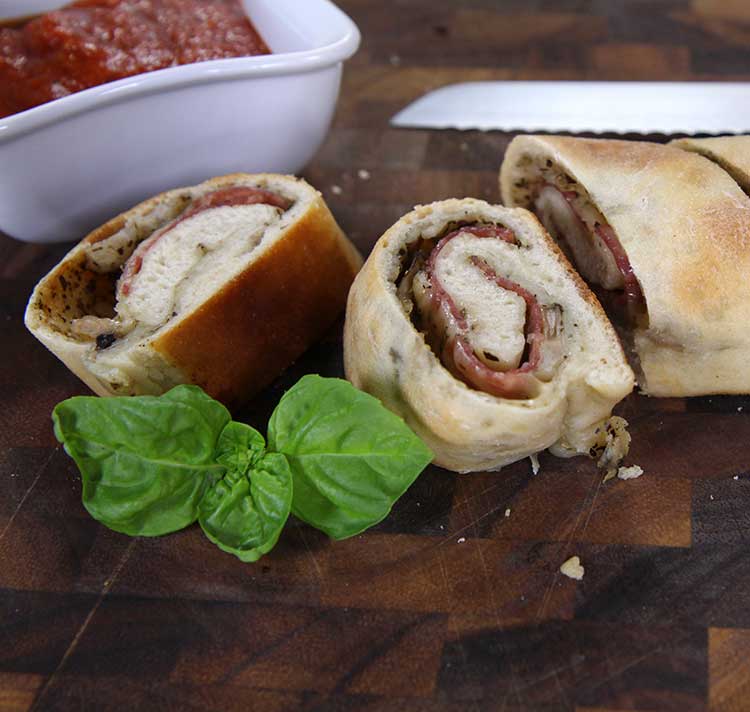 I wanted to make pizza rolls, like the things you buy frozen — little bite-sized pockets of dairy fat and shortening surrounding a tiny cube of "pepperoni" — but quickly realized that I don't have the patience for making 100 bite-sized pizza pockets and if I don't have the patience for that, who does?! (That is a joke because I am very impatient, especially with myself, and practically anyone else in the world probably has more patience than me when it comes to making bite-size pizza rolls.) So, selfishly for me and hopefully okay by you, I instead made a pizza roll (singular) which is like a pizza that you roll up into a log, then bake and slice. WAY faster than actual pizza rolls and as happenstance should have it, I think these spiralized pizza slices look quite a bit more dignified than their frozen Totino's counterparts.
You'll need some pizza dough for this (DUH) which you can purchase frozen from the store, fresh from some local pizza joints, or make your own homemade pizza dough like I did. You will need 12-16 ounces of dough. Usually it is sold by the pound, but if you make your own according to my recipe in the link above, you may want to halve the recipe and in that case you will end up with about 24 ounces of dough, which will make two 12-ounce portions and therefore two pizza rolls. A whole pound of dough will make one slightly larger pizza roll.
Obviously this pizza roll recipe below is a guideline, only for shaping and baking purposes. You may fill your pizza roll with whatever your heart desires, but not more than about 2 cups total of filling or you will probably explode your roll. Also avoid overly wet fillings like tomato sauce, fresh tomatoes, or fresh mozzarella. They gum up the insides of the roll and you end up with a soggy center.
Pizza Roll Recipe Video
Pizza Roll Recipe – Printable Card!
Print
Pizza Roll
Author:
Cook Time:

25 mins

Total Time:

25 minutes

Yield:

3

-4

1

x
12

–

16

ounces pizza dough
Flour for rolling

1 teaspoon

Italian herbs

3

–

4

ounces provolone cheese

2 ounces

sliced pepperoni, salami, proscuitto, etc.

1 cup

sliced mushrooms, baby spinach leaves, olives, peppers, etc.

1 cup

marinara or pizza sauce for dipping
Instructions
Set your oven to 400ºF and get out a baking sheet.
On a floured board or counter, roll your dough out to a rectangle about 12×8″ (or 14×8″ for one pound of dough) with the long side facing you.
Sprinkle evenly with the herbs
Arrange cheese, meat, and vegetables down the center of the rectangle, leaving about 2″ along each long side uncovered.
Roll up lengthwise, pinch the seam shut, and set onto baking sheet, seam down.
Bake about 25 minutes until golden brown all over.
Allow to cool 5 minutes on the sheet, then transfer to a cutting board and cut into 1″ slices.
Serve with warmed sauce for dipping.