Portobello Fries video – scroll down for recipe card
Subscribe to my YouTube channel to get notified of new videos.
Secret: These portobello fries are not really fries at all! But they are crispy and dippable and that's all anyone expects out of a fry, really. Portobello mushrooms, sliced and breaded with breadcrumbs and cheese then baked make for an extremely satisfying snack or light meal. We have lots of experience eating nothing but portobello fries for dinner over here. Even Flint likes these! I was so happy to see him chomping 'em down, I almost cried.
There are a couple of optional steps in this recipe. Optional if you are really in a rush or are lacking patience, but if you have a little more time, DO THEM. The first technically-optional-step is salting and pressing the mushroom slices. This draws out some moisture to ensure dense, chewy, almost meaty portobello fries. In fact, one of my taste testers said it reminded her of a chicken nugget in texture. If you skip the salt/press step your fries will still be good, but a little more spongy in texture.
The second optional step is the flour dredge before the egg. You can skip that and just go straight egg and crumbs but the light flour coating first gives a more even browning and coating. Don't ask me why but it works.
Most people suggest serving portobello fries with marinara, but I made up this rosemary-garlic sour cream dip that blows the socks off any other dip out there and I strongly suggest you try it. (Ooh, just had a thought that my homemade French onion dip would be wonderful, too!)
Portobello Fries Recipe – printable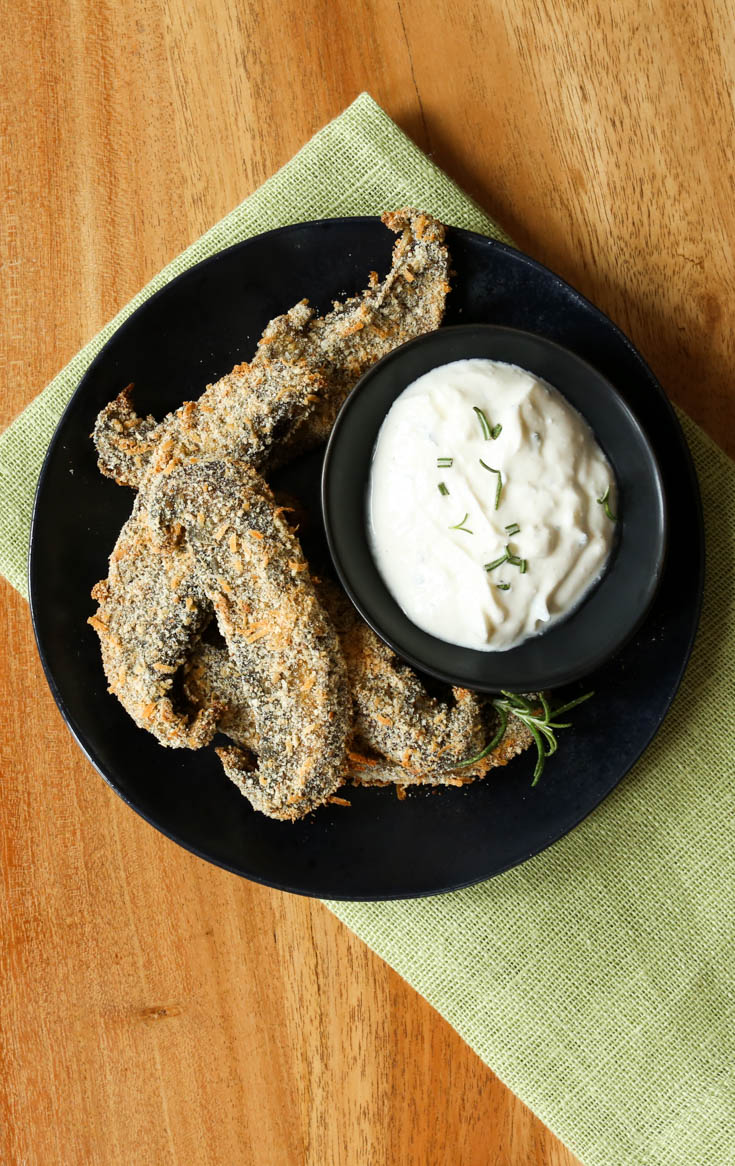 Print
Portobello Fries
Author:
Prep Time:

10 mins

Cook Time:

15 mins

Total Time:

25 minutes

Yield:

2

-4

1

x
2

large portobello mushroom caps

1 teaspoon

salt

2 tablespoons

flour, optional (See notes above)

1

egg

1 tablespoon

water

1 1/2 cups

Panko bread crumbs

1/3 cup

grated Parmesan

1/2 teaspoon

black pepper
Instructions
Set oven to 425ºF. Line a baking sheet with parchment paper, or grease it well.
Wipe the mushrooms with a damp cloth to clean them. Slice into 1/4″ strips. Lay them out on a cutting board and sprinkle evenly with salt. Place a paper towel or clean dish towel on top and then a heavy skillet or cutting board. Let sit for 5-10 minutes to pull the water out.
Beat the egg with the water in a small bowl.
Mix crumbs, cheese and pepper together on a plate.
Once mushrooms are pressed, sprinkle lightly with the flour on both sides. Tapoff excess.
Dip into egg, then crumbs to coat both sides.
Place on baking sheet.
Bake 15 minutes until well browned. Serve hot with rosemary-garlic dip or marinara.
More Mushroom Recipes!