Potato Skins! (or "Scalped" Potatoes)
Stuffed potato skins … a.k.a … wait for it …
Scalped Potatoes!
Alright, I know this was a stretch (believe me, I KNOW!) but "Scalped Potato Skins"? I mean, come on, how'm I gonna NOT make that pun? You know me. You know what I'm like*.
*I'm like that person who can't stop making puns, not even when they've stopped making any sense.
After all, these should have been scalloped potatoes. That would actually be a good pun, or as good as they get anyway. But have you ever seen scalloped potatoes on a snack table? Hay-ell naw. You can't eat them without a fork or a plate, they don't belong on a ding-dong snack table. 'Nuff said, bros.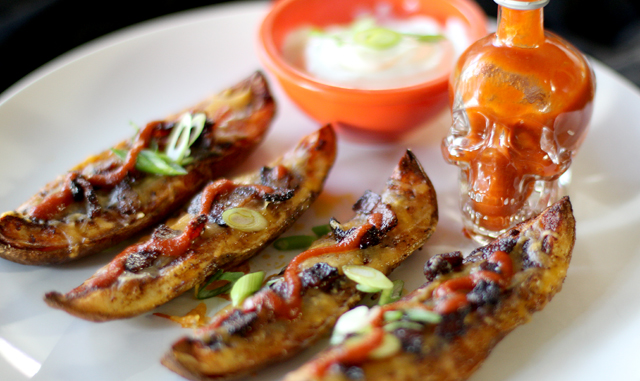 Uhhh, but that said, these aren't just for Halloween. These would be terrific for your sports games and game days and any kind of thing where you need some hearty appetizers for to sponge up all the booze yer fixin' ta drank.
If you're the kind of well-organized person I envy, you can also make these partially ahead-of time. Cook, slice, and butter the potato wedges then cover and refrigerate over night or until you're ready to bake. You may need to add an extra 5 minutes on to the cooking time to make up for the fridge chill, but these are a perfect make-ahead appetizer.
Print
Baked Potato Skins
Author:
Prep Time:

15 mins

Cook Time:

40 mins

Total Time:

55 minutes

Yield:

4

-8

1

x
4

of the most evenly shaped Russet potatoes you can find

4

strips bacon

4 tablespoons

butter (or reserved bacon fat!)

2 teaspoons

chili powder

1 teaspoon

paprika
Salt (about a teaspoon)

1 1/2 cups

shredded Cheddar cheese

1/4 cup

sliced green onions
For serving: Sriracha, salsa, sour cream, sliced jalapeños
Instructions
Scrub and rinse potatoes well. Make 3-4 small piercings in each potato with the tip of a knife. Microwave them about 12 minutes, or until tender.
Set aside to cool a while.
Set the oven to preheat to 450ºF if you want to cook them right away.
Meanwhile, slice the bacon strips cross-wise into 1/4″ slices and fry in a single layer in a skillet over medium heat until crisp. (Reserve bacon fat if you'd like to use it in the next step, otherwise, you'll use the butter.)
Melt the butter (or bacon fat) and stir in the chili powder and paprika.
Cut the potatoes into quarters lengthwise and use a knife to "trim" out the insides of each quarter, leaving a thickness of 1/4 – 1/3″ of potato skin shell.
Lay the skins on a baking sheet or in a cast iron skillet and brush all cut sides with the seasoned butter. (If making these ahead of time, cover and refrigerate at this point up to 8 hours.)
Sprinkle a pinch or two of salt on each potato wedge.
Bake at 450ºF for 30-35 minutes until very brown and crisp.
Remove from oven and sprinkle with cheese and bacon bits. Bake another 5 minutes until melted.
Serve hot with green onions on top and any condiments you like.
Leftover "potato guts" can be mashed and added to crab cakes (also nice for a fancier party appetizer) or potato soup or any soup really!