Quick Chicken and Sausage Gumbo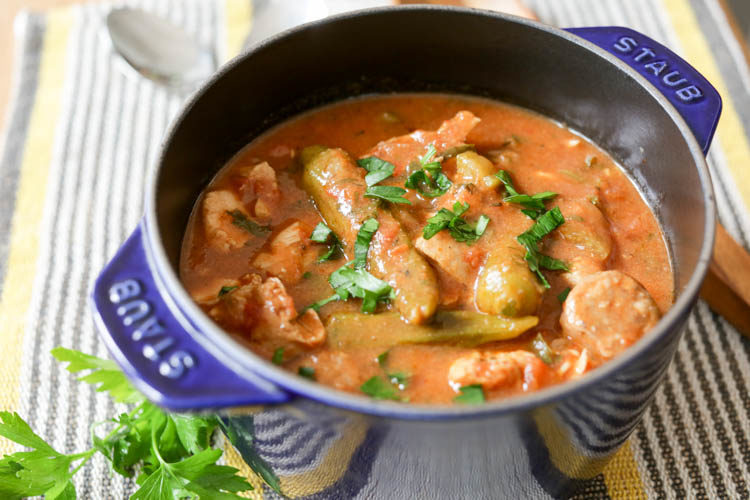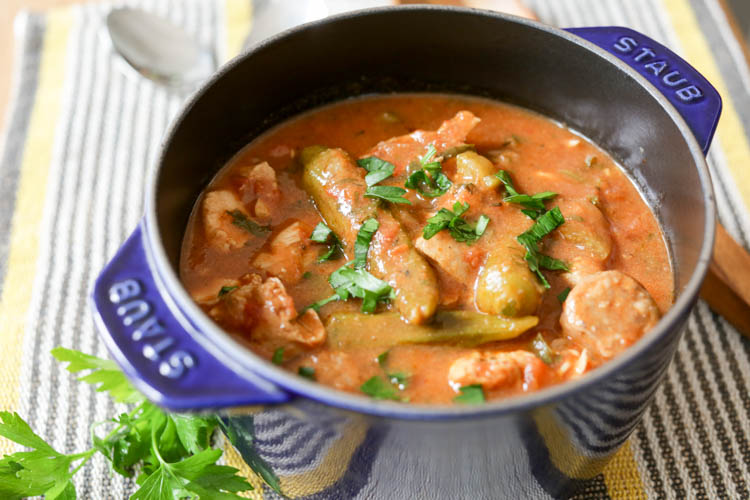 The first time I went to New Orleans, I was 18. It was July. I was moving to Boston with my boyfriend and we were taking the long way. We were supposed to camp, but as soon as we pulled into town, we stopped for gas and I tell you the lights over the gas pumps were completely blacked-out, literally covered by insects. Insects fucking EVERYWHERE, man.
I shook my head and said no way in Hell are we camping in this place.
We ended up staying at this super cool bed and breakfast called The Cornstalk Inn. So named because of the gorgeous cast metal fence around it that looked like cornstalks. As I recall, the dude that built the joint had a bride from somewhere corn grows and he built it to remind her of home. Aww. Twoo Wuv.
Anyway, did I mention I was a vegetarian at the time?
Although I had the beignets and the chicory coffee, I'm afraid I missed out on some of the best things New Orleans has to offer. Do not pity me too much, though, because I have since returned twice and eaten my fair share of gumbo, etouffee,  and po'boys (and the best goddamn Bloody Marys in the universe). But when I was there that first time, I picked up this vegan Cajun cookbook, Good Time Eatin' in Cajun Country
. I've never actually made anything from it, but I did use it for inspiration to come up with this gumbo recipe. Which is Pretty Durn Tasty™!
But you know what? This is kind of a cheater's gumbo. Cheater's because it's ready in under an hour. Authentic gumbo will take you all day. My pal David is from Lake Charles, Louisiana and when he makes gumbo, he spends about 2 hours on the roux alone. And it is some good motherfuckin' gumbo, I tell you what.
However, I am not from Louisiana and I lack that incredible patience and so this is how I make a quick gumbo that tastes good, nonetheless. My lil trick is browning the Holy Trinity (onions, celery, bell pepper) really well; you want the onions to be literally brown. That adds depth of flavor without spending two hours on browning the flour for the roux. I recommend serving this with some plain old white rice or some delicious, buttery slices of cornbread.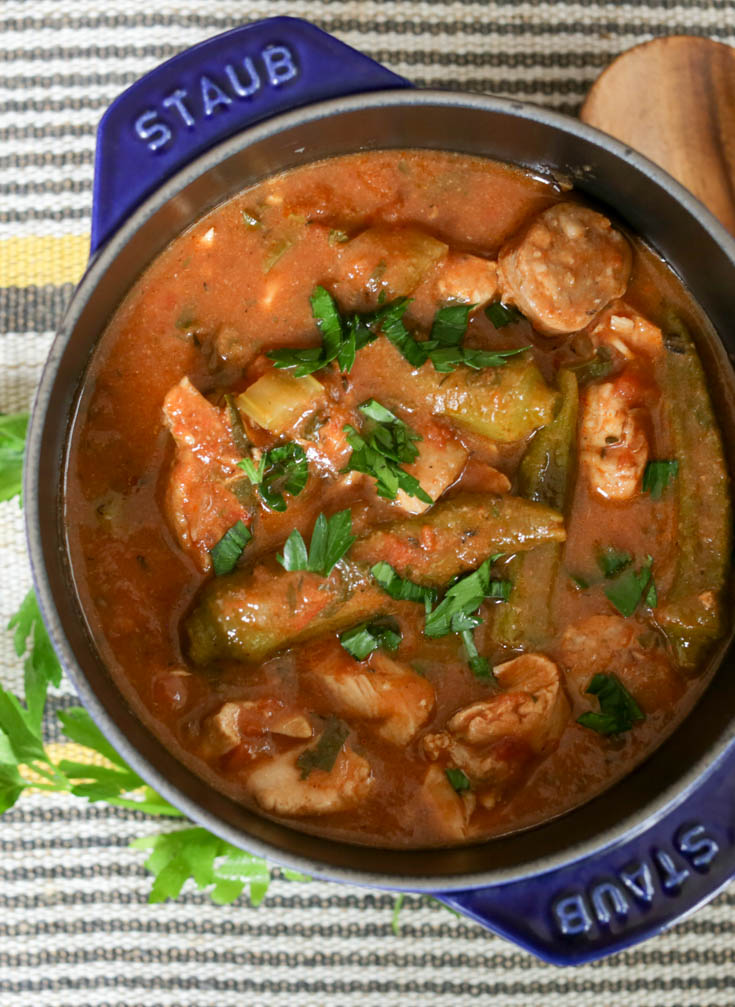 Print
Chicken and Sausage Gumbo
A quick version of a Creole favorite
Author:
Prep Time:

10 mins

Cook Time:

35 mins

Total Time:

45 minutes

Yield:

4

-6

1

x
12 ounces

andouille sausage links

1

pound chicken breast or thighs

2 tablespoons

peanut, corn or vegetable oil, divided
salt and pepper

1

medium onion, diced (about

2 cups

)

2

stalks celery, diced (about

1 cup

)

1

green bell pepper, diced (about

1 cup

)

4

cloves garlic, minced (about

2 tablespoons

)

1/4 cup

flour

1 teaspoon

thyme

1

bay leaf

1/4 teaspoon

cayenne pepper

4 cups

chicken stock

15 ounce

can tomatoes

1 cup

chopped parsley

12 ounces

(

3/4

pound) whole okra, fresh or frozen*

1 teaspoon

file powder**
Cooked rice or cornbread for serving
Instructions
Heat 1 tablespoon of the oil in a large pot over medium-high heat and brown the sausages. Remove.
Sprinkle the chicken with salt and pepper and brown them on both sides. Remove.
Add the other tablespoon of oil.
Add the onion, celery, and bell pepper and cook for 10 minutes until well-browned.
Add the garlic and flour and stir. Cook about 3 minutes until the flour smells nutty.
Add the spices, broth and tomatoes and bring to a simmer.
Add the chicken and sausage back to the pot. Cover and simmer about 15 minutes until the chicken is cooked through. Taste the broth for salt. Add salt if needed. The amount depends on how salty your chicken stock is, but probably start with 1/2 a teaspoon of salt.
Remove the chicken and sausage to a cutting board. Shred the chicken, slice the sausage, and add them back in along with the okra (still frozen if you're using frozen okra) and parsley.
Simmer another 10-15 minutes until the okra is cooked.
Sprinkle file over top and stir it in.
Serve over rice or with cornbread.
Notes
*Leave the okra whole for less slime-factor!
**File powder is made from the leaves of the sassafras tree. It adds an earthy, grassy taste and also has some thickening power. If you can't find it, don't sweat it. If you want to ask for it at your neighborhood fancy grocery store, it's pronounced Fee-lay.