Wilted Spinach Broccoli Salad with Bacon – Old Lady Recipe #5
Once upon a time there was an annoyingly healthy spinach salad that sort of sat around all day looking pert and perky and full of nutrients, basically making an ass of itself, like it was some big deal or something.
Whatever.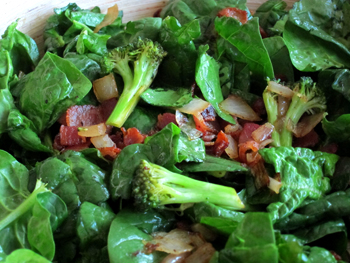 Then one day an old granny came along and dumped a bunch of magic bacon grease all over it, thus making it the world's most delicious salad in one of the two ways an old lady knows how to make things more delicious: by adding bacon or cream sauce, sometimes both, but those recipes might be too tasty for you to handle.
If you have people in your family who hate salad, but really need to eat more vegetables, you should try this recipe. You should also try this recipe if you love BLTs or heart disease. I'm just kidding. It's not all that bad considering there's 4 slices of bacon and the salad serves 4 people as a good, solid side dish. I have been known to eat this entire recipe's worth of salad by myself for lunch, though. But even still, unless you're on some low-fat kick, any salad dressing has some fat in it and it might as well be bacon fat, I reckon.
Wilted Spinach Broccoli Salad with Bacon Video (scroll down for recipe)
Wilted Spinach Broccoli Salad with Bacon Recipe
Print
Spinach Broccoli Salad with Bacon
5

–

6

ounces fresh spinach, washed and dried

4

slices bacon

1/2 cup

diced onion

2 cups

small broccoli florets
Olive oil

2 tablespoons

vinegar (sherry, red wine, or cider vinegar)

2 teaspoons

maple syrup
Black pepper
Instructions
Tear the spinach into bite-sized pieces and set aside in a large salad bowl.
Chop the bacon and cook in a skillet over medium heat, stirring frequently, for about 10 minutes or until the pieces are very crisp and browned.
Remove the bacon bits and set aside.
Saute the onion in the fat for about 5 minutes until softened and translucent.
Add the broccoli and cook another 2-3 minutes or just until it's bright green but still crisp.
Scrape all the vegetables to the side of the pan and tilt it to see how much fat you have. Add olive oil as needed to make about 2 tablespoons of fat.
Then add the vinegar and maple syrup and stir quickly to get all the browned bacon bits off the skillet.
Pour the hot dressing over the spinach and toss well to coat everything and wilt the spinach.
Sprinkle bacon over the top and serve.
Notes
Fresh cherry tomatoes, diced red bell pepper, and sliced mushrooms would also be good in this salad.
Nutrition
Calories:

143

Fat:

8

Carbohydrates:

8

Protein:

9
Previous "Old Lady Recipes":
And for tips on how to wash spinach, scroll to the bottom of this recipe.