Y'all ought to know by now I'm a fritter fanatic. They're one of the best ways to eat vegetables and that's the lord's truth. Corn fritters, feta zucchini fritters (which I evidently used to call zucchini pancakes but forgot?) and now these dang ol' summer squash fritters.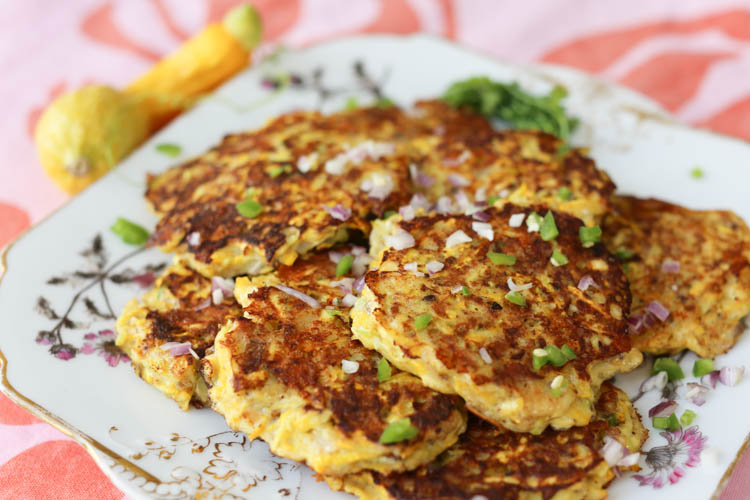 Our neighbors gave us a few extra yellow summer squash from their garden and — fortunately or unfortunately? — Chris is not a huge fan of summer squash so I ate them all up as fritters for my lunch alone today while I caught up on my crying.
I think some fresh (or frozen) corn kernels would be super good in these, too, and it would emphasize the yellow-ness. I like a lil minced serrano peppers in there, but you can for sure leave it out if you ain't down with the spices of life.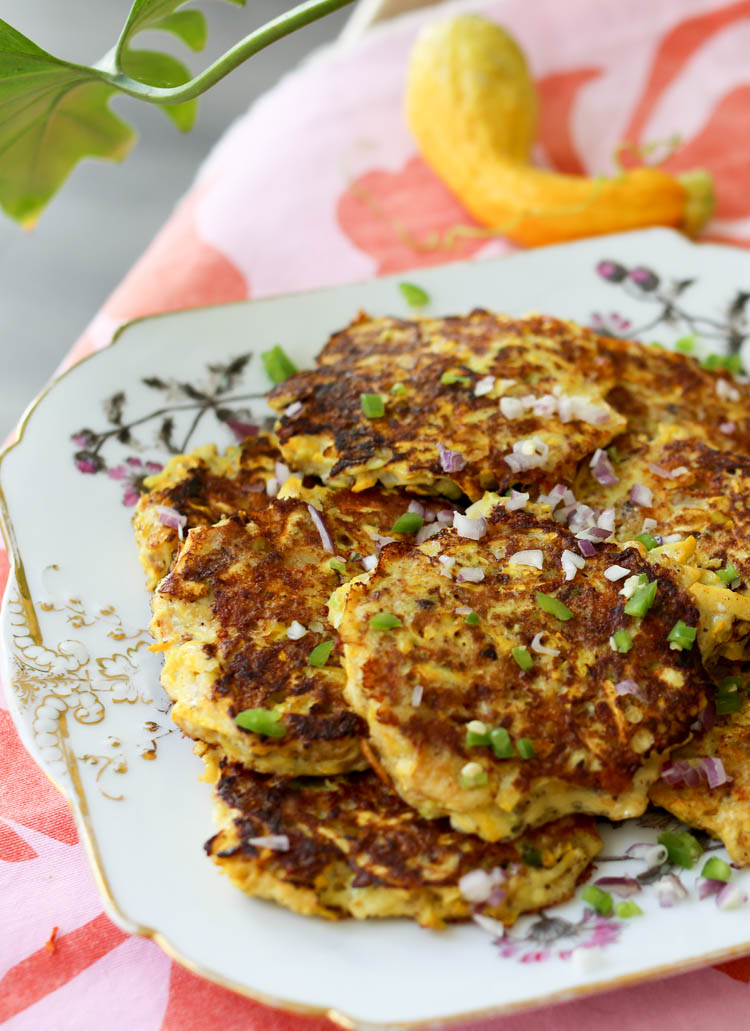 Print
Summer Squash Fritters
2 medium yellow squash (about 10 oz)
2 ounces grated sharp Cheddar (about 1/2 cup)
2 eggs
1/4–1/3 cup cracker crumbs or dry breadcrumbs
1 tablespoon minced shallot
1 tablespoon minced serrano chile, optional
3/4 teaspoon salt
1/4 teaspoon black pepper
2 tablespoon butter for frying
Instructions
Coarsely grate the squash and the cheese. Toss together in a large bowl.
Add remaining ingredients, except butter. Start with 1/4 cup crumbs and add more if needed to absorb liquid.
Heat a griddle over medium-high heat and add half the butter. Melt and swirl to coat. Drop large spoonfuls (about 2 tablespoons) of batter into hot butter and spread out to make patties about 2-3″ across.
Reduce heat to low and cook several minutes on one side until beginning to set. Turn and cook a few minutes on the other side until well-browned and firm.
Transfer to a serving plate.
Add remaining butter and cook remaining batter the same way. You should get 8 patties.
Serve hot with a lil side salad and pat yourself on the back for being frugal and whatnot.