Sweet Potato Breakfast Tacos
We're getting the adventures started early this season!
You know I have a fascination with food trucks and trailers. There's something about the entrepreneurship behind them, the ingenuity in their design, the fact that you can DRIVE them, and the hot and sweaty working conditions that just drive me WILD. Usually the food's pretty good, too; some better than others, of course. The Peached Tortilla is one of my faves.
Eric Silverstein used to be a lawyer. Then he realized he didn't like being a lawyer. Oh, to be a restauranteur! Oh, but he knew from experience that most restaurants shut down within the first year of opening, leaving behind destitution and bankruptcy. Oh, to be a food truck-ateur! Therein lie the answer.
He poked around and did some research on a few places and finally settled on Austin, due to our city's loving embrace of food trucks and the warm weather. Super-cold places are not so great for food trucks because there's no climate control inside em and your fingers don't move well and you might either cut one off or get frostbite. Either way, one less finger. Like most people without Body Integrity Identity Disorder, Eric wanted to keep all his appendages.
Eric grew up in Tokyo, Japan and Atlanta, Georgia and his exposure to those very different cuisines inspired him to create an incredibly innovative menu featuring things like brisket, braised pork belly, and fried catfish mixed around in unexpected ways with other things like sweet potatoes, bacon jam, tortillas, Hawaiian rolls, pickled daikon, barbecue sauce, and basil aioli.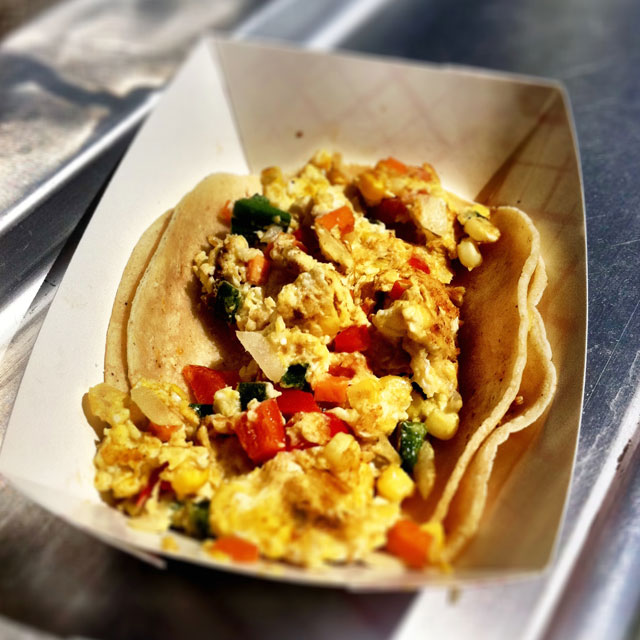 Sound crazy?
That's 'cause it is.
Crazy Good, I mean.

So here I am goofing around in his food truck, "helping" him make a Sweet Potato Hash Breakfast Taco that I eat all of at the end and don't offer to share with anyone because I am a jerk like that and the taco was delicious.
For more information on their menu and the answer to the question: Where in the Hell is the Peached Tortilla truck right now??? check out their website at ThePeachedTortilla.com
(For more breakfast taco recipes, check out The Breakfast Taco Book!)