Sweet Potatoes vs Yams vs Taro vs Yuca
Mostly, I'm writing this post about the differences between sweet potatoes and yams and taro and yuca because I need to get it straight myself! You can watch the video on YouTube!
Sweet Potatoes
True (botanical) Sweet Potatoes are pictured below. Alternate names are kumara (New Zealand) camote (Mexico) and yam (USA). There are several varieties/colors of varying levels of sweetness and moistness. They are all in the genus Ipomoea, family Convolvulaceae, or the morning glory family. Sweet potatoes are native to tropical America. In the picture left to right: New Jersey Sweet Potatoes (aka White Sweet Potato, aka Yellow Jersey) Purple Sweet Potato (aka Stokes Purple) and Garnet Sweet Potato (these are colloquially known as yams in the US). Other varieties not pictures are Japanese Sweet Potato (purple skin with creamy white interior) Jewel and Beauregard (both similar in appearance to Garnet). I find the purple sweet potatoes are the sweetest; Jersey sweet potatoes are the mildest and driest; all can be used in any recipe calling for sweet potatoes.
Try butter-roasted sweet potatoes; sweet potato salad; twice-baked sweet potatoes or simply dice and roast in the oven for an easy side dish.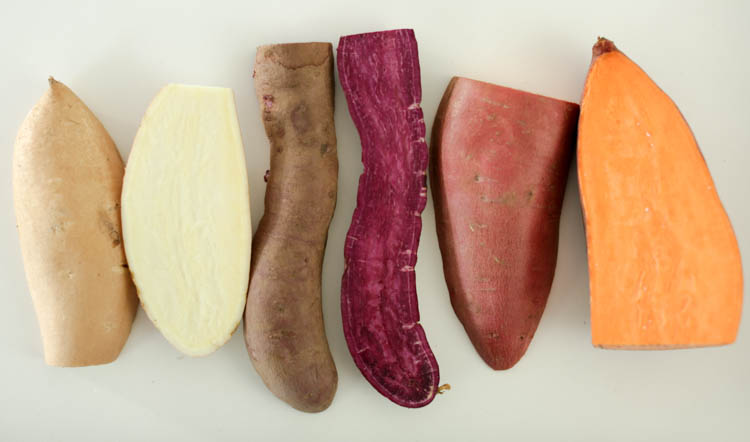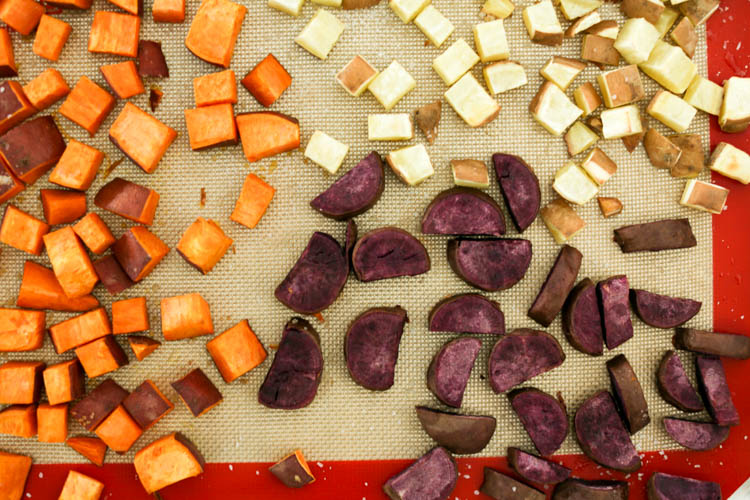 Yams
True botanical Yams are pictured below. These are genus Dioscoreaceae and are native to tropical and temperate Africa, Asia and Oceana. The one below is Dioscorea japonica, or naga-imo in Japanese. Again, there are many varieties and many, many names for each different species, which make this discussion especially confusing. As I understand it, true yams can be identified by their hair. Unlike the mostly smooth skin of the sweet potatoes above, yams are covered in "root hairs" and are frankly a little ugly. Naga-imo (also labeled sometimes incorrectly as yama-imo) can be eaten raw but most should be cooked to neutralize an irritating acid. They are all a little slimy inside, similar to okra. Mountain Yam are grated raw and used as a binding agent in Japanese okonomiyaki pancakes and also added to soups and soba noodles.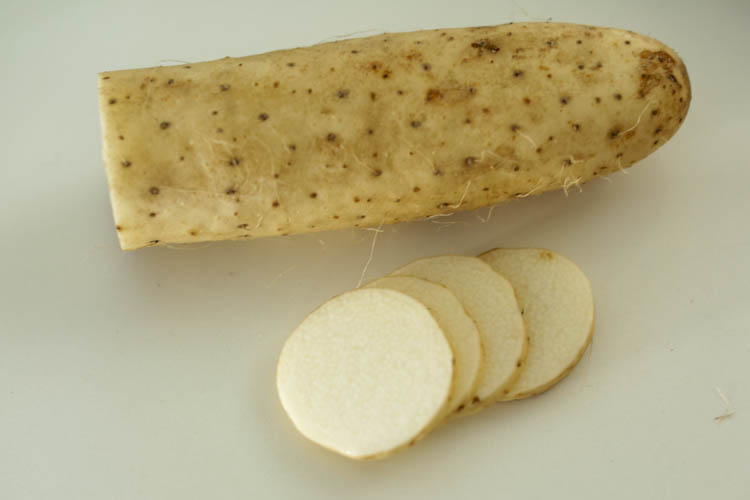 Taro
Taro (Colocasia esculenta) is also called Ñame or Malanga in Latin America, Kalo in Hawaii, Gabi in the Philippines and Inhame in Brazil. To confuse things more, those names all translate to "yam" in English! Some taro are purple inside and some are white, but they all are brown and scaly and rough on the outside. Taro is used to make poi in Hawaii by pounding roasted taro with water until it becomes pudding-like. In many places it is boiled and mashed like you would potatoes. Taro chips, taro soup, taro bread. You can find taro ice cream and frozen yogurt, too. Taro can irritate your skin so wear gloves if you are sensitive, or just wash your hands after cutting it. Taro is slightly sweet and once cooked has a pasty consistency.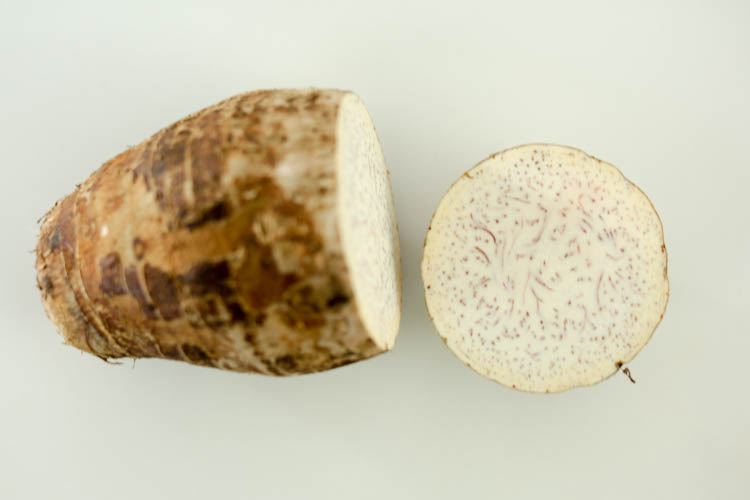 Yuca
Yuca root is also known as cassava, manioc, or arrowroot. It is unrelated to the flowering yucca plants found in landscapes across the Southwest. Yuca roots have a thick "bark" that must be removed before cooking and some larger roots have a woody core in the center that is best to be cut out, also. Yuca is starchy and is a staple food for many cultures because it is drought tolerant and will grow even in exhausted soil. It can be fried like French fries, mashed like potatoes, or dried and ground into flour. The flavor is slightly sweet, similar to taro. Due to cyanide-like toxins, yuca must be cooked before eating. Try this recipe for yuca fries or yuca fritters.