I didn't exactly set out to make a vegan beef enchilada recipe, but that's what I ended up with. I really just wanted to make some kind of vegan enchiladas but as it turns out, the filling made with mushrooms, pecans and beans is very reminiscent of ground beef. Who knew. It even looks convincing!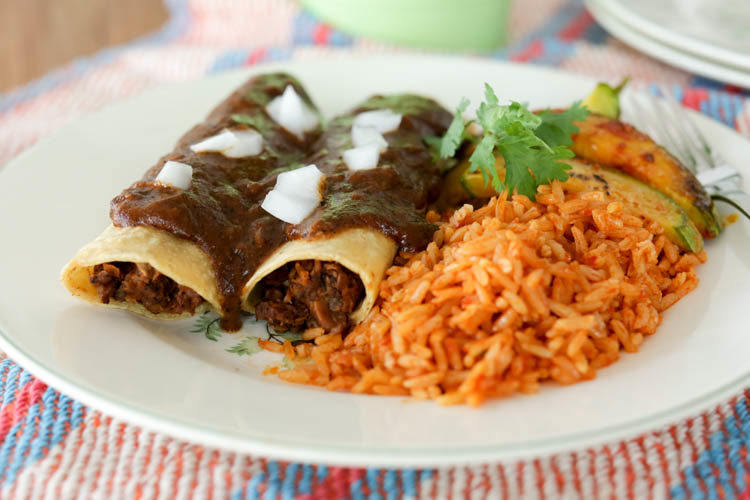 There are a few duplicate ingredients between the filling and the sauce. It's my preference to read a recipe that's been divided up into its different parts so that's how I've written it. Know that you will need most of a 4 ounce can or jar of tomato paste, and the spices chili powder, oregano and cumin are used in both filling and sauce.
This sauce is also fantastic on cheese enchiladas (or vegan cheez enchiladas) because it's essentially just a veganized version of my Tex-Mex chili-cheese enchilada sauce. You might have a little leftover, which is fine because it's also good inside a burrito or on an omelet.
Serve these enchiladas with fluffy Mexican rice, sauteed zucchini or garlic green beans.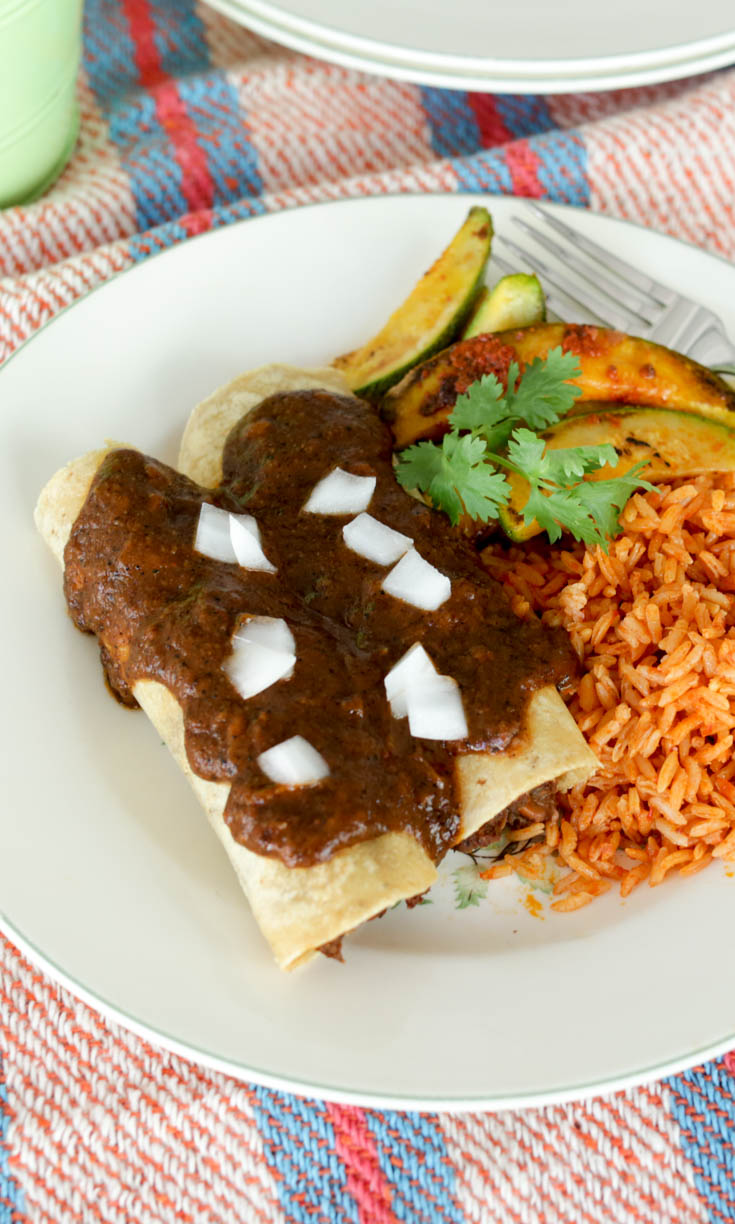 Print
Vegan "Beef" Enchiladas
Author:
Prep Time:

30 mins

Total Time:

30 minutes

Yield:

12

enchiladas

1

x
12 corn tortillas
Filling:
1 pound mushrooms
1 tablespoon oil
4 cloves garlic, minced
4 ounces (weight) pecans or walnuts, minced (about 1 cup)
2 teaspoons chili powder
1/2 teaspoon oregano
1 teaspoon salt
1 teaspoon pepper
4 tablespoons tomato paste
1 teaspoon soy sauce, optional
1 1/2 cups vegan refried beans (1 – 15 ounce can)
Sauce:
1 small onion, diced
2 tablespoons oil, divided
2 tablespoons flour
2 tablespoons chili powder
1 teaspoon oregano
1/2 teaspoon ground cumin
1/2 teaspoon salt
1/2 teaspoon black pepper
2 tablespoons tomato paste
2 cups vegetable broth
Instructions
Set oven to 350ºF (or you can microwave them and skip the oven).
Make the filling first. Mince the mushrooms finely. I prefer a knife because a food processor tends to over-chop them. You do not want mushroom paste. Just minced.
Heat oil in a skillet over high heat. Once warm, add the mushrooms and let cook about 1 minute. Stir. Let cook several minutes, stirring occasionally. You want to leave them in contact with the skillet long enough to get some color on them. Once browned, add the remaining ingredients and mix well. Cook a couple more minutes then turn off heat.
In another large skillet, heat 1 tablespoon of the oil over high and brown the diced onion well. Get some actual brown on it; it adds depth of flavor to the sauce.
Add the remaining oil to the skillet then stir in the flour. Let cook, stirring for about 2 minutes until the color darkens and it starts to smell toasted.
Add all the spices and the tomato paste. It will thicken up immediately but continue stirring until smooth.
Whisk in half the stock and mix until smooth. Add remaining stock and whisk.  Let simmer 5 minutes.
Warm tortillas in the microwave or on a dry skillet until pliable. Roll 2 tablespoons of filling into each tortilla and pack them tightly into a 9×13 inch pan.
Pour sauce over the top and add cheese if you want.
Bake 15-20 minutes or microwave about 5 minutes until hot.
Nutrition
Serving Size:

2 enchiladas

Calories:

415

Fat:

23

Carbohydrates:

46

Protein:

13