Vegan Enchiladas with Creamy Green Sauce
I get a lot of recipe inspiration from restaurants (see last week's broccoli with mint pesto). And as much as I do enjoy cooking, I also enjoy not cooking . People are sometimes surprised that Chris and I eat out (hehe) pretty often — or, to me it seems often, but is two or three times a week "often"? I dunno; it's all relative I guess — but my excuse is inspiration. (And fancy cocktails which I don't have the patience to make at home.)
These vegan enchiladas are based on the enchiladas vegetales I tried at Javier's a couple weeks ago. And as I recreated it, I realized I was also pulling from the Annie's Early California Enchiladas I love from El Cholo. Both are filled with a kind of surprising mix that includes carrots and a green vegetable that is not spinach. Neither of the inspirations are vegan, but it's a fun challenge for me to try to make my vegetarian recipes also vegan. (See my very popular veggie burger recipe.)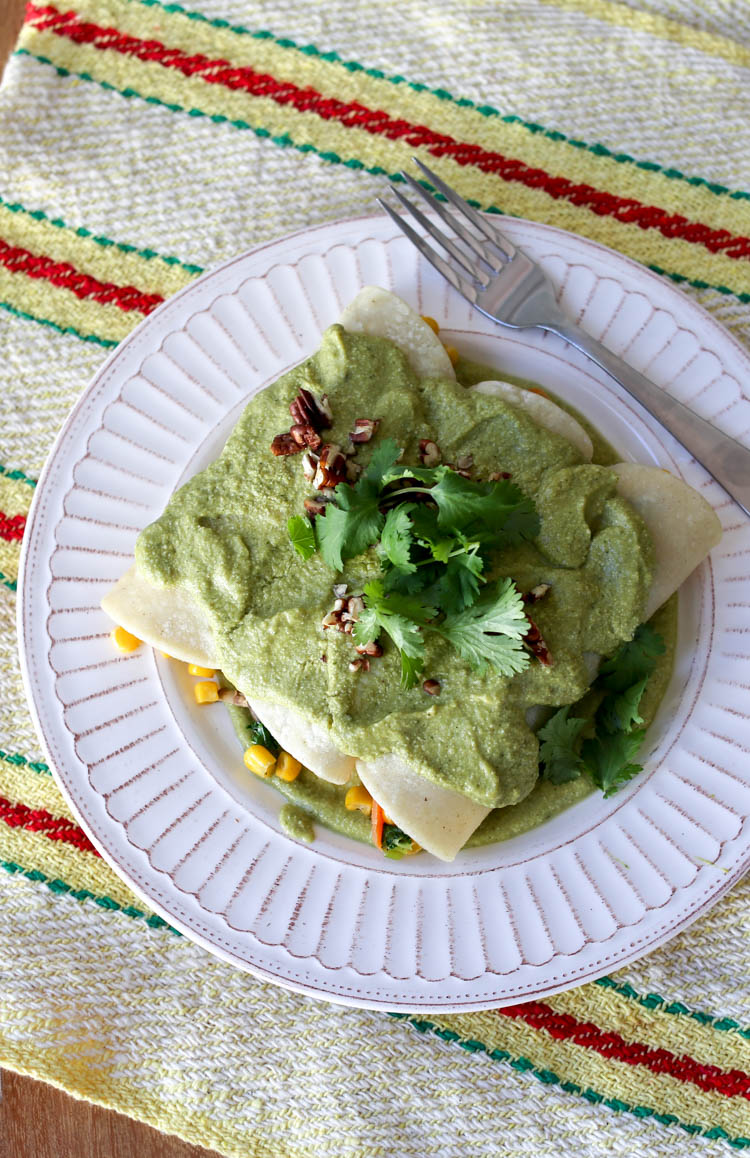 Obviously, add cheese to these if you want to. But honestly, you really don't needa. The cashews and roasted poblano peppers make a really creamy and rich and spicy and green sauce. Sweet carrots and corn get balanced out by earthy mushrooms and kale. Run the tortillas through some hot oil before rolling them to make them soft and even though I often skip this step when making enchiladas because it's kind of messy and way jacks up the calorie content . . . enchiladas are way way way better if you heat the tortillas in oil. Sure, a sprinkle of water and a microwave will soften them just fine but oil is better than water, can we all agree???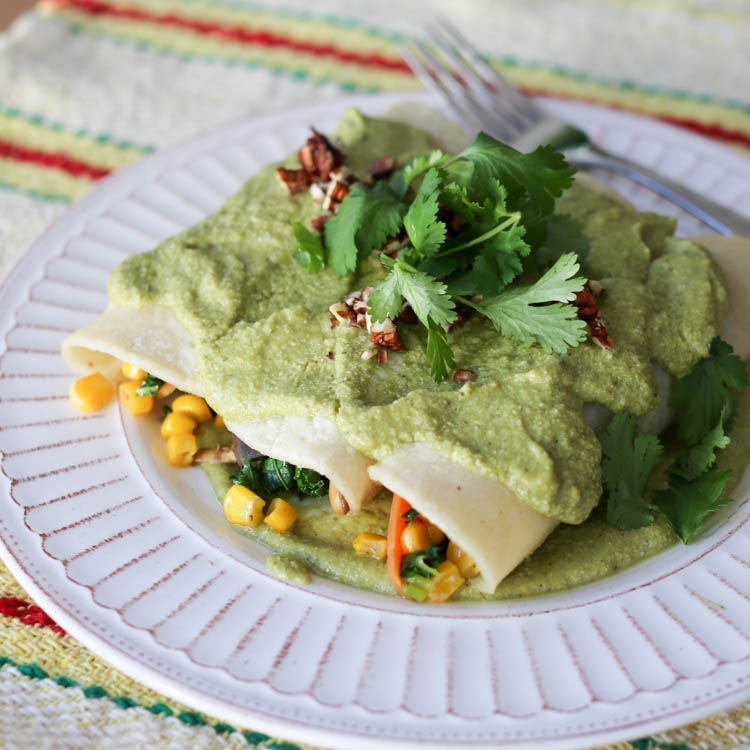 If you have a mandolin or a gol-dang Salad Shooter, use the slicing thingy the cut the carrot into "chips" rather than a fine grate. If you have good knife skills, julienne your carrots. Basically, you want the  carrots — all the vegetables really — to be just barely cooked and full of integrity. No mushy carrots or brown kale. Browned mushrooms are good, though.
Print
Vegan Enchiladas with Creamy Green Sauce
Vegan Poblano Cream Sauce:
1/2 cup (2 ounces weight) raw cashews
1 cup cold water
2 poblano peppers
1 tablespoon lemon or lime juice
2 cloves garlic, peeled
1/4 cup chopped cilantro
3/4 teaspoon salt
Enchiladas:
1 tablespoon butter or margarine
2 cups sliced mushrooms
1 cup corn kernels
1 cup grated carrots
1 cup minced kale
4 green onions, sliced
12 corn tortillas
2–4 tablespoon oil
Instructions
Soak the cashews in water for 8-12 hours. Dump all into a blender.
Broil the peppers until skin is blackened, rotating them with tongs to get every side. Let cool, peel the blistered skin off and remove seeds/ stem. Add to blender. Add peeled lemon juice, garlic cloves, cilantro and salt. Blend to smooth. Pour into a small pot and keep warm over very low heat.
Heat butter in a skillet over medium heat. Add mushrooms once melted and let cook 1-2 minutes on one side to brown. Add corn, carrots, green onion and stir. Cover and cook 2 minutes. Add kale and stir. Sprinkle with salt and cook another 1-2 minutes until kale is softened but still bright green. Remove from heat.
Warn tortillas on a heavily oiled skillet over medium-high heat. Fill with a couple spoonfuls of vegetable mixture then roll and place onto plates or a serving dish.
Pour warm sauce all over and garnish with more chopped pecans and cilantro