S'not vegan, or even truly vegetarian, but this vegetable lo mein recipe is a delicious way to eat vegetables and pasta together (that isn't pasta primavera). The key flavors here are sesame oil and oyster sauce, which is sometimes made from real oysters and sometimes not. The real-deal oyster sauce tastes rich and meaty with a hint of ocean. I find the vegan ones pretty blah compared, so if you aren't vegetarian, go ahead and look for an oyster sauce that has oysters on the ingredients list. (My favorite is one I get at the Japanese market near me that has no English on it except for the ingredients list. I can't even tell you what the brand name is.)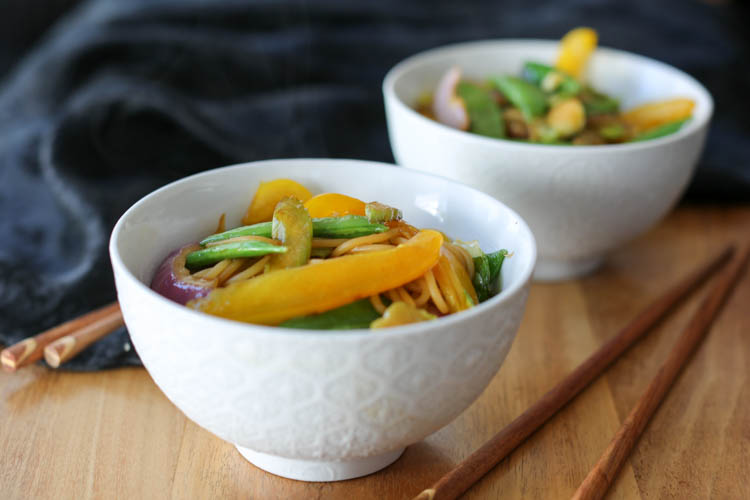 I love this recipe because it comes together in nearly just the amount of time it takes to boil water and cook pasta. So, like 15 minutes? Even faster if you have some leftover cooked spaghetti noodles in your fridge.
Use any vegetables you like, or any you have. This is also a great fridge-clean-out recipe because it will happily absorb any vegetables you want to throw at it and still come out tasting good. Start with celery and bell pepper and onion  — those are kind of required for me — plus whatever odds and ends you have. So have a ball! Experiment!
It'll probably be delicious.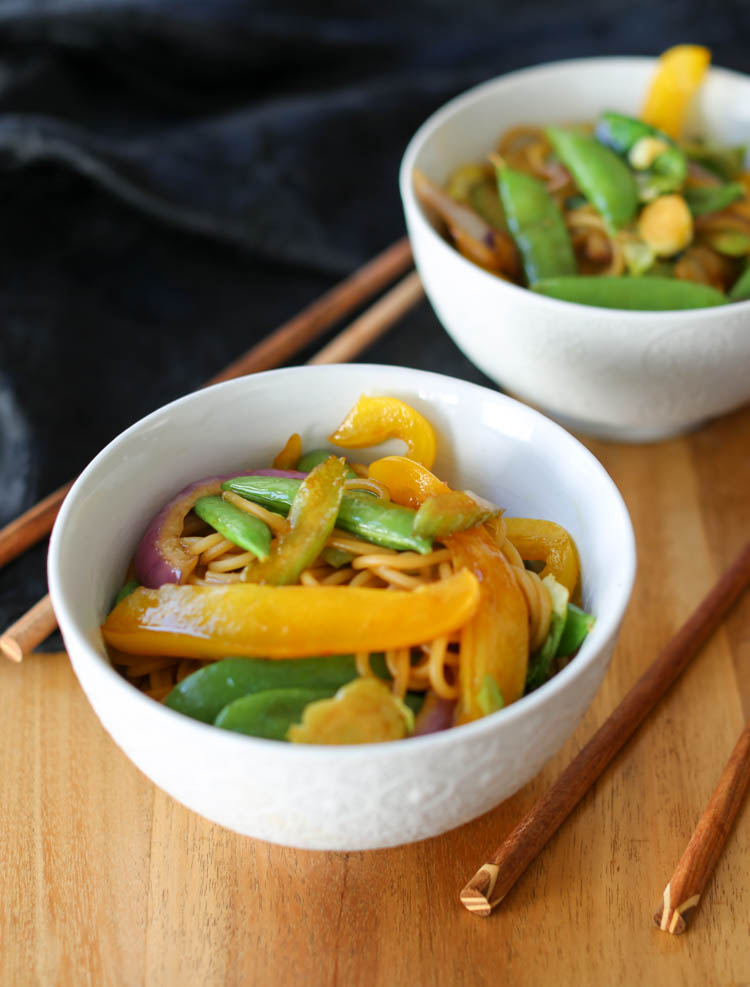 Print
Vegetable Lo Mein
4 ounces spaghetti, spaghettini or actual lo mein noodles if you can find them
1 tablespoon toasted (dark) sesame oil
2 tablespoons oil
1 stalk celery, sliced thin diagonally
1/2 bell pepper, sliced thin
1/4 cup onion, sliced (or 2–3 green onions)
1 cup sliced cabbage or broccoli
1 cup snow peas or sliced mushrooms
Sauce:
1/4 cup water
3 tablespoons oyster sauce
1 tablespoon soy sauce
1/2 teaspoon grated fresh ginger
pinch sugar
Instructions
Start water boiling for the pasta.
Slice your vegetables thinly. You can mix and match, using whatever veg you like, as long as there's about 3 cups total.
Once pasta is cooked, drain and rinse with cold water to stop cooking. Dump back into pot and toss with sesame oil.
Mix sauce ingredients together in a small bowl.
Heat a large skillet or wok over high heat and add the 3 tablespoons oil.
Add vegetables and stir fry for about two minutes
Add pasta and sauce. Cover and let steam cook for another minute.
Toss and serve