Everybody in north America has had some kinda arroz con pollo at some point in life, I'm betting. Arroz con pollo; chicken with rice. It's a one-pot meal (as long as you don't eat too many vegetables 😉 ) and it's beautiful to look at. It kind of reminds me of paella and I'm shocked that that thought has just now — just this second — come into my head. Why'd I never think of that before?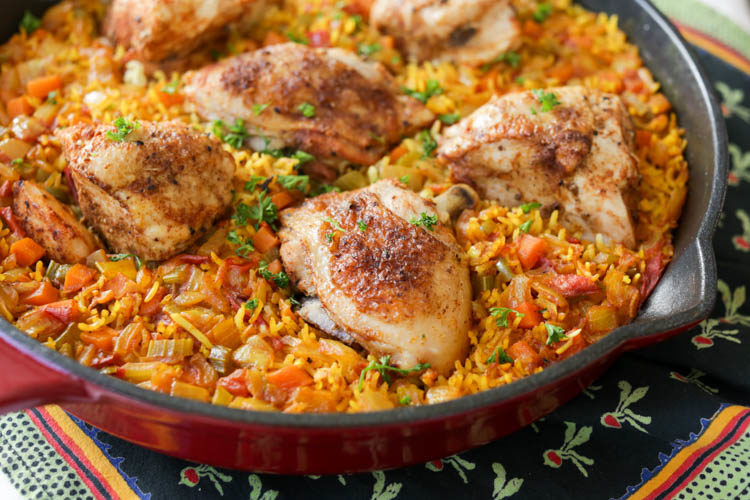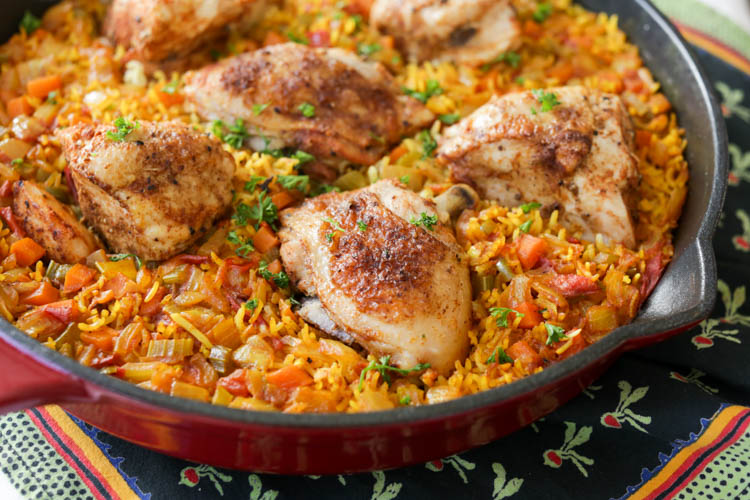 It's cooked in a similar way and uses many of the same ingredients as paella but to me, it's a more approachable fare since it uses plain old long grain rice, any chicken pieces you want, and no saffron. At least, my recipe doesn't use saffron.
Instead I add some turmeric for a pretty yellow color. Some recipes call for safflower stamens (aka "bastard saffron") which can often be found in Latin groceries under the name "azafran en flor" and it's cheap as hell, y'all. You could maybe try some annatto (achiote) powder, too; it would add a different flavor but I bet it would be a good difference!
For the chicken, I usually buy a whole chicken and cut it up, using half of the pieces — thighs and halved breasts — for arroz con pollo and using the legs, wings and other assorted pieces to make a rich chicken stock, then pick the meat from that to make chicken tortilla soup. Two meals from one chicken! But of course, you are welcome to use just thighs or drumsticks or even boneless chicken breast if you want. I do recommend keeping the skin on any cut you decide to use. It adds great flavor and keeps the chicken juicy.
For a vegetable side dish, I like roasted cabbage with cumin seeds or simple, sauteed zucchini and onions or this cucumber and orange salad.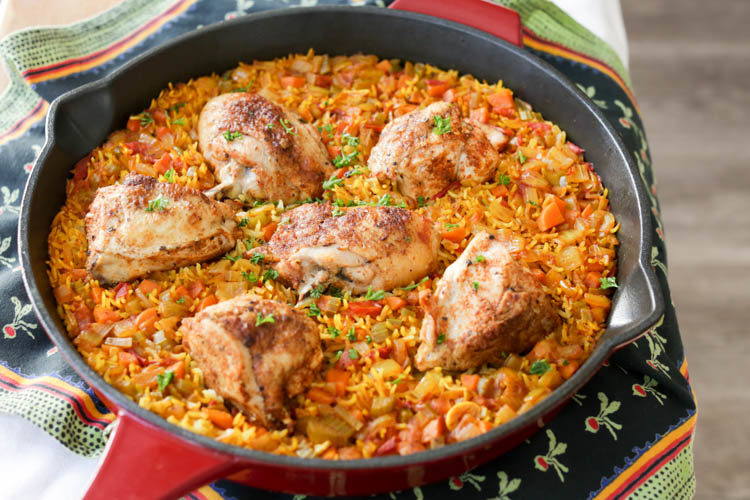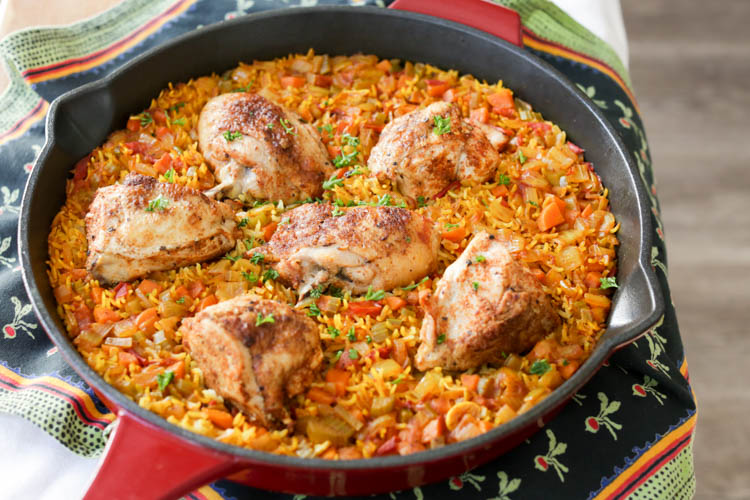 Print
Arroz con Pollo
Author:
Prep Time:

5 mins

Cook Time:

45 mins

Total Time:

50 minutes

Yield:

4

1

x
1 teaspoon

salt

1 teaspoon

paprika

1 teaspoon

cumin

1/2 teaspoon

black pepper

1/4 teaspoon

cayenne pepper

1 1/2

pounds chicken pieces (bone-in legs, thighs, breasts)

1 tablespoon

olive oil

1/2 cup

diced onion

1/2 cup

diced carrots

1

jalapeno, seeded and diced (or

1/4 cup

green bell pepper)

1/2 cup

tomato

1 tablespoon

minced garlic

1 tablespoon

tomato paste

1 teaspoon

turmeric

1 cup

long grain white rice

1 1/2 cup

water
Instructions
Mix spices together and coat chicken pieces.
Heat oil in a large skillet over high and brown chicken on all sides. Remove.
Soften onion, carrots, jalapeno and tomato in remaining oil over medium heat for about 5 minutes.
Add garlic and tomato paste and a tablespoon or two of water if it's sticking. Cook the vegetables, stirring, until tomatoes have broken down and mixture is thick.
Add the turmeric and cook 30 more seconds.
Add rice and stir to get grains coated. Add the water and stir.
Nestle chicken pieces skin side up into the rice. Pour any accumulated juiced from the bowl into the skillet.
Increase heat to high and bring to simmer.
Cover and reduce heat to low. Cook 30 minutes. Turn off heat and allow to sit 10-20 minutes.
Garnish with parsley, lemon or lime wedges, hot sauce or cheese