I know. Roasted cabbage. BO-RING. But, y'all, this is one of my go-to vegetable side dishes. Seriously we eat this once a week. So I wanted to tell you how to roast cabbage!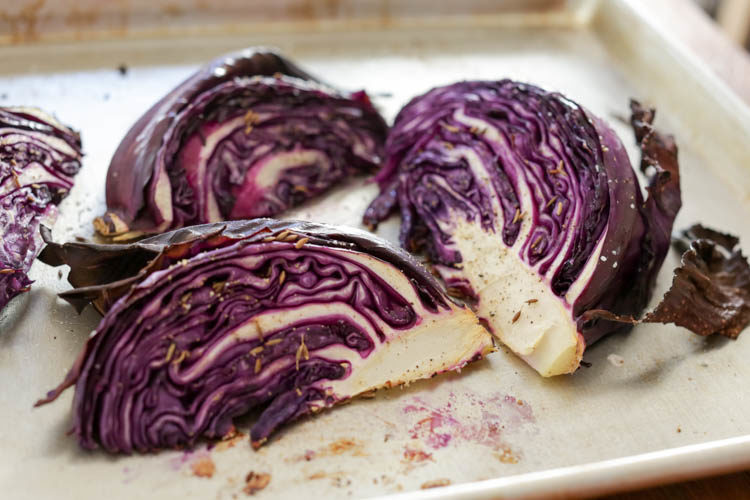 First you cut the cabbage into wedges. It's easiest to cut it in half lengthwise first, then lay each half down and cut each one into four wedges. Sometimes they're not evenly sized. That's okay.
Then you drop a little oil on a baking sheet and rub the wedges in it on both sides. Put them cut-side-down on the sheet. Sprinkle generously with salt.
You can stop there and just stick em in the oven.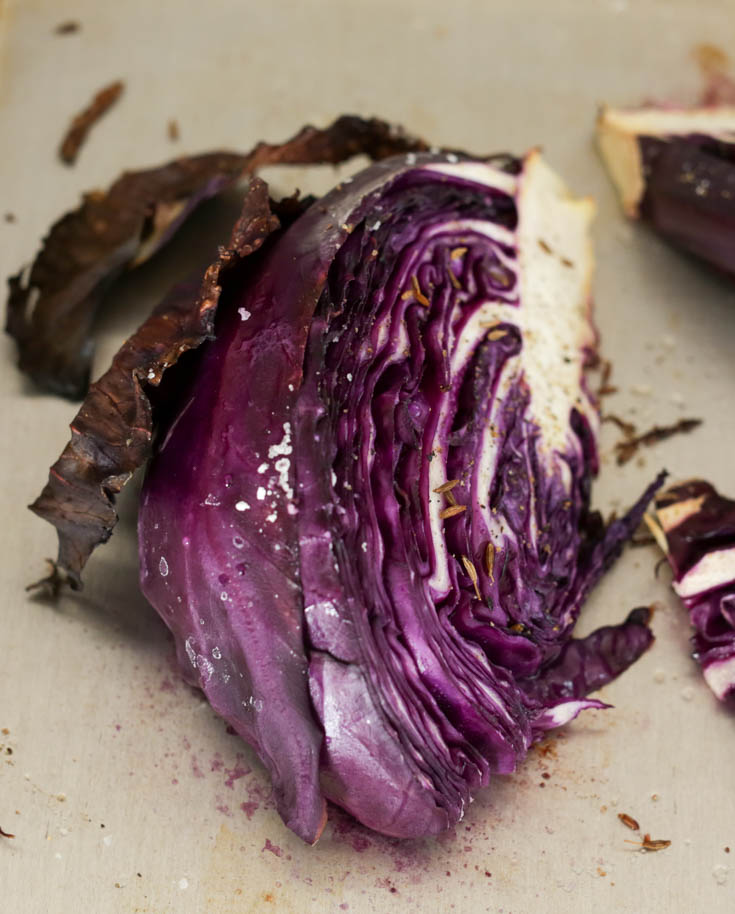 Or you can do what I usually do and sprinkle them with some cumin seeds, too. Cumin roasted cabbage goes great with Mexican, Indian, Middle Eastern flavors. I make it like that to serve with fish tacos, carnitas, curry, falafel. If you're making something more on the German/European side of things like schnitzel or Swedish meatballs, add caraway seeds instead.
Any way you season it — or don't — it's just really, really good. Roasted cabbage gets sweeter and tender and it's just my favorite way to eat cabbage. Hope you try it!
Print
Roasted Cabbage
Author:
Yield:

8

wedges

1

x
1 head cabbage
2 tablespoons oil
1 teaspoon salt
Optional: 1 teaspoon cumin seeds or caraway seeds
Instructions
Set oven to 450ºF
Cut cabbage into 8 quarters. Leave the core intact to help hold them together.
Pour the oil on a baking sheet and rub both cut sides of each wedge in the oil. Lay them cut-side-down.
Sprinkle with salt and optional spices.
Roast for about 20 minutes, until softened and the outer cabbage leaves are crisp (they are the best part!)
Serve hot
Nutrition
Serving Size:

1 wedge

Calories:

52

Fat:

3.5

Carbohydrates:

5

Protein:

1
If you have leftover cabbage, turn it into a roasted cabbage salad with a little vinegar, honey, salt, grated carrots, chives, and toasted nuts or seeds on top. Like this!