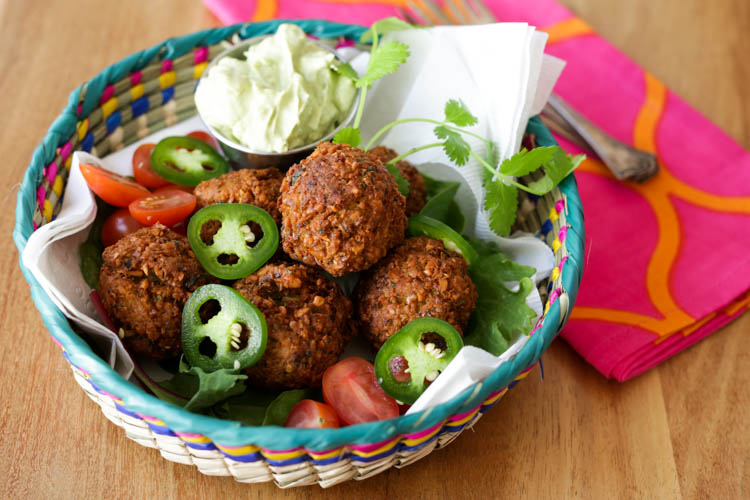 Crispy, spicy falafel make a delicious (and fairly easy-but-also-impressive) vegan lunch or dinner. Or even appetizer! Make them little bite-sized balls for snacking or bigger patties for turning into sandwiches or wraps.
The trick to making falafel is to start with soaked but not cooked chickpeas. I know it seems wrong to American sensibilities to eat unboiled beans of any kind but they do cook in the oil. It takes a while, because you'll fry them at a much lower temperature than most fried things, but that makes sure they're cooked through and gives them the deep, crunchy crust on the outside.
Incidentally, there are a few other regional recipes that use the same method to make fried bean snacks. Accara (or akara) in West African became acarajé in Brazil — both made from black-eyed peas — and vada in South India are made from lentils.
I like to roll my falafel into balls a little smaller than a golf ball.
I think.
Truly I'm not 100% sure how big a golf ball is, but my falafel balls are bigger than a whole walnut … maybe the size of a cow's eyeball? Is that disturbing or awesome that I am more comfortable comparing sizes to eyeballs than golf balls?
Anyway, the size isn't super important; whatever size you make you will need to adjust the cooking time to suit.
I use chickpea flour (aka besan) to bind my falafel so they are gluten-free, but you can use some regular, all-purpose flour, too. If you do buy the chickpea flour, use the rest to make GF socca pizza and thank me later!
It's pretty important, too, to have a sauce (at least one!) for dipping. I made an avocado-tahini dip but this creamy hatch chile sauce or jalapeño salsa would be good, too. Or make some hummus to dip into if you have a bunch of chickpeas left!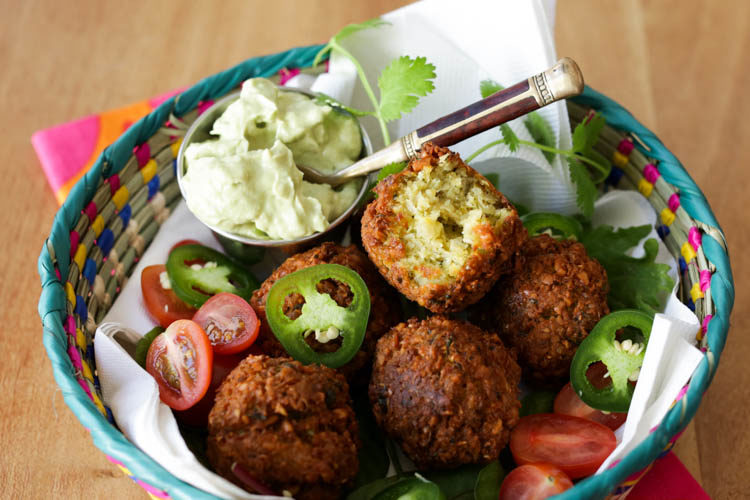 Print
Spicy Falafel
Adapted from http://toriavey.com/toris-kitchen/2011/01/falafel/
1 cup

dry chickpeas, soaked overnight in 4 cups water

1/2

small white onion

1

fresh jalapeño or 2 tablespoons pickled jalapeño slices, drained

1/4 cup

minced cilantro

2 tablespoons

minced parsley

3

cloves garlic, minced

1/2 teaspoon

ground cumin

1 teaspoon

salt

1/2 teaspoon

black pepper

2

–

3

tablespoons wheat flour or chickpea flour

3

–

4

cups oil for frying (grapeseed, canola, corn)
Avocado tahini sauce:

1

avocado

1/2 cup

tahini

1

–

2

tablespoons water

2 tablespoons

lemon juice

1

clove garlic

1/2

fresh jalapeño pepper

1/2 teaspoon

salt
Instructions
Soak the chickpeas at least 8 hours and up to 12 hours at room temperature. Drain. You should get about 2 cups of soaked peas.
Grate the onion on the large side of a box grater. You should get about 1/2 cup grated onion.
Remove seeds from chile for milder falafel. Mince the chile.
Grind the soaked chickpeas in a food processor with the garlic, herbs and spices until it looks like a chunky paste. It should not be completely smooth but look more like wet couscous. If you have only a tiny food processor like my 4-cup size, you'll need to do this in batches.
Transfer to a bowl and mix in in the grated onion and minced chile. Add enough flour to make a dough that will stick together but isn't too wet. Cover the bowl.
Refrigerate this mixture at least 1 hour and up to 3 days (be sure to cover so it doesn't dry out).
Shape balls from falafel mix using about 2 tablespoons per ball (or a little bigger/smaller if you want).
Heat 2 inches of oil in a deep pot to 275ºF (135ºC)
Fry balls or patties for 3-4 minutes on each side until dark brown. Keep the oil temperature between 250-300ºF (120-148ºC). You want them to cook slowly to ensure the insides are cooked through or else you'll have raw-tasting falafel.
Drain on paper towel or rack
For tahini sauce, combine all ingredients in a blender until smooth. Add extra water for thinner sauce.