Beet and Farro Salad with Mint
Whew! A lot of stuff's happened since I shared these s'mores cookies. Mainly, we moved back to Austin in June to be closer to our families and to Chris's company headquarters (Yoga with Adriene). In the Age of Covid, it just didn't make sense to be so far away from our literal priorities.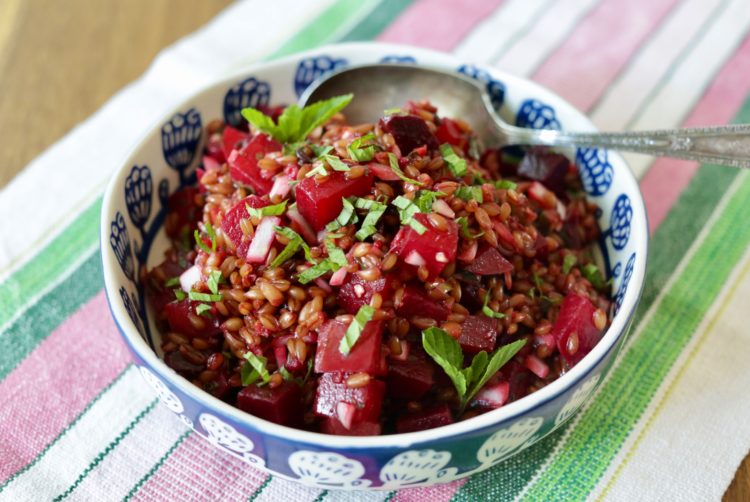 And being back in Austin means, of course, that I signed up again for a weekly CSA from Johnson's Backyard Garden (no relation, and here is an old video we made on the farm a few years back).
This beet and farro salad with mint is something I came up with to use the hordes of beets and bunches of mint I got in my box last week. Okay, so the beets were actually from a couple weeks ago and I turned some of them into spicy pickled beets but the rest have been waiting patiently in the fridge for me until today.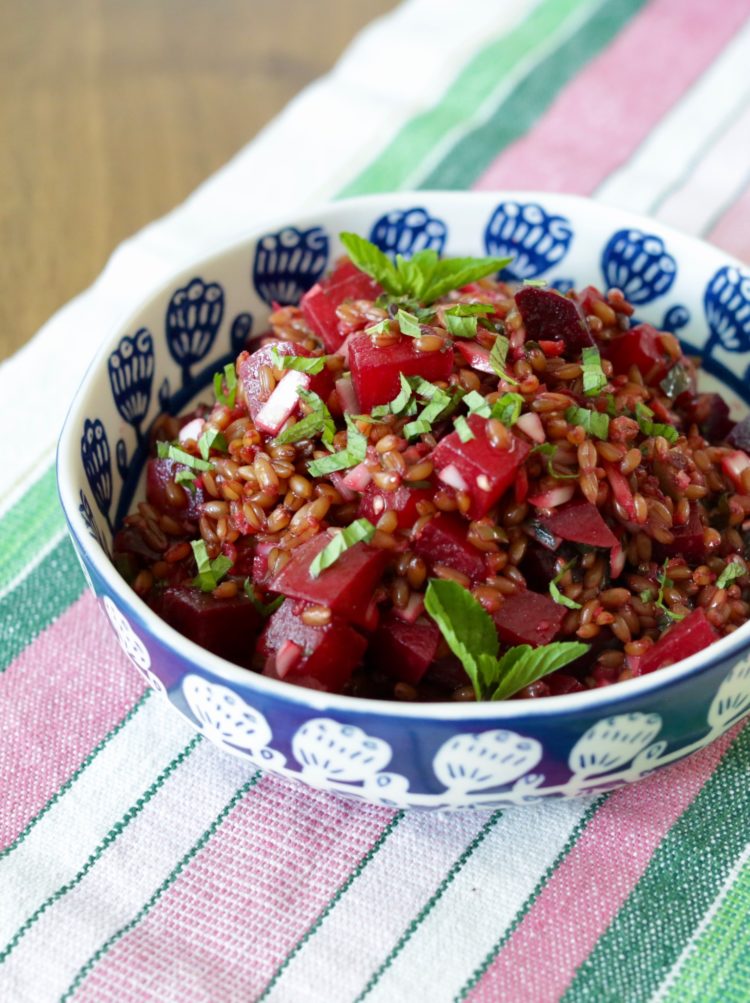 The farro is a roasted variety I order from Anson Mills in North Carolina. When the pandemic first hit and everyone was hoarding flour, I remembered my mom used to buy their flours so I ordered several heirloom (and pricey, but that's the tradeoff) flours and grains, including this farro. But you can use any farro or other whole grain like brown rice, kamut, wild rice, or even quinoa. (Obviously, follow the cooking instructions that come with your grains if you're not using farro.)
This salad keeps well and is delicious served warm or at room temperature. It's not quite as good straight from the fridge, so I let it sit on the counter for an hour before serving the leftovers. Be sure to add the extra fresh mint on top; it adds brightness to this earthy beet and farro salad. If you have some goat cheese or some toasted walnuts, those make a great garnish, too.
Print
Beet and Farro Salad with Mint
Author:
Prep Time:

12 hours

Cook Time:

1 hour

Total Time:

13 hours

Yield:

4

1

x
1 cup farro (or other grain, see notes above)
3 cup vegetable broth or salted water
2 large beets
1/4 cup diced onion or green onion
1 jalapeño or serrano, minced (optional)
Dressing:
2 tablespoon olive oil
2 tablespoons fresh minced mint
2 tablespoons sherry or apple cider vinegar
1 teaspoon mustard
1 teaspoon honey
1 small clove garlic, minced
1/4 teaspoon salt (or more)
Instructions
For best results with farro, soak it overnight in 4 cups of water. In the morning, drain and add the vegetable broth or salted water in a medium pot. Cover, bring to boil, then reduce heat and simmer for 25 minutes until very tender. (If you can't soak it, it will take closer to 45 minutes to cook.)
While it cooks, peel and dice the beets into 1/2″ chunks. You will have about 3 cups raw.
When the farro is tender, strain the leftover broth INTO A SKILLET. Add the beets to the skillet, cover and simmer 15 minutes until the beets are just tender. The broth may be cooked off or you may need to add a bit more water. Keep an eye on it.
Whisk together the dressing ingredients.
When the beets are done, add the the farro and pour the dressing over. Toss to combine. Add the onion and jalapeño if using. Mix well. Cover and let sit at room temperature until ready to serve. Garnish with more fresh mint if you got it. 
Nutrition
Serving Size:

1.25 cups

Calories:

285

Sugar:

6

Fat:

9

Carbohydrates:

43

Fiber:

8

Protein:

8