The original concept for these s'mores cookies was something Chef Baby came up with called "vanilla explosion cookies", which involved lots of vanilla extract plus vanilla chips. But then I told him vanilla chips do not exist (although white chocolate chips are kind of like vanilla chips, but white chocolate chips are terrible in my humble yet inarguable opinion.)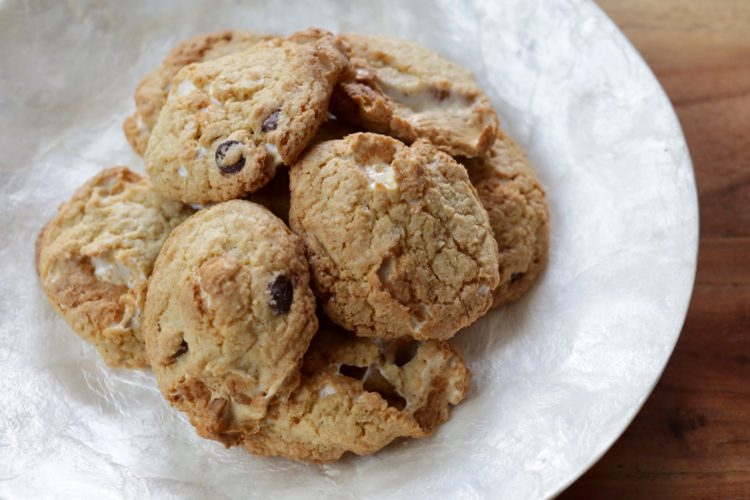 I suggested marshmallows instead, seeing as how: A. we had them already and B. they are flavored with vanilla. The ones we had in our pantry were leftover from Christmas-time s'mores so they were the big ones and they were kind of stale but turns out, nobody cares about "freshness" that much during a global pandemic (tell that to my armpits, okay?!).
So we started with a basic sugar cookie dough, then added some chopped-up marshmallows. Though they were more like mashed up because I let the kid do it with a paring knife and he ended up licking them all and tearing them up into a weird chunky paste. Whatever! Totally worked.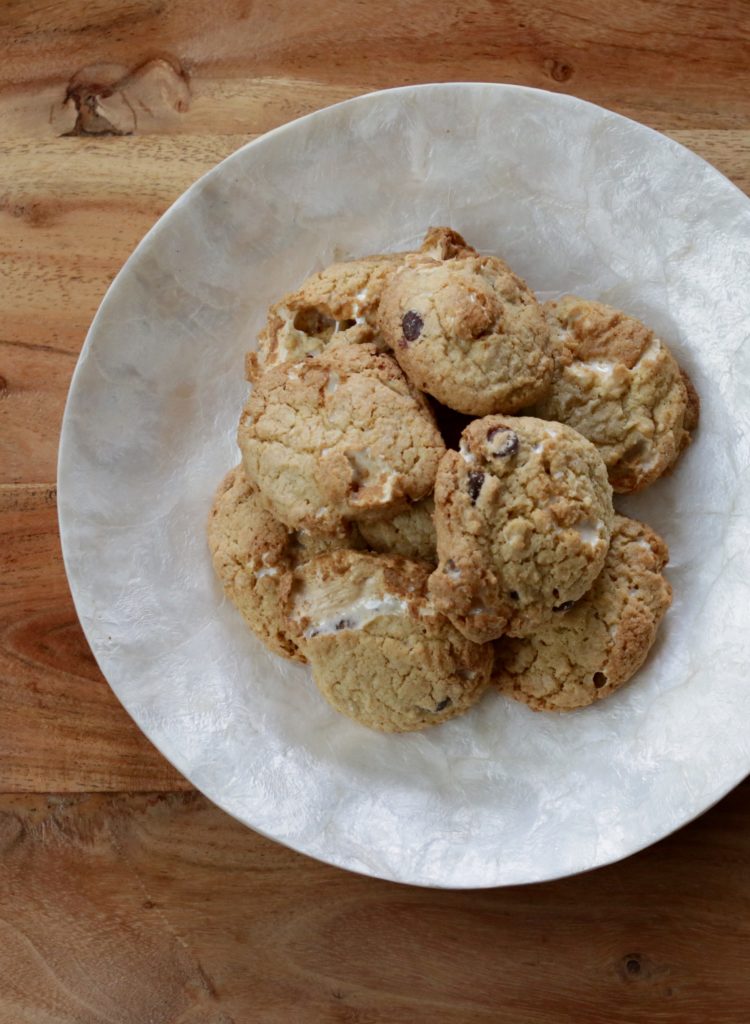 After we put in the marshmallows he suggested "just a little" chocolate chips and I was happy to comply because Dorg knows I love being skimpy. That's not a sarcastic remark. That is true about me. And the end result, with toasty marshmallows bits and chocolate chips and the nutty whole wheat flour I was forced by necessity to use, tasted very much like a s'mores and that is the story of how vanilla explosion cookies became s'mores cookies.
The end.
P.S. If you want to make actual s'mores but you don't have a fire, make some dang s'mores in your oven!
P.P.S. If you want to bake but you lack eggs and butter, try this very easy (vegan) banana cake. Or if you have eggs and butter but no flour, you can make flourless chocolate cakes!
Print
S'mores Cookies
Author:
Prep Time:

10

Cook Time:

15

Total Time:

25 minutes

Yield:

15

cookies

1

x
1/2 cup butter, softened
3/4 cup sugar
1 egg
2 teaspoons vanilla extract
1/2 cup mini marshmallows or cut-up regular marshmallows
1 1/3 cups whole wheat pastry flour or AP flour
1/2 teaspoon baking powder
1/4 teaspoon salt
1/2 cup chocolate chips
Instructions
Beat the butter and sugar together until smooth and light. Add the egg, vanilla and mix completely.
Stir in the flour, baking powder, salt until mostly combined. **If you're using cut-up regular marshmallows, toss them with a tablespoon of the flour first to help them stay separated.**
Add the marshmallows and chocolate and mix until dough forms.
Scoop onto lined baking sheet by 2T balls. Sprinkle with coarse salt if you like. Refrigerate the tray while the oven heats to 325øF.
Bake 12-14 minutes until puffed and the edges are browned. The marshmallows will be slightly  toasted on the outside. Let cool on baking sheet until cool enough to handle. Then transfer to rack to cool completely.
Store in an airtight container at room temperature for several days.
Nutrition
Serving Size:

1 cookie

Calories:

148

Sugar:

15

Fat:

8

Carbohydrates:

18

Protein:

1