Crispy Chicken Stir Fry – Chinese Takeout at Home!
Chicken Stir Fry Video (scroll down for printable recipe)
I came up with this one evening when what I was really craving was some Chinese take-out, the kind that's way too sweet and sticky and tastes awesome but leaves you feeling kind of terrible in your guts after you eat it, you know the kind I'm talking about?
The kind that comes with broccoli, but only like four sprigs of it, overcooked and soft. The kind that comes with fried rice speckled with greasy peas and carrot nubs. The kind that comes with a styrofoam cup of gloppy, lukewarm egg drop soup. The kind that comes with a damp egg roll about which I have no complaints because I love all egg rolls, no matter how shitty they are.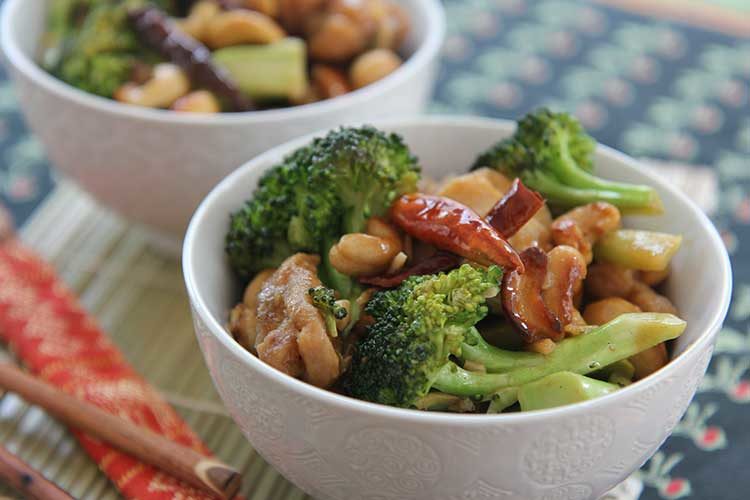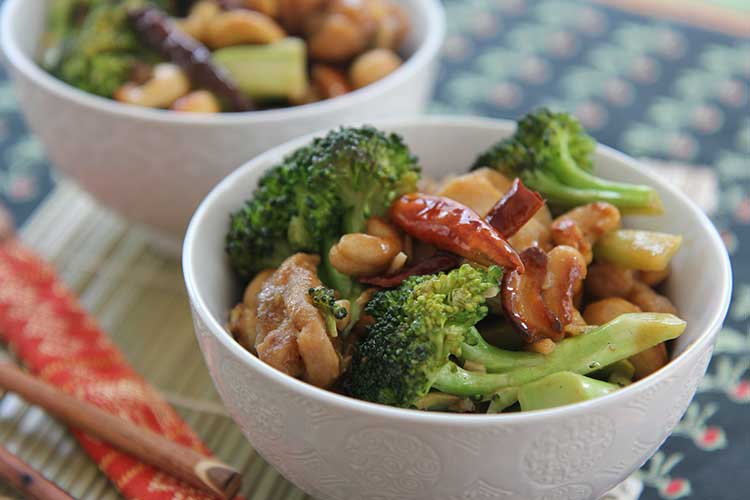 THAT was what I wanted. But since I still have a few pounds to lose post-baby and we are trying to eat healthy (and whatever that means to you, I'm pretty sure it means "no Chinese takeout" to everyone) I instead went and got some chicken and broccoli at the ding dang ol' H-E-B and set about my business in the kitchen to create something that would quell my hunger for MSG and corn syrup, but not leave me with the junk food hangover.
One trick to making Chinese take-out at home is to use chicken thighs. Sure, buy the organic ones, buy the air-chilled ones, or buy the ones that are half-off because they expire, like, this second; any kind you get is probably higher quality than the ones they're using at Wok'n'Roll. Chicken thighs are important here, though. If you are really on a diet, you can use chicken breast but thighs have more flavor and better texture and I can damn well guarantee that thighs are what your local joint uses.  The only other "trick" is that you do have to use some sugar and probably more oil than you feel comfortable with, but still not a ton of either and mos' def' less than you would be eating at a restaurant.
Whenever I do any kind of stir fry, I always get my rice started first so it's ready when I am. If you're a real newb, check out this post on how to cook rice. If you're an oldie in the kitchen, try mixing a half-cup quinoa and half-cup white rice in your pot with 1 1/2 cups water and cook it just like you would rice for a more wholesome, whole grain accompaniment to your dinner without totally giving up the deliciousness that is perfectly cooked, fluffy white rice.
And for a real treat — not a healthy one, but hey, you just put quinoa in your rice so that counts for something  — make your own egg rolls with this egg roll recipe.
Chicken Stir Fry Recipe – Printable!
Print
Crispy Chicken and Broccoli Stir Fry
Author:
Prep Time:

10 mins

Cook Time:

20 mins

Total Time:

30 minutes

Yield:

4

1

x
Sauce:

1/2 cup

chicken stock

3 tablespoons

soy sauce

1 tablespoon

rice vinegar

1 tablespoon

minced garlic

1

" chunk ginger, peeled and minced

2 teaspoons

brown sugar

2 teaspoons

cornstarch

1 teaspoon

sesame oil

1

bunch broccoli (about a pound)

1

–

1 1/4

pounds boneless, skinless chicken thighs

1/4 cup

rice flour or cornstarch

1/4 teaspoon

salt

1 cup

oil for frying (vegetable, canola, peanut, corn, grapeseed)

2

–

10

dried red chiles

1/2 cup

cashews, peanuts or sliced almonds
Instructions
Mince garlic and ginger and mix with sauce ingredients. Set aside.
Cut the broccoli heads into florets about 1 1/2″ long by 3/4″ wide. "Roll cut" (See video) the stems into bite-sized pieces. Steam the broccoli for 3 minutes (or microwave in batches for 1 minute each) until bright green and set aside.
Trim excess fat from the chicken thighs and cut into bite size pieces no larger than 1″ cubes. Toss in a large bowl with 1/4 cup rice flour or cornstarch and salt.
Heat oil in a wok or very large skillet until a chile sizzles when dropped in. Add a couple chiles and a third of the chicken pieces and fry on all sides until golden brown, about 3-4 minutes total. Remove to a tray to rest while you fry the remaining chicken.
When all is fried, pour off all but about 2 tablespoons of the oil and reheat. Add the cashews and remaining dried chiles and cook 60 seconds until toasted.
Add the broccoli and stir fry 60-90 seconds.
Add the chicken back in and cook another 60 seconds. Push all to one side.
Pour in the sauce and let it start to bubble and thicken up. Stir everything together to coat in the sauce. Serve immediately over rice or another grain or lomein noodles.
Notes
Nutrition amounts are estimated and do not include rice
Nutrition
Calories:

512

Sugar:

4

Fat:

29

Carbohydrates:

22

Protein:

40