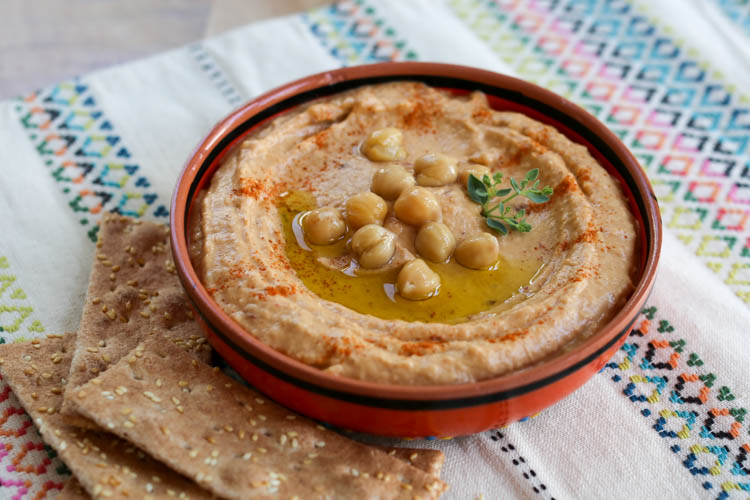 Like everyone else who came up in the 90s, I have a soft spot in my heart for hummus. Vivid memories of party snack tables spotlighting pita chips and hummus — so exotic! — and beach days with Triscuits dipped in hummus and then blown with sand so that with every bite you could feel your enamel getting ground right off of your teeth.
In fact I love it so much, how to make hummus was one of the first recipe videos I ever made.  Seeee????
Not that a person really needs a video showing how to put stuff in a blender but, hey. It's still pretty popular so maybe people just want a video of stuff going in a blender. So there you have it.
This chipotle hummus was inspired by some black bean hummus I had recently (I know it's not hummus if it's not made with chickpeas but that's what they called it at the restaurant so don't bite the messenger's head off, okay?). Like hummus, chipotle peppers came on real strong in 90s USA and then the excitement wore off I guess because you don't see that much "chipotle-infused whatever" on menus anymore.
And I get that. Chipotle en adobo are intensely smoky and hot and sweet. They can easily be overused in recipes. But when blended up with bland chickpeas, this chipotle hummus is the perfect balance of spicy, sour and garlic.
Perfect for me, I mean. I don't know what your personal heat tolerance is, but I think anyone who likes spicy food would appreciate this hummus. It's not so hot that it's gonna ruin your tastebuds (or your wine) but it's hot enough to notice.
And we all just want to be noticed, right? #hummusphilosophy 😉
Chipotle hummus is super delicious with tortilla chips, whole wheat crackers (I'm a sucker for Ak-Mak) cucumber slices and carrot sticks. You know what else? Slap some spicy chipotle hummus on a tortilla, top with cheese and grill that sucker for a delicious quesadilla with some healthy bean protein.
One more thing! Peep this avocado hummus recipe that swaps oil for a buncha avocado.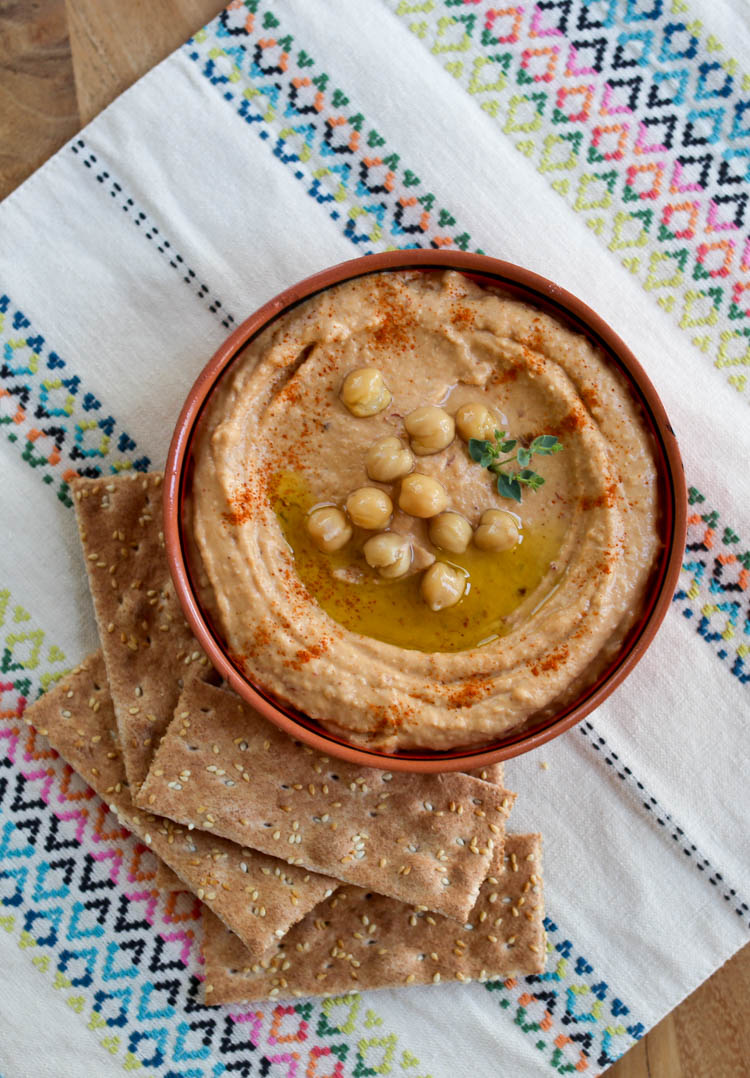 Print
Chipotle Hummus
Author:
Yield:

1.5 cups

1

x
1 1/2 cups cooked chickpeas, drained (1–15 ounce can)
2 tablespoons tahini
2 tablespoons olive oil
2 tablespoons lime juice
1 tablespoon minced chipotle en adobo (1/2 of a whole chipotle)
2 large cloves garlic or 4 small
1/2 – 1 teaspoon salt
Instructions
Blend it all up with 1/2 teaspoon salt. Taste and add remaining salt if needed
Nutrition
Serving Size:

1/4 cup

Calories:

112

Fat:

8

Carbohydrates:

8

Protein:

3