Chorizo fried rice is great for a quick breakfast or breakfast-for-dinner. I'd heard of bacon fried rice before and I had some really excellent chorizo in the fridge and I figured bacon and chorizo have about the same amount of fat so it ought to work. And it does. See??? Here's picture proof!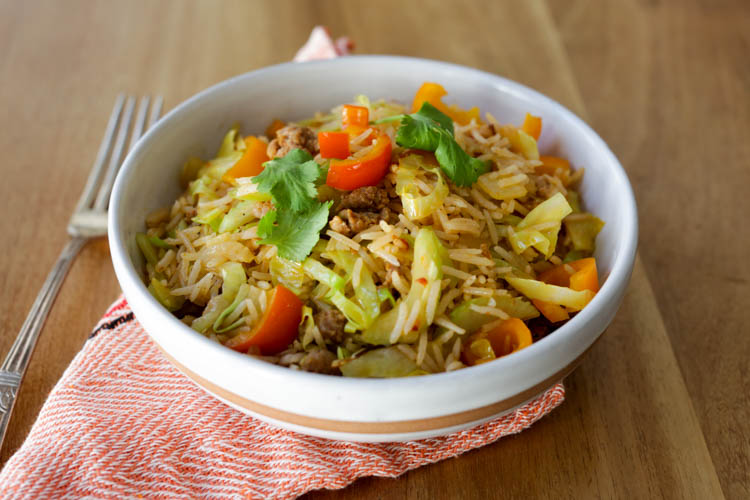 The recipe uses Mexican chorizo, which is a fresh sausage, rather than Spanish chorizo, which is smoked and dried. If you can't find Mexican chorizo, I suggest you pick up a copy of my Breakfast Taco Book for a recipe to make your own chorizo! (And for vegetarians, I've been really impressed with a product called Soyrizo that's easily found now, near the tofu and not-meat items.)
And since I've been thinking of this as a breakfast dish (though you could of course eat it whenever you want to) I wanted a fried egg on top instead of mixing the egg into the rice. Fried eggs turn everything into breakfast, right?! For instructions on how to mix the eggs into the rice, see this basic fried rice recipe and video.
Be sure to use a long grain rice whenever making fried rice. Long grain rices (like Basmati, Jasmine or just "long grain rice") have less starch than short-grained rice varieties (like sushi rice or arborio) so they cook up fluffier with separate grains that make better fried rice. It's easy to cook extra rice earlier in the week to make this recipe (and the recipe doubles and triples easily to feed more people — just use a large skillet). See this post for tips on how to cook rice.
Print
Chorizo fried rice
2 ounces

fresh Mexican chorizo

1/2 cup

shredded cabbage

1/4 cup

diced bell pepper or carrot

1

stalk celery, thinly sliced

2 tablespoons

diced onion

1

clove garlic, minced

1 cup

cold, cooked rice

1

–

2

fried eggs, optional
cilantro, hot sauce
Instructions
Crumble the chorizo in a skillet over medium heat. Stir to break up into small bits.
When nearly cooked, add the vegetables. Saute in the chorizo fat for a couple of minutes until the cabbage is wilted.
Scoot that over to one side and add the rice. Let it fry for about 30 seconds, then stir it into the vegetables and meat.
Turn heat to low and keep warm while you fry the eggs (if you want eggs).
Put rice on a plate, top with eggs, cilantro and hot sauce
Notes
Nutrition info is for fried rice plus one fried egg
Nutrition
Calories:

528

Fat:

21

Protein:

24