Chorizo Spiced Pork Tenderloin
Based on my chorizo recipe from The Breakfast Taco Book, this chorizo spiced pork tenderloin is marinated in chiles, vinegar, garlic and spices. The trick to a good pork tenderloin is not to over cook it. I know it's tempting to roast it until it's fully gray inside, but don't! Leave it a little pink for best flavor and texture. I promise you won't get sick. See this post for a video demo on my roast pork tenderloin method. This chorizo-spiced pork tenderloin uses the same cooking technique with a different seasoning.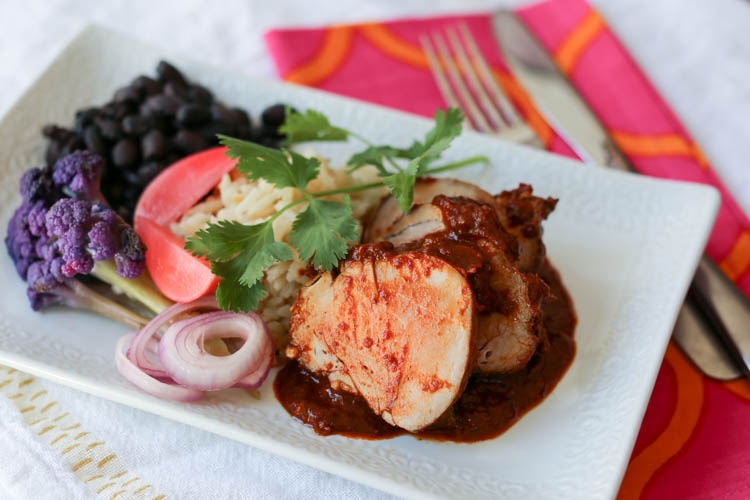 Serve this pork tenderloin with plain buttered rice and black beans, pickled red onions and radishes. Or serve it with fried plantains and garlic green beans.
I save the leftover marinade and boil it heartily before serving with the cooked tenderloin. If that skeeves you out, just use half the marinade on the pork and save the other half for serving. You'll still want to warm it up and thin it out with a little water, but you won't need to worry about bringing it to boil.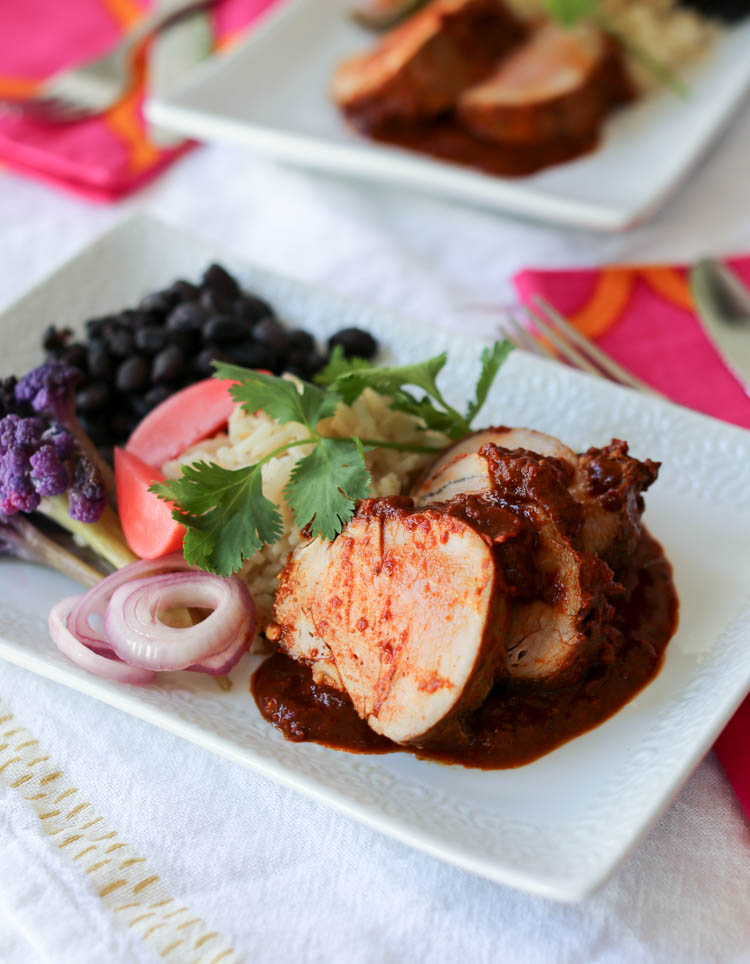 Print
Chorizo Spiced Pork Tenderloin
2 guajillo chiles
2 tablespoons apple cider vinegar
1 teaspoon salt
2 cloves garlic
1/2 teaspoon dried oregano
1/4 teaspoon ground cumin
1/4 teaspoon ground coriander
dash ground cloves or allspice
1 pork tenderloin (1–2 pounds)
1 tablespoon vegetable oil
Instructions
Toast the dried chiles on a dry skillet over medium-high heat for several seconds on each side until pliable. Break off the stem and shake out the seeds. Rinse them off. Cover the chiles with 1 cup very hot water and set aside for at least 30 minutes. You will use some of the soaking water in the marinade so don't toss it!
Peel garlic cloves and toss into blender with vinegar, salt, spices. Add the soaked chiles and 1/4 cup of the chile-soaking water. Blend until smooth. (Marinade can be refrigerated in a jar for a couple days.)
Coat the tenderloin in this sauce and refrigerate 6-10 hours.
When ready to cook, preheat oven to 425ºF.
Heat a cast iron skillet (or other heavy, oven-safe skillet) over high until very hot. Add the oil. Pull the pork from the marinade (reserve it though!) and place in the hot pan. Let cook 3 minutes. Turn and brown the other side for 3 minutes.
Transfer skillet to oven and roast 10-15 minutes, until the internal temperature reaches 155ºF.
While it cooks, add about 1/4 cup water to the remaining marinade and bring to boil in a small pot. Let it boil a few minutes.
Let pork rest for 5-10 minutes before slicing and serving with boiled marinade.