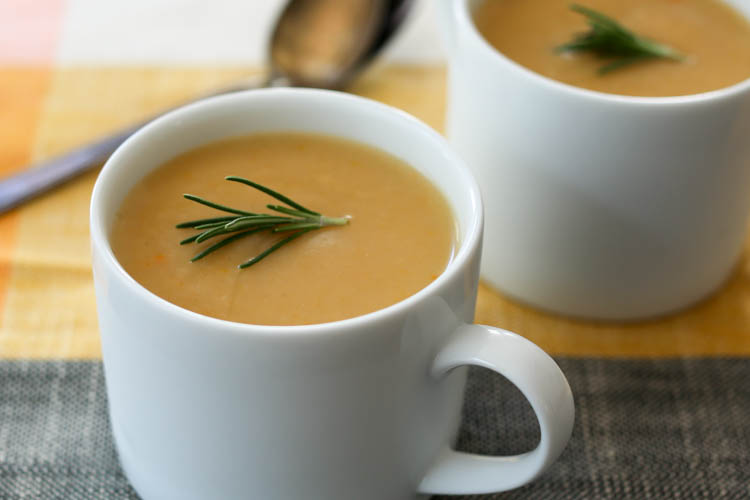 There are not many foods more boring-sounding than turnip soup, I know. Even if you try and add a sensual adjective like creamy turnip soup, turnip soup just recalls bygone days of Charles Dickens and hungry orphans with holes in their shoes. Turnips are humble. They're cheap. They're big and round and unassuming. But they're also healthy as hayell.
Turnips are one of the Brassica family which includes the better-known, more popular vegetables like broccoli and cauliflower. They're chockfulla vitamins and antioxidants and whatnot. They're also a little bitter. Now, everyone thinks they are a little bit bitter but for some people, they are intolerably bitter. It's 'cause of your genes and there's not much you can do about it. If you're a person to whom turnips are only a little bitter, I think you'll love this soup! If you're a person to whom turnips are the devil's food, then I'm afraid no amount of soupifying will aid you. Best just stick with this broccoli cheese soup.
I mentioned we are doing a Whole30 this month and I've been having a mug o' turnip soup for breakfast and snacks and I'm telling you it's a nice thing to do. Couple boiled eggs and a warm cup of smooth soup is a gratifying breakfast. Cuppa soup on its own is a nourishing snack that will make you forget about potato chips for at least a few seconds.
Use a homemade chicken stock if you can. The extra fat in the stock makes the soup creamy-feeling, even though there's no cream. And if you want it a little sweeter, add more carrots. I've given instructions for turnip soup in the Instant Pot and for stovetop.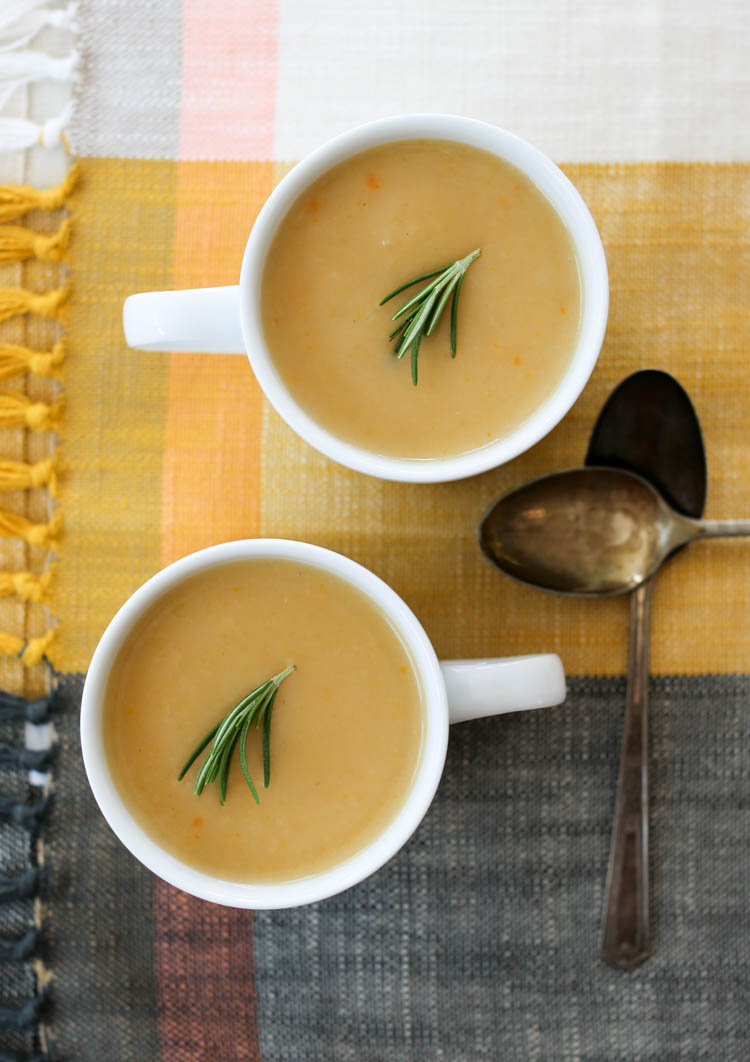 Print
Creamy Turnip Soup
1 tablespoon olive oil
1.5 pound fresh turnips
1 medium onion (about 6 ounces weight)
1 small carrot
2 cloves garlic
1 teaspoon salt
1" sprig fresh rosemary or 1/2 teaspoon dried
1/4 teaspoon white pepper
3 cups (preferably homemade) chicken stock
Instructions
Heat the oil in a large pot over medium-high heat (or on saute setting in Instant Pot).
Trim the tops of the turnips and peel any wiry roots off the bottoms. Dice 1/2 inch. Dice the onion and carrot, smash and peel garlic cloves.
Saute the vegetables for about 10 minutes, put the onions on the bottom and then the other vegetables on top and let the onions brown, undisturbed, for the first few minutes. You want some caramelization.
Add remaining ingredients and either, A. cover, bring to boil, cook 20-30 minutes until turnips are very tender or B. lock on the Instant Pot lid and cook on high pressure 15 minutes with a quick release after.
Puree soup with an immersion blender. Taste for salt.
Garnish with parsley or croutons or both!