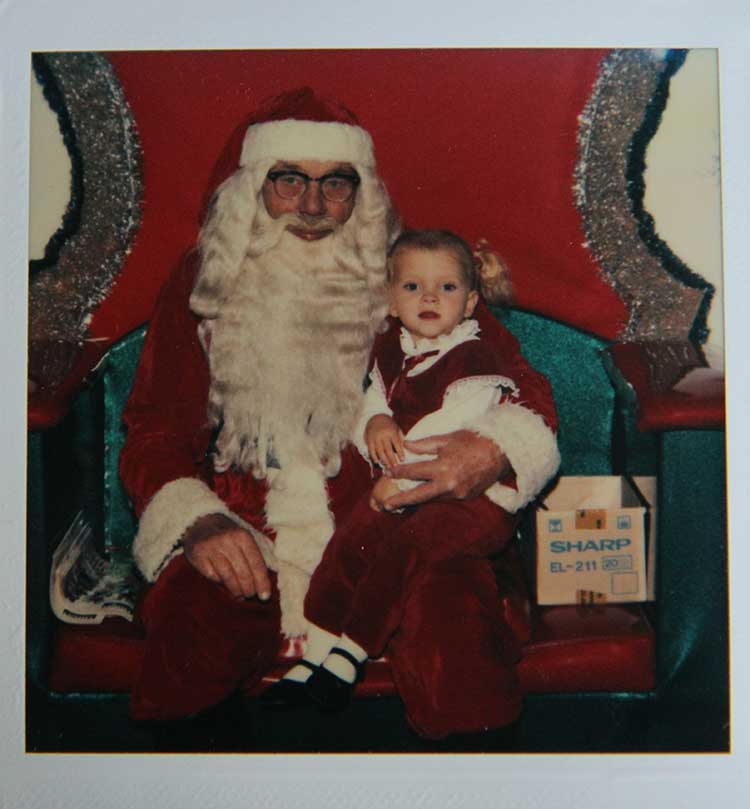 I grew up on a fair-sized plot of family land out by Lake Travis. My great-grandfather had the foresight to buy up a parcel on the lake, before it was even fully dredged and long before it would be filled with rain. When I was very small, my paternal grandmother gave my parents a portion of it on which my dad built the rock house that I grew up in. A tiny, pretty house with two bedrooms, one bathroom, and eventually an exterior laundry room. My brother and I shared a bedroom for many years, first sharing a double bed and eventually graduating to bunk beds (although I still insisted on sharing a bed due to a remarkably overpowering fear of the dark and/or of being kidnapped by child murderers that continued well into my teenage years).
One of the best parts of Christmas was going out into the scrubby old woods with our dad and a chainsaw and cutting down The Perfect Christmas Tree. It was always a juniper since that's the only conifer up in them thar hills. Sometimes we'd get one with the little blue berries on it and that was kind of special because it was already sort of decorated … by NATURE. We'd drag it back to the house, stab the base of it with one of those metal tree holders and fill the trough with water. As if the tiny bit of water could hold the dead tree in a state of suspended animation indefinitely. All we really needed it to do was last a couple of weeks.
We'd decorate it with fragile glass balls, of which there were fewer each year, strings of plastic gold beads, big red bows of velveteen, and Christmas Eggs. Christmas Eggs are very special ornaments made out of egg shells. They were made (I think) by my great-grandfather's law partner, Louise Kirk. She spent hours cutting windows into blown-out egg shells, painting them inside and out, gluing tiny pictures of birds or Santas inside them, covering the hole with cellophane, and then trimming them with beads or rick-rack. Each Christmas Egg represented 10-12 hours of human labor and love and, to us, they may as well have been Fabergé. There was an egg for my dad and each of his brothers — fitted with a locket-sized black and white photo of their boy-faces — and those were particularly interesting to me.
Presents would be hidden in my parents' bedroom until Christmas Eve, when one of them would sneak them under the tree and pretend they were from Santa. I'd been disillusioned with Santa at an early age, maybe four, by an older girl at day care, but I went along with the idea for several years after that because my dad enjoyed the Santa facade. One year I went snooping in their room for presents. I found a beautiful sun dress in a bag in the closet — blue and white with a border print of sailboats — and immediately felt so terrible for ruining the surprise, I never snooped again.
We spent every Christmas Eve dinner and every Christmas morning and most Christmas nights at my grandmother's house. Christmas Eve we'd have tamales, beans, rice, and my grandma's "Famous" Queso Dip around her creaky dining table. Her dining table was always decorated to the max for Christmas with poinsettia-patterned dishes, red paper napkins, plastic holly leaves, and a brass candelabra with red candles that she never lit. Travis and I were allowed to open one present each that night.
Christmas morning, we'd wake up way too early and annoy the shit out of our parents until all the presents were opened and then we'd sit back, like fat little Barons of Toys and eat Cheerios on the floor while playing with our new loot. Afterwards we'd all trot down the hill to Grandmother's for Christmas Morning, Round Two. As we got older, she left off buying wrapped presents for us; her claim to fame and what I remember most vividly was the stockings. She took great pleasure in packing the stockings hung on the mantle. There were some items that never changed, and were always included: Walker's Shortbread cookies; 5-packs of Twinings tea bags; a mesh bag of gold chocolate coins; a handful of pecans in their shells; and a tangerine tucked in the toe. Depending on the recipient, there might also be a HotWheels car, a plastic bottle of bubbles, a deck of cards, a new barrette, or some marbles. I miss those carefully planned stockings. My memory of them completely sums up the concepts of Christmas and my grandmother.
That doesn't really make sense.
Maybe I've got nostalgia-poisoning.
After stockings, we'd make tea from our little packets and have a fake-fancy tea party and eat cookies and chocolate and tangerines for the next two hours. Sometimes we'd go to church on Christmas, especially when I was young. Christmas and Easter were the only times of the year, really, that we made a valiant effort. I liked church enough. I liked the singing and the communion. The rest of it was so so boring. I liked the after church snacks — cheese and crackers and juice — and it was fun to see other kids besides my brother, who was my only playmate at home.
After church, we'd go back to Grandmother's for supper. Christmas supper was almost always the same, and made by my grandmother, which was quite extraordinary to those familiar with my grandmother Hornsby. She did not relish cooking and for the most part, was not the most excellent at it, either. The menu was the same she'd made while she was married and the same one my dad grew up eating.I found it written down on an index card tucked into her recipe box for remembrance.
The menu was thus: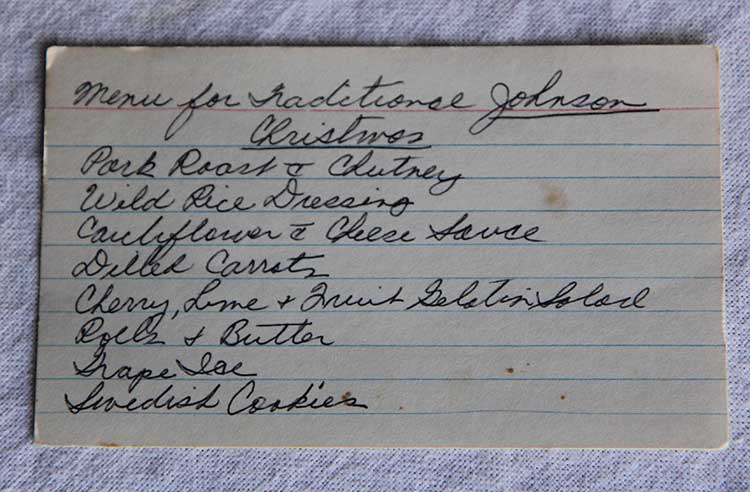 She told me once of her strong dislike for cornbread dressing, that she only made it on Thanksgiving because my grandfather liked it, and that she herself had come up with the Christmas alternative of Wild Rice Dressing. Man, that stuff was good. Wild rice, brown rice, beef Rice-a-Roni, cream of mushroom soup, and water chestnuts. I'll have to make it sometime and take a picture for you. This roast pork tenderloin is a close facsimile of her pork roast, though she always served hers with Major Grey's Chutney from the jar. Dill carrots — boiled carrots with butter and dill — are literally to this day my favorite way to eat carrots. Rolls were most likely store-bought brown'n'serve but if you wanted, you could make these Parker House rolls. And the grape ice: it's grape ice cream, people. Believe.
And there you have it, folks. About 8000 more words than I'd intended to write about my Christmas as a kid. What was yours like?