It's been a long while since I've posted anything on this blog. It's not that I haven't been cooking; in fact I've been cooking a lot but it's often hurried and rushed and uninspired. But today! Today I made this farro cauliflower salad to take on a picnic at Laguna Gloria, and it turned out so lovely, delicious and pretty, I was inspired to get out my camera and take a picture, and even write the damned recipe down.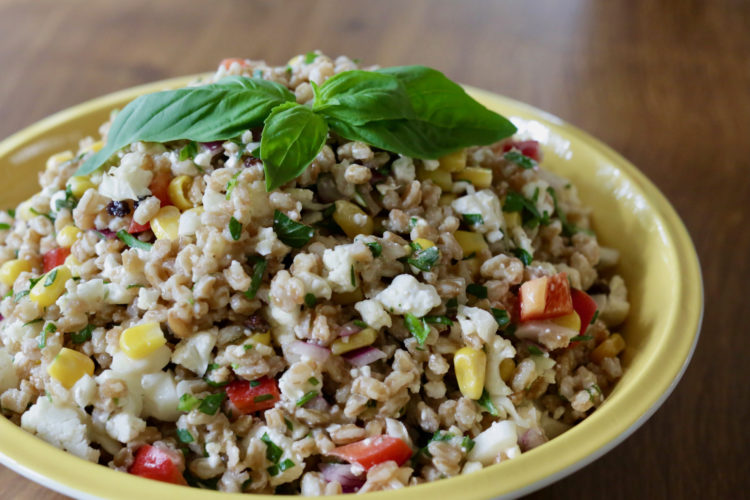 Of course, my camera was dusty and the battery was dead but after a few minutes on the charger, it was ready to photograph this colorful and nutritious salad. I used a lot of my favorite salad tricks in this recipe to give it lots of textural variety (while still keeping everything small and easy to fit on a fork) and flavor. Around these parts, I am honestly "known" for making very excellent salads.
Here are some of my best salad tips (and salad recipes) to inspire your own salad masterpiece — but please make my farro cauliflower salad first!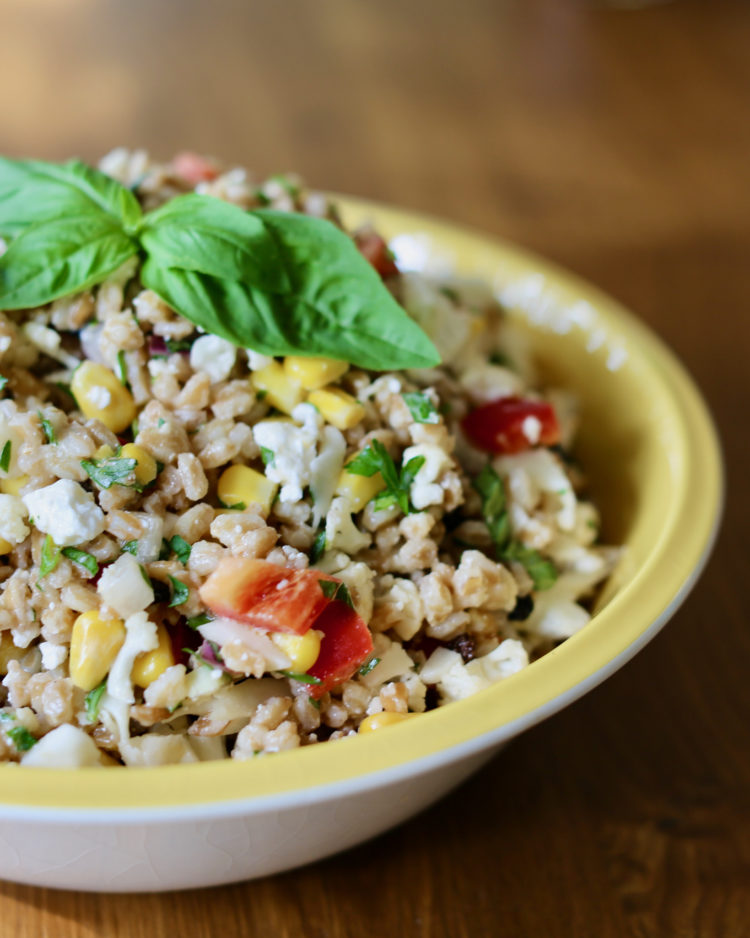 Elements of a Perfect Salad
Chewy: This particular salad's got chewy in spades between the nuggety farro and the black currants. But lets focus on the currants. I like to add a small amount of a dried fruit to any hearty salad that can take it. Especially when combined with bitter greens like kale, a little sweet-tart chewy bite makes all the difference between a boring salad and a salad that seems like it came from a fancy restaurant and cost eighteen dollars. My most regular guests are currants, dried cranberries, and sliced dates, but dried apricots and raisins are good, too.
This kale salad is softened and sweetened with sliced dates.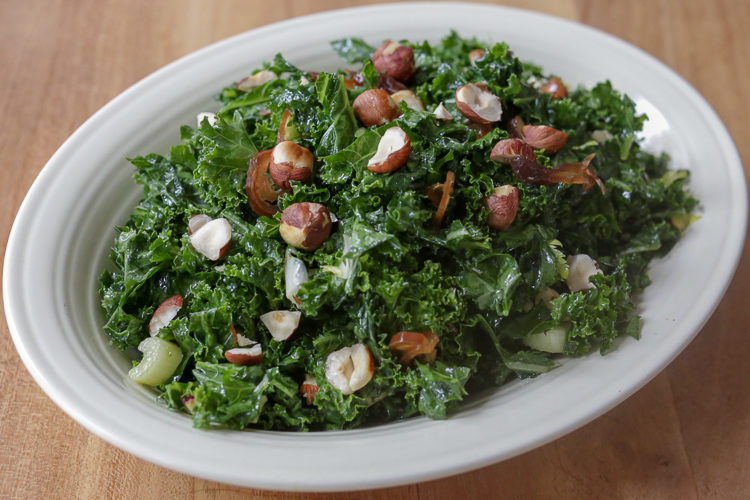 Crunchy: Usually, my crunchy element is toasted nuts of some sort. Lately I've been on a hazelnut rampage, but for years, roasted pepitas (pumpkin seeds) were my go-to. Since I was in a bit of a rush to pull it together today, the chopped cauliflower is my crunchy cohort. Sure, by tomorrow, the crunch will be softened but today we feast. Other crunchy ideas are thin-sliced celery, apples, tortilla chips, and of course, croutons.
This bright Bok Choy Salad with Apples leans heavy on the crunch.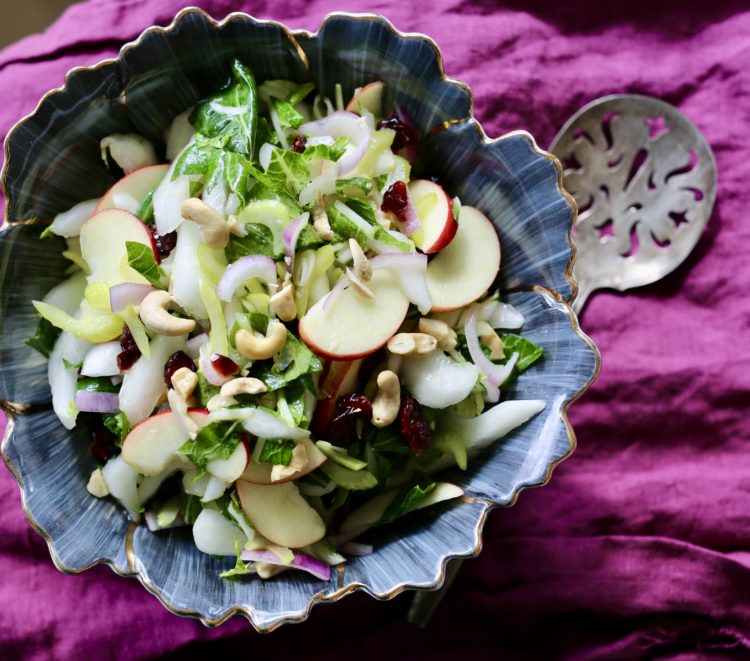 Creamy: Feta cheese provides the creamy aspect in this recipe, since whenever I'm combining lemon and parsley, I think of feta. But sometimes, it's goat cheese or avocado chunks, a blob of hummus on top, or plain yogurt.
This warm kabocha squash salad with creamy avocado dressing and pistachios is seriously everyone's favorite side at Thanksgiving.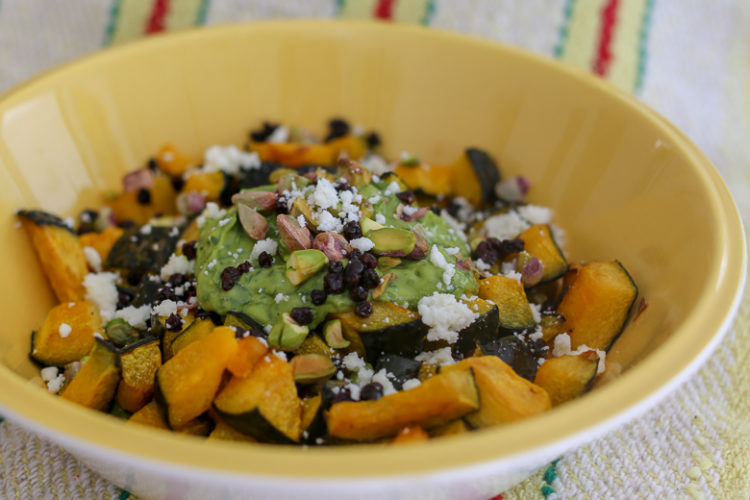 Dressing: I think people put too much emphasis on salad dressings. Ninety-five percent of the time, I just blurb some olive oil (about a tablespoon) and some wine vinegar or lemon juice (about a teaspoon) into the bottom of my salad bowl and whisk it around with a big pinch of salt. Then I dump my lettuce on top and toss it for 45-60 seconds. Voila. Everyone is amazed at how good it is. So that's all I did here with my farro and cauliflower and in my salad-expert-opinion, it's all you need.
Print
Farro Cauliflower Salad
Hearty, healthy, make-ahead salad for autumn
Author:
Prep Time:

15

Cook Time:

10

Total Time:

25 minutes

Yield:

8

1

x
4 cups cooked farro*
2 tablespoons olive oil
2 tablespoons lemon juice
1/2 teaspoon salt
2 cups diced raw cauliflower
1 cup corn kernels
1 cup diced red bell pepper
1/2 cup diced red onion
1/2 cup minced herbs (parsley, basil, mint, any combination)
2 tablespoons currants
2 ounces feta cheese
Instructions
Allow farro to cool to just slightly warm and toss in a large bowl with the olive oil, lemon juice and salt. Mix in the vegetables. Finally, fold in the feta cheese (you don't want to break it up too much). Taste and add salt if needed.
Refrigerate until ready to serve. Will keep for several days.
Notes
*I use a quick-cook farro from H-E-B (Trader Joe's also carries one). An 8.8 ounce bag cooks up to about four cups of cooked farro.
Nutrition
Serving Size:

1 cup

Calories:

231

Fat:

6

Carbohydrates:

12

Fiber:

5

Protein:

8