HHH034 Jen Brown, Feminist Horror Critic
Part 3 of Occult October. I've known Jen Brown — actor and feminist horror movie critic at the Women in Caskets podcast — for probably a decade, since we were both heavily involved in the Austin theatre community. She's maybe best known for her work on several popular Rooster Teeth series (Red Vs. Blue, RWBY, Day 5) and as the voice of Harley Quinn for DCUO.
Listen to this interview with Jen Brown to get some great scary movie suggestions for this Halloween. We discuss why horror is the perfect genre; the surprisingly progressive aspects of the Nightmare on Elm Street franchise; what Jen thinks about screeching violins; one more (two more?) zombie movies you must watch; and is Texas Chainsaw Massacre as bloody as its name suggests??? Then find out the difference between a "bad" horror movie and a bad horror movie.
Follow Jen on Podcast | Twitter | Instagram
You can listen to the episode below or on Soundcloud.
Show Notes: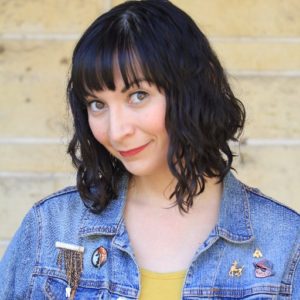 Bumbaclot (video recipe)
Nightmare on Elm Street
Chucky
Texas Chainsaw Massacre
Tobe Hooper
The Babadook
The Oscars
Tonal shifts
The Others
Fantastic Fest 2017
Dawn Humphrey
Women and horror movies
Women possessed (podcast)
The Exorcist 
Poltergeist
Kids in horror
Tigers are Not Afraid by Issa López
Pan's Labrynth
Revenge by 

Coralie Fargeat

Rape choreography
Sexual assault and harassment in our society
Anna and the Apocalypse by John McPhrail
Fido by Andrew Currie
Trick or Treat, Halloween
The problem with sequels
Troma Entertainment
Motel Hell, Basket Case, Death Spa
Practical effects
Evil Dead
Hatchet
Teeth
Vagina dentata
The purpose of nudity
The Love Witch by Anna Biller
Interview with Anna Biller (podcast)
Viva
Get Out
It
Society's effect on the popularity of horror films
Suffering for your art?
Good Manners by Juliana Rojas and Marco Dutra
The Conjuring 2
Ghost
Haunters on Amazon
High Spirits
Coraline
Nightmare Before Christmas
Young Frankenstein
Also check out this video of Freddy Krueger making pumpkin muffins!