HHH09 Interview with Josh Elkin
I met Josh Elkin a few months back when we taped an episode of Chopped together for Food Network. (Our episode airs March 28.) The shoot day was kind of a whirlwind, but we did get to hang out enough that I could see he is a genuinely nice and warm person and a really creative chef. Josh started with EpicMealTime on YouTube, but has since moved on to start his own channel, TheJoshElkin, and also hosts the Cooking Channel show Sugar Showdown. In this interview, we talk about how he started, craziest food creations, recipe music videos, and our favorite fast food burger chains.
Follow Josh on YouTube | Facebook | Twitter | Instagram
You can listen to the episode below or on Soundcloud.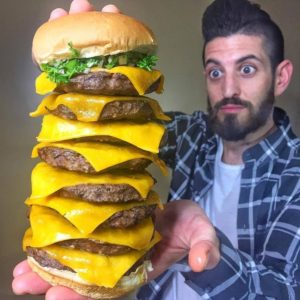 Show Notes:
Dealing with failure
Guinness World Records
Best bacon??? (Hint: Bacon in the oven)
TV vs YouTube
Canadian Football League
Monopoly
Eyeballin' it
Smoke's Poutine
Filet o' Fish (copycat recipe)
Churchkey in WeHo
Stuffed Tater Tots recipe video
Fast food burger recommendations
French Fries or Onion Rings???