Seems like a weird thing to be eating (and sharing) since I've been doing so much vegetarian or near-vegetarian cooking lately, and chicken drumsticks are definitely the exact opposite of that. But last week I saw a pack of organic fancy chicken drumsticks on sale for two dollars because they needed to be eaten, like, yesterday, so I came up with this lil honey habanero chicken marinade because I cannot resist a bargain, people!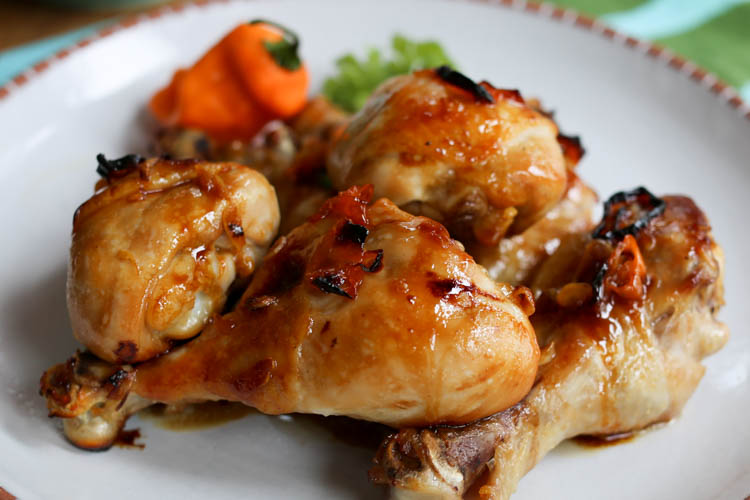 (This reminds me of one time my grandma called to invite us over for dinner because she had some pork chops that were "about to go off" and I'm telling you now that is no way to plan a dinner party.)
The marinade is easy (and sticky) for those of you who enjoy being lazy (and having ants crawl all over your body). It's just lime juice, honey, butter, garlic, salt and a habanero chile. But it's not very spicy, although you could mince the habanero to release more heat if you want. I'll do that next time. If you aren't a fan of sweet barbecue sauces and whatnot, you may want to reduce the honey to one tablespoon. It is a little sweet with two tablespoons but I think it's balanced with the garlic and lime. But, hey, man, I don't know you.
I served this with  spicy pickled beets (one of my favorite recipes) cauliflower rice and a green salad. Go ahead and copy my whole menu if you're feeling beat and you just want to be done with it. Otherwise, this sweet-spicy chicken would also be good with a spicy broccoli salad and some good ol' buttery white rice.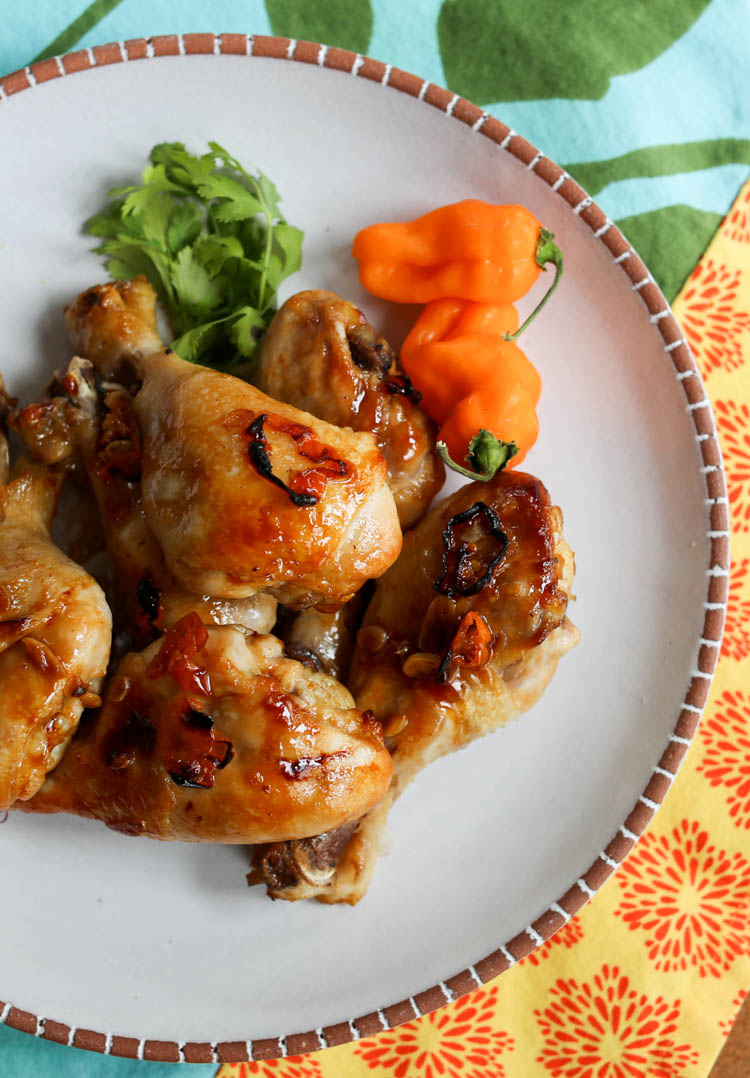 Print
Honey Habanero Chicken
1.75 – 2 pounds chicken drumsticks
3 tablespoons lime juice
2 tablespoons melted butter
2 tablespoons honey
1.5 teaspoons salt
2 cloves garlic, minced
1 habanero pepper, sliced or minced
Instructions
Toss everything together in a tight-lidded container. Shake it around. Refrigerate 4-24 hours.
Set oven to 425ºF. Arrange drumsticks in a baking dish and pour the marinade over. Bake 30 minutes.
Flip drumsticks and baste with the pan drippings (Careful! Don't burn yourself!)
Bake another 20 minutes or until the inside temperature of the biggest drumstick is 165ºF.