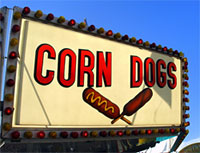 Corn dogs are a great way to make hot dogs even more tasty and less healthy. Truly an American food, corn dogs are a Christmas tradition in my house! Make sure to have plenty of cold beer and skewer-proof helmets on hand for a party that will last way longer than you intended and a house full of drunks having way more "fun" than they should be allowed by Uncle Sam.
And be patient. There's a little learning curve around battering the hot dogs. The first couple you do might look funny but you'll get better, and they still taste good! The video below will show you some tips on how to make corn dogs and the recipe is delicious! Try using smoked sausages or kielbasa instead of hotdogs, too, for a change. And have plenty of mustard on hand! Or ketchup … or mayo if you're really weird.
Print
Homemade Corn Dogs
1 cup

cornmeal

1 cup

all-purpose flour

1 teaspoon

salt

1 teaspoon

baking powder

1/4 teaspoon

baking soda

1 cup

cream-style corn

1/3 cup

finely grated onion

1 cup

buttermilk (plus a teeny bit more if needed)

4 tablespoons

cornstarch, for dredging
Hot dogs (should be enough batter for 14 corny dogs)
Shortening or peanut oil to fry
Wooden skewers
Instructions
Combine dry ingredients in a big bowl (not including cornstarch).
Whisk together wet ingredients (not including frying oil).
Add wet to dry and stir to combine. Set aside for 10 minutes while your oil heats up to 375 degrees Fahrenheit.
Meanwhile, skewer hot dogs and roll in cornstarch to lightly coat.
When your oil is hot, batter up your hot dogs (now is when you should add a little more buttermilk if it seems too thick to dip into) and fry for about 2 minutes until brown and crunchy and they'll be lumpy, too, so just… be ready to love them for their imperfections.
Drain on paper for a minute and then eat with your favorite combination of mustard, cock sauce, ketchup, or whatever.
Dip these in tartar sauce for a preposterously good bite. And if you have hotdogs leftover after your party, try these Sonoran Hotdogs!
Photo by: Robotclaw