how to make migas video (scroll down for migas recipe)
When I'm thinkin' migas, I am definitely thinking Arby's. Just kidding. Don't know where that horrible "joke" came from. It's late. I'm tired. And I could go for some spicy, cheesy migas right about now. Talkin' Tex-mex migas, buddy!
That's like the best scrambled eggs mixed with pico de gallo and topped with cheese and then you mix CHIPS right in there WITH the EGGS! It's goddamn brilliant. Thank you, Mexico, for your culinary delights that continue to surprise and satisfy me in all the ways I wish a man could. Oh criminy! I'm kidding, guys! But you know I do love Mexican food.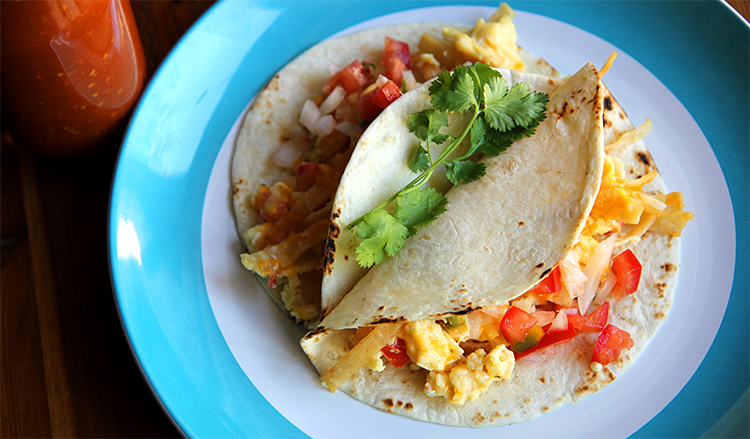 Migas originally came from Spain and, like many traditional recipes from around the world, was invented as a way to use up old bread. Migas means "crumbs" in Spanish. Boom. Learned you something. Old corn tortillas used to be much easier to come by in Mexico than old bread, I imagine, seeing as how corn was native and all, so I guess that's how we got migas like these. Watch the video and learn something else: How to make Migas and impress the pants off any sexy friend who's lucky enough to spend the night at your house. "The pants? Really?" Oh yes, my love. Really really really. There is something inherently hot about migas. I'm not sure I know what yet, but by golly, I'll get there someday. Right now I'm going to take a nap. And dream about migas.
Migas recipe
Print
Migas Recipe
2 tablespoons

oil

3

corn tortillas

6

eggs

1/2 teaspoon

, each, salt and pepper

1/3 cup

chopped onion

1/3 cup

chopped tomato (about

one

small roma), remove the seeds before you chop it

2 Tablespoons

minced jalapeno

1/4 cup

grated cheese

1/4 cup

chopped cilantro
Instructions
Heat up your oil in a heavy skillet over medium-high.
Slice your tortillas into 1/4 inch strips.
Fry those little boogers for a few minutes until they get crispied and browned.
Remove from the skillet and set aside.
Saute the vegetables, except cilantro, in the remaining oil for a couple minutes until softened.
Add your eggs (which you have beaten the hell out of and salted and peppered like I showed you in the scrambled eggs video) and half the tortilla strips.
Sprinkle them with cheese and continue to cook, disturbing infrequently, like I showed you in the scrambled eggs video.
Add cilantro and the rest of the tortillas when the eggs are almost ready. TaDa! Migas!
Now make a taco.
Eat it. You're welcome.