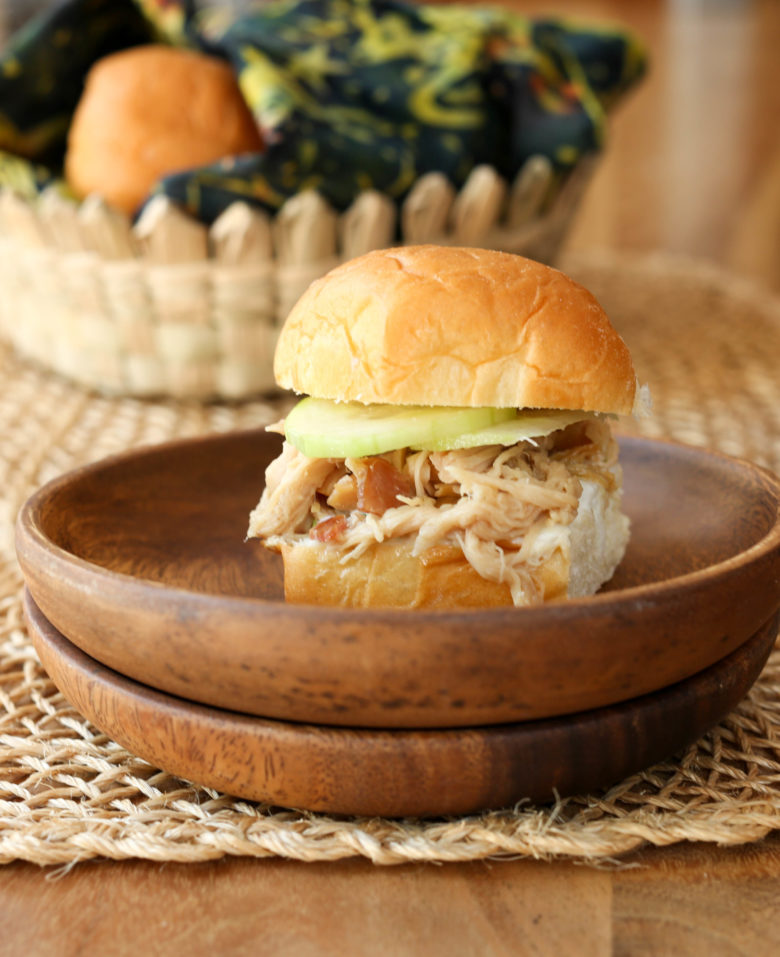 As you may well know, kalua is a traditional Hawaiian method of cooking that involves cooking food in an underground sort of oven called an imu. It's a slow cooking method that lends itself well to big hunks of meat, often pork or turkey. I'd guess kalua pig — or kalua pork as it's typically called on the mainland — is the most well-known recipe, again, on the mainland anyway.
Kalua pork is seasoned minimally, really just salted and wrapped in ti leaves, then buried in the imu for several hours. It's essentially Hawaiian barbecue.
If you are very ambitious, you could figure out how to roast a pig in a hole. I am not that ambitious so I made some pulled pork in my slow-cooker and turned it into hearty little sandwiches on Hawaiian rolls (that makes these legit, right? LOL I KID) that make a fantastic party food. And speaking of parties . . . 
Luau vs Tiki Party — What's the deal, Shaquille O'Neal??
I want to be clear that there is a difference between a "tiki" party and a traditional Hawaiian Luau. Stylistically, they are similar — think grass skirts, ukuleles, and leis — but only because tiki borrows heavily from Hawaiian culture. "Tiki culture" is a bit of a Frankenstein: dabs and pieces of Polynesian culture, Cantonese food and American drinks woven together into something that party animals can really sink their teeth into.
The name itself comes from Maori mythology: Tiki was the first man created. (Accordingly, a tiki is a human-shaped sculpture.) Don the Beachcomber's in Hollywood was the first "tiki bar", opened in 1933 by a well-traveled American named Ernest Gantt. Gantt later changed his name to Donn Beach (confusingly spelled with two n's).
Soon afterwards, Victor Bergeron started his own tiki bar and restaurant in Oakland, California: Trader Vic's. Donn and Vic's romanticized versions of Polynesian culture and cuisine spread throughout the United States and would stay popular for the next thirty years. While Donn Beach is largely credited with the creation of the entire genre of "tropical drinks", Trader Vic is better known for his "Polynesian" recipes.
Along with food, drinks, and grass huts installed on the inside of the building, "tiki culture" also gave rise to the genre of music known as Exotica which combines elements of Polynesian, Asian, African and Caribbean music with jazz. Some notable musicians are Les Baxter, Martin Denny, and Arthur Lyman (I made this Tiki playlist on Spotify if you wanna take a listen).
Party on, Wayne!
What does this all mean for your party? Not very much. I just wanted to make sure you don't call a tiki party a luau. Or go ahead if you want to. It's your funeral. (Just kidding! Don't let it turn into a funeral! Be very safe around the tiki torches!)
To make these kalua pork sliders for a crowd, you have a couple options. One: Prepare a sheet tray of sandwiches the morning of the party, refrigerate; at party time, bake for 20 minutes. They stay warm a long time. Two: Just put a big dish of pulled pork on the table, alongside rolls, pickles, and seasoned mayonnaise to let guests assemble their own. Throw out a dish of crisp butter lettuce leaves for the carb-averse guests. 
Other finger foods that go great with a tiki theme are
And of course cocktails!
Superbowl?!?!
And of course these would be great for a hearty Super Bowl party snack! See this post for more Superbowl food ideas including slow-cooker baby back ribs and veggie chimichangas!
Print
Kahlua Pork Sliders
3 pound pork shoulder or butt roast (not loin)
1 teaspoon salt
1-2 strips smoky bacon
2 hothouse (English) cucumbers
2 tablespoons rice vinegar
1 teaspoon white sugar
1 bunch green onions
1/2 cup mayonnaise
Sriracha
24 Hawaiian Rolls
Bibb Lettuce, optional
Instructions
Slow cooker method: Sprinkle about a teaspoon of salt all over roast and place in slow cooker. Lay bacon over the top. Cook on low for 8-10 hours until tender.
Oven method: Follow instructions above, but place in a deep roasting pan and cover tightly. Bake at 350ºF for 4-5 hours until tender. Shred meat and remove bones if there are any.
At this point, shredded pork can be refrigerated for up to 3 days.
The day of the party, thinly slice the cucumber and sprinkle lightly with salt. Add vinegar and sugar and mix gently. Refrigerate 1 hour or up to 4 hours.
Mince the green onions and mix with mayonnaise. Put into serving bowl and refrigerate.
To serve: reheat shredded pork in a skillet with a little water over medium heat. Slice the Hawaiian rolls across to make two "sheets" of tops and bottoms. Spread bottom with onion mayonnaise, top with warm shredded pork, quick pickles, and the "sheet" of tops.
Cut into individual sandwiches.
To make ahead: Slice the sheet of rolls across the equator and spread with mayonnaise; fill with cooled pork. Place into a baking pan, cover and refrigerate. At serving time, brush lightly with butter and bake uncovered at 350ºF for 20 minutes. Cut into sandwiches and serve pickles on the side.
Place extra mayonnaise, pickles and Sriracha on the table for guests to add more as they like.
If you have a lot of guests who don't eat bread, you can also place a dish of shredded pork on the table with condiments and crisp lettuce leaves so guests can assemble wraps instead. Keep the meat hot in a small slow cooker on low heat, or in a chafing dish.