Milanesa is like the South American chicken fried steak. Milanesa Torta is like the South American DQ "Dude". It's basically one of the most delicious things ever created because it combines crunchy fried meat with bread and avocado and sour cream and a lingering fear that you're about to eat too much combined with the stronger fear that this might be your last milanesa torta. Or torta de milanesa if you're actually from Mexico or South America.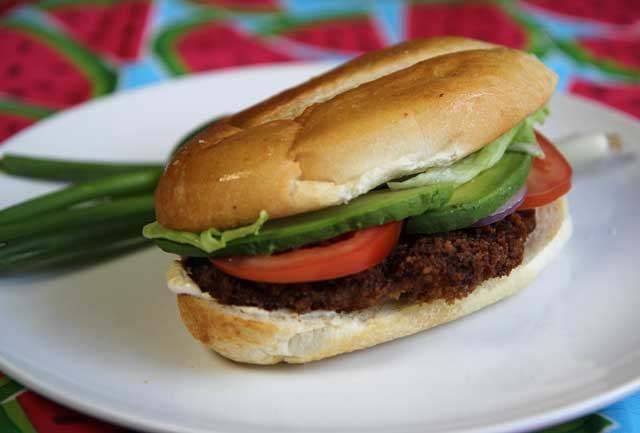 Argentina, Uruguay, Paraguay — these are the places that made milanesa famous. The technique of breading and frying a thin-cut piece of meat originated with Austrian wiener schnitzel and then went around and got busy with lots of other countries and cultures. My guess is that whoever brought it over to South America was some kind of Italian person. Milan, milanesa, see where I went with that?
Okay, but now it's here. It's delicious, it's inexpensive, it's fast. You can serve with mashed potatoes, rice, gravy, lemon wedges, marinara sauce, basically anything. In Mexico, milanesa is often served as a torta and that is in fact the first way I ever had milanesa. Since we haven't talked about this yet, a torta is a sandwich and it's made on a bolillo roll and it comes standard with lettuce, tomato, and crema Mexicana. Refried beans and avocado are common, but not necessary (though together they make the foundation for the best vegetarian torta you'll ever eat). You can also make a chicken milanesa if you prefer.
Milanesa torta recipe video – scroll down for printable recipe
Milanesa torta recipe
Print
Milanesa Torta
Author:
Prep Time:

10 mins

Cook Time:

6 mins

Total Time:

16 minutes

Yield:

4

-6

1

x
1 1/2

pound thin-cut sirloin or round steak*

1/2 teaspoon

salt

1/2 teaspoon

black pepper

2

cloves garlic, minced

1

lime

2

eggs, beaten

1 1/2 cups

Panko or regular dry breadcrumbs

1/4 cup

oil for frying
For tortas:

4

–

6

bolillo rolls or sections of French bread
butter
Avocado, tomato, lettuce, onion
Mexican crema
Optional: Refried beans
Instructions
Sprinkle steaks with salt, pepper, garlic, and half the lime, juiced. (Cut the other lime half into quarters for serving.)
Tenderize with a mallet, pounding the seasonings into the meat, until the steaks are between 1/8 and 1/4 inch thick.
Cut into 4-6 serving pieces, approximately the size of your bread rolls
Coat each piece in beaten egg, allow excess to drip off.
Coat generously in breadcrumbs on both sides.
Heat oil over medium-high heat until sizzling
Fry milanesa for about 2-3 minutes on each side, or until golden brown and the steaks are cooked medium-well.
Allow to drain on a rack briefly.
Butter insides of rolls and toast lightly on a griddle.
Spread with crema and/or refried beans and top with milanesa and any other vegetables you like! Serve with a lime wedge and hot sauce or salsa.
Notes
Look for cuts no thicker than 1/3 inch. This recipe also works with thin-cut chicken breast or pork loin.
Breaded milanesa can be wrapped individually and frozen for up to a month. Cook, still frozen, over medium heat and add a couple extra minutes cooking time.
To reduce calories and fat, lay breaded milanesa on a rack on a baking sheet, spray with oil, and bake at 425ºF for 15 minutes or until cooked and crisped.