Ponche Navideño – Mexican Christmas Punch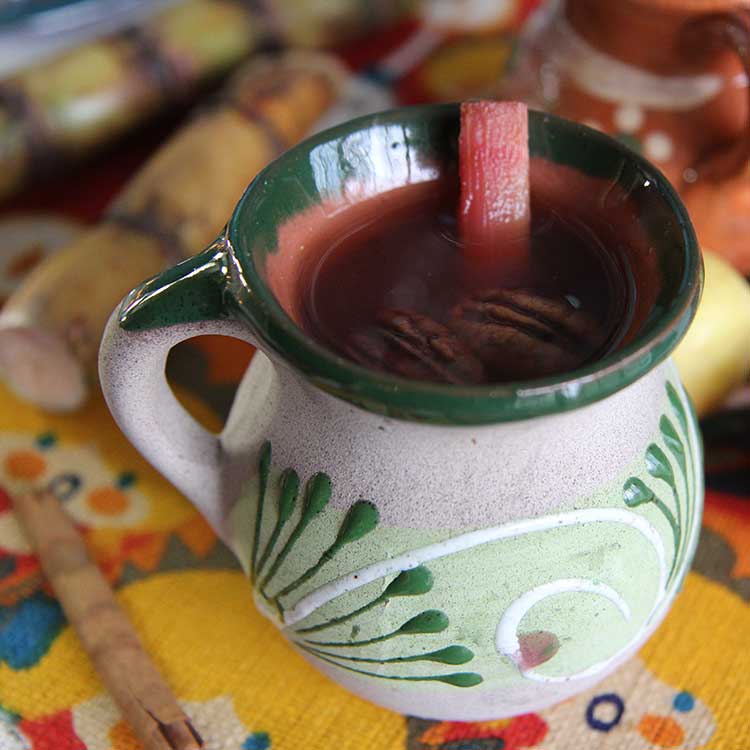 Part four in my Christmas Around the World series! Christmas in Mexico, focus on: PONCHE NAVIDEñO! Big thank you to our friend Carlos for joining me on the show again to share his ponche recipe! ¡Feliz Navidad, y'all!
Ponche Navideño is a hot punch made from fresh and dried fruits, with the option of adding booze for the grownups. That is an option I enjoy having, myself. It's served during Las Posadas, which is a 9-day celebration held to honor Mary and Joseph. A procession travels from house to house until they are allowed to enter by the "innkeeper" (posada means "lodging" in Spanish). It's a kind of reenactment of the story of Jesus' birth. Songs are sung, ponche is served, and the rosary is prayed. It all sounds quite romantic.
Our friend Carlos came over to show me how to make the ponche. As you can imagine, there are many variations and each family has their own way of making it according to their tastes. Some of the fruits used my be hard to find where you live, especially to find fresh.
Tejocotes are fruit from a species of hawthorne tree and they resemble crabapples and smell like jasmine flowers once cooked. They can be yellow or orange and are about the size of a very large grape. The skin is rough and slightly bitter so before they are added to the ponche, the tejocotes are first scored, blanched and peeled. After blanching, the skins slip off easily. Tejocotes can be found frozen sometimes, too. If you can't find them fresh or frozen, substitute an Asian pear, cut into cubes.
Guava (aka guayaba) is grown all over the world and while you may not be able to find the variety we used, you can probably find another variety if you have a Latin, Indian, or Asian market nearby. Look for fresh sugar cane there, too, though if you can find sugar cane already peeled and cut into sticks (frozen or jarred) I recommend getting it. The skin is very tough and the fibers make sugar cane exceptionally difficult to slice. If you peel it yourself, use a big sharp knife to cut it into 3″ lengths first, then a small sharp knife to carefully peel the skin from each segment. If you can get the knife under the skin at one end, you can often peel the skin off in strips the rest of the way.
Tamarind is also pretty easy to find as it's used in Mexican, Asian and Indian cooking. If you can't find the fresh pods, look for tamarind paste and add a couple tablespoons to give a little tartness to the ponche. Piloncillo is a type of raw cane sugar that comes in little cones wrapped in cellophane. Panela can also be used, or just brown sugar.
For extra authenticity, serve your ponche in cantaritos — little clay mugs — and warm your face on the sweet smelling steam that rises from them. (Make sure they say "hecho sin plumo" to avoid lead in your ponche!)
Ponche Navideño Video Demo (scroll down for recipe)
Ponche Navideño Recipe – Printable!
Print
Ponche Navideño – Mexican Christmas Punch
Author:
Cook Time:

45 mins

Total Time:

45 minutes

Yield:

1

0

1

x
Water

1 cup

dried hibiscus flowers (jamaica)

12

tejocote fruits

3

large cinnamon sticks

1

cone piloncillo (or

1 cup

brown sugar)

12

guava fruits, quartered

8

tamarind beans, shells and veins removed

2

apples, diced

1

orange, sliced

1

stalk sugar cane, peeled and cut into

3

" sticks

1 cup

prunes, quartered

1 cup

pecans or almonds, shelled
Instructions
In a medium pot, bring 1 quart of water to boil and add hibiscus. Turn off heat and cover. Steep 20 minutes.
Cut the tops and bottoms off the tejocote and cut an "X" in one end, scoring the peel. In a small pot, bring 1 inch water to boil and drop in the tejocote. Boil 8 minutes. Drain and cool. Peel and discard the skins. Set the fruit aside.
In a very large pot, put about 1 gallon of water. Strain the hibiscus tea into it, discarding the flowers. Add the cinnamon and piloncillo. Bring this to boil and stir to dissolve the sugar.
Add remaining ingredients and stir. Simmer 20-30 minutes or until the apples have taken on a pink color.
Serve hot in mugs with a shot of rum or brandy for the adults.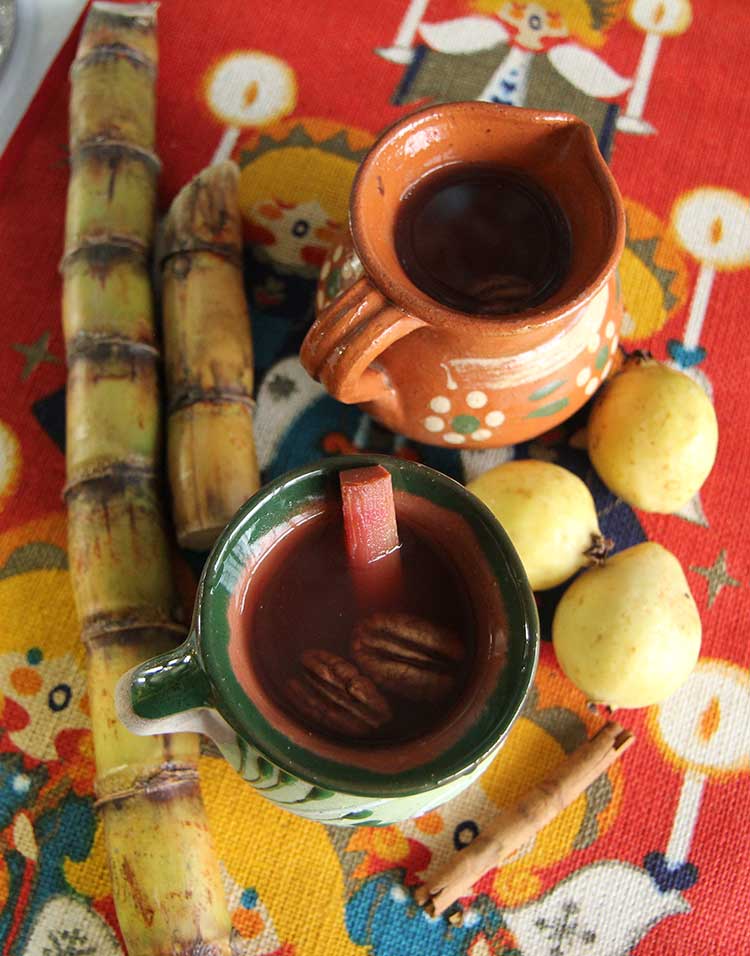 Try these other Mexican Christmas recipes this year!
These are a must at every Mexican (and Texan) Christmas supper.
One of the easiest cookies you'll ever make!
Fill these with cheese or picadillo!
Flan – Caramel Custard
This is another recipe from Carlos. A very simple and delicious vegetarian enchilada recipe!