Quinoa Black Bean Enchilada Casserole
I came up with this recipe recently on the fly to take over to some vegetarian, new-parent-friends. (New parents are often overwhelmed by baby-things and have a hard time figuring out how to eat food that doesn't come wrapped in plastic, so take your new-parent-friends a homemade casserole, okay?) They loved it and I tested and tweaked it a couple more times and now have a new regular: quinoa black bean enchilada casserole! (This green chicken enchilada casserole is what I made for myself when we had a new baby.)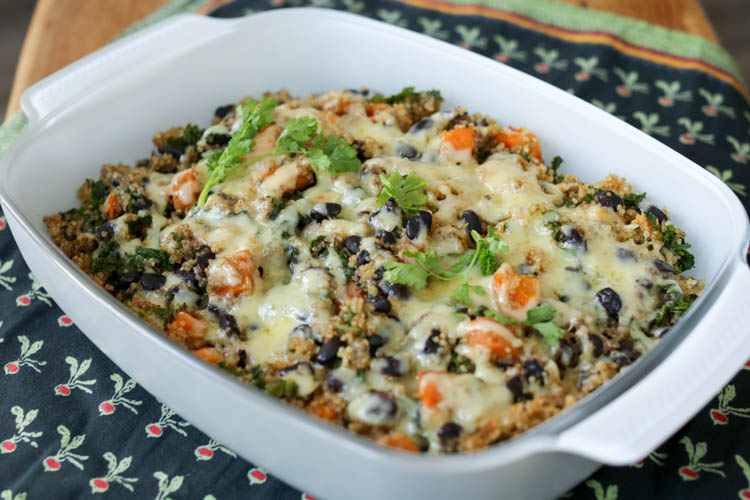 A thin salsa works best here, which is why I used my own salsa verde. Jarred salsas are always so thick, right? Some stores carry fresh salsas in the refrigerated case and those are usually a little thinner and work better here.
A loosely textured salsa is easier to mix into the quinoa and beans without breaking them up too much. So if you want to do yourself a solid, try this salsa verde or this easy, blender tomato salsa. Both of those recipes will keep for a week refrigerated. Whether you make or buy it, use one that you love because with so few ingredients in this casserole, the salsa is very important!
If you use a well-seasoned vegetable broth, you might not need to add any salt.If you use water, you'll probably want to add at least a half-teaspoon of salt. Either way, taste the mix before put it into the baking dish and see what you think.
Print
Quinoa Black Bean Enchilada Casserole
1 teaspoon butter
3/4 cup dry quinoa
2 large carrots, diced
1 clove garlic, minced
1 1/4 cups vegetable broth or water
1/4–1/2 teaspoon salt (depends on your broth)
3 leaves kale, thinly sliced (chiffonade)
1 1/2 cups black beans, drained (1–15 ounce can)
1 1/2 cups salsa
1 cup (4 ounces weight) grated cheese, divided
Instructions
Melt the butter in a medium pot and add quinoa and carrots. Saute a few minutes over medium heat. Add garlic and cook 30 more seconds. Add broth and salt; cover. Increase heat and bring to boil.
Reduce heat and simmer 12 minutes.
After 12 minutes, add the kale and turn the heat off. Keep pot covered. Let steam 5 minutes to soften.
Meanwhile, make salsa if you are using homemade. Drain the beans and grate the cheese.
If baking casserole now, set oven to 350ºF (You can totally microwave this instead if you don't want to heat up the house.)
Gently mix the beans into the quinoa. Add the salsa half at a time and mix gently. You want to get the salsa incorporated but be careful not to break the beans and quinoa up into mush. Stir in remaining cheese. Taste for salt.
Spoon this into a 7×11″ or 8×8″ casserole dish and top with remaining cheese. Bake 20 minutes until hot, or microwave about 5 minutes.
This can also be made ahead up to 3 days. Cover and refrigerate.
Nutrition
Serving Size:

4

Calories:

379

Fat:

13

Protein:

20