I got really ambitious last weekend and made us some healthy snacks to eat through the week. And boy, did we. I cooked a pound of chickpeas and made hummus with a third of them, made a quick curry for dinner with another third, and made roasted chickpeas with the last portion. It was the first time I tried roasting chickpeas but it shan't be the last. (I also made some spicy Thai kale chips which were gone the same day.)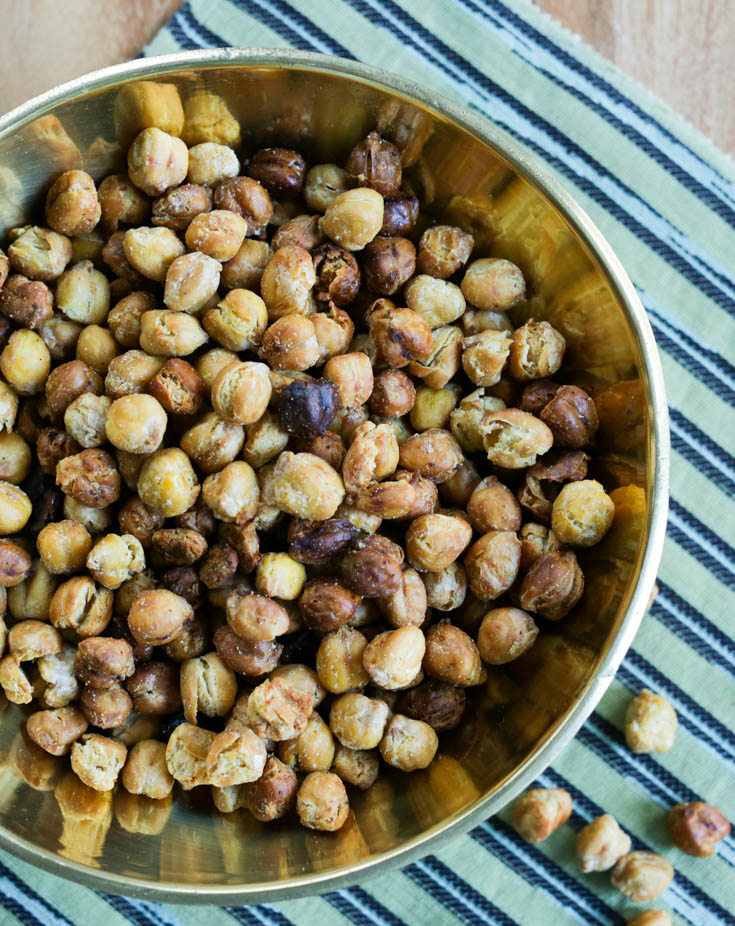 They're good when you're craving something salty and crunchy but maybe you've already eaten too many smoked almonds and you need to lay off the potato chips, too. They're low in calories, fairly high in protein and you can spice them up however you like. I just did salt and garlic powder but try cayenne pepper, curry powder, or seasoned salt.
This recipe requires roasting at two temperatures. The first, lower, temperature dries the peas out, and the higher-temperature roast afterwards gets them really crunchy.
See this post on how to cook beans for tips on cooking your own chickpeas. You might also be interested in my 4-week Vegetarian Cooking Course. Ten recipe videos, a PDF cookbook and 4-week meal plan to get you eating more vegetables every day!
Roasted Chickpeas Recipe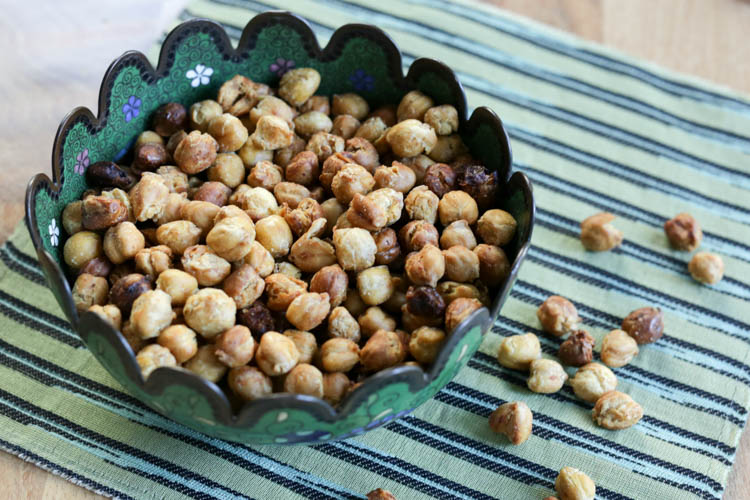 Print
Roasted Chickpeas!
Crunchy roasted chickpeas recipe
2 cups cooked, drained chickpeas (about 1 15 ounce can)
2 teaspoons oil
1/2 teaspoon salt*
1/4 teaspoon garlic powder (or another spice)
Instructions
Set oven to 350ºF and line a baking sheet with a silpat or parchment
Drain the chickpeas well and pat dry with a clean towel.
Toss with oil and spread onto baking sheet. Sprinkle with your salt and seasoning.
Bake 20 minutes, tossing once.
Increase temperature to 450ºF and cook another 10-15 minutes.
When done, the chickpeas should be a little shrunken, maybe a little brown, and crunchy. They will get more crisp as they cool.
Cool completely on the baking sheet, then store at room temperature in an airtight container.
Notes
Salt varies since canned beans are more salty than home-cooked beans
Nutrition
Serving Size:

1/2 cup

Calories:

112

Fat:

3.8

Carbohydrates:

15

Protein:

5