My husband Chris has never enjoyed any mole sauces he's tried; they are all sweeter than he likes. He's also not enamored with glazed meat, sweet barbecue sauces or even ketchup, really. So my self-imposed mission was to use inspiration from this recipe and this recipe to come up with a not-too-sweet Puebla-style red mole sauce for . . . tofu?!
Tofu mole tacos. Sure, why the hell not?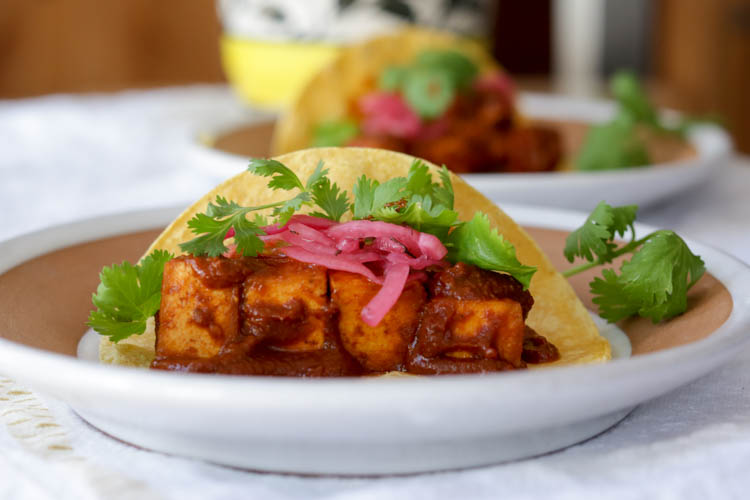 My mole is spicier than any store-bought mole sauce or restaurant mole I've had because we like spicy food. If you want a less-hot mole, omit the black pepper corns and/or reduce the guajillo chiles to 3 chiles.
You can also use ancho chiles instead if guajillo are hard to find. Ancho are a little larger and spicier than guajillo. Use 2-4 anchos instead of the guajillos if you have to.
And of course — please! — use this mole sauce on any old thang ya feel: roasted chicken, poached turkey, grilled pork chops, you name it. Meats galore. This recipe makes about 3 cups of mole sauce and you will use 1 1/2 to make tofu mole tacos. The extra mole sauce keeps refrigerated for about 2 weeks and can be frozen for up to 3 months.
I top mine with fresh cilantro and these pickled red onions, but some raw diced onion would be good, too! Easy roasted cabbage or garlic green beans would make a nice vegetable side dish.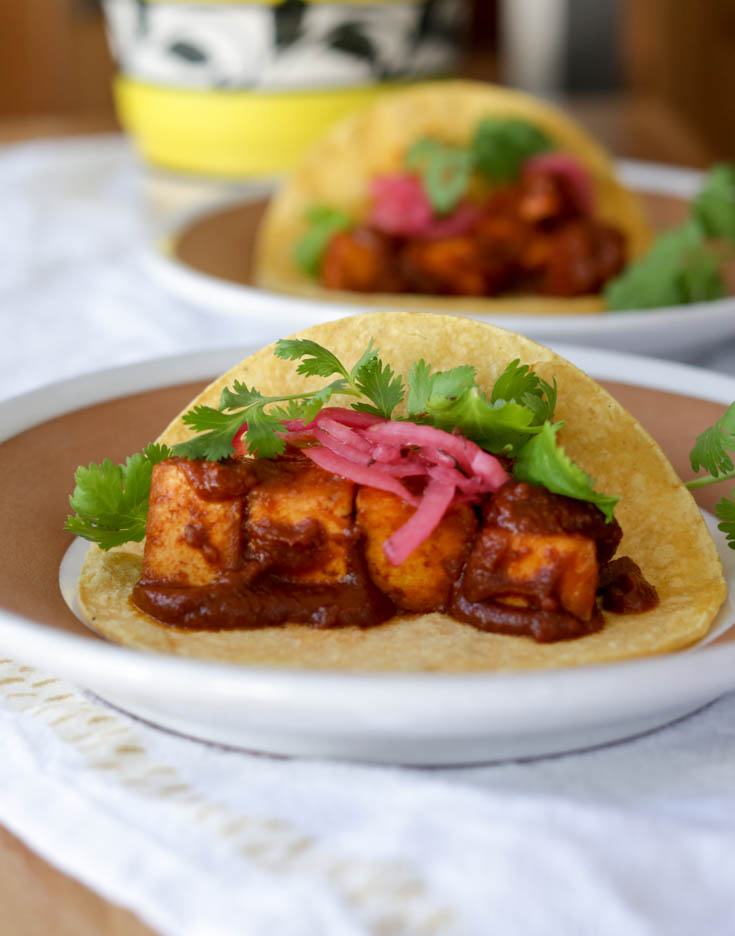 Print
Tofu Mole Tacos
Author:
Yield:

8

tacos

1

x
Mole sauce:
5 guajillo chiles
1 tablespoons butter
1 tablespoon oil
1 small onion, diced (about 1 cup)
2 cloves garlic
1/4 cup slivered almonds
2 tablespoons toasted sesame seeds, plus more for garnish
1/2 teaspoon whole coriander seeds
2 whole allspice berries
1/4 teaspoon black peppercorns
1/8 teaspoon ground cinnamon
1/8 teaspoon ground cloves
1/2 pound tomatoes, chopped
3 tablespoons raisins
2 cups chicken or vegetable stock, divided
1/2 teaspoon salt
1 tablespoon cocoa powder
1 corn tortilla or slice of stale bread, torn up
Tacos:
1–14 ounce block firm or extra-firm tofu
2 tablespoons oil
1/2 teaspoon salt
Corn tortillas
fresh cilantro
pickled red onion
Instructions
Toast the chiles on a dry skillet over medium-high heat until fragrant and brighter in color. Cool. Snap off the stems. Shake out seeds if you like. Then cover with boiling water and let rest for 20 minutes.
While they soak, heat the butter and oil in a large pot over medium-high heat. Fry the onion, garlic, almonds, sesame seeds, and spices for a few minutes until the onion is softened and the spices  and almonds are toasted.
Add soaked chiles (drained), tomatoes, raisins, 1 cup of stock and salt. Bring to boil, then simmer covered 30 minutes.
Turn off heat. Add cocoa and tortilla and stir until tortilla softens.
Add remaining broth to cool the sauce a little. Then puree with an immersion blender (stick blender) or let cool and puree in a blender.
At some point during all that 😉 cut the tofu into small cubes, about 1/2 inch on each side. Lay them on a clean dish towel in a single layer. Cover with another towel and set a heavy cutting board on top. Or a light cutting board with a heavy skillet on top of that. Weight it for 10 minutes or longer to press the water out.
Heat the oil in a large skillet over medium-high heat until shimmery. Add the tofu cubes and fry lightly on all sides until browned. This will take a few minutes.
Sprinkle with salt. Carefully pour in about 1 1/2 cups of the mole sauce (you will have extra; it can be frozen for later) and cover the skillet. Let simmer for about 5 minutes until the tofu has absorbed some of the sauce. Uncover and cook a few more minutes to thicken.
Serve tofu mole in corn tortillas with cilantro and pickled red onion on top
Notes
Nutrition info is for tacos made with about half of the batch of mole
Nutrition
Serving Size:

2 tacos

Calories:

295

Fat:

13

Carbohydrates:

23

Protein:

22