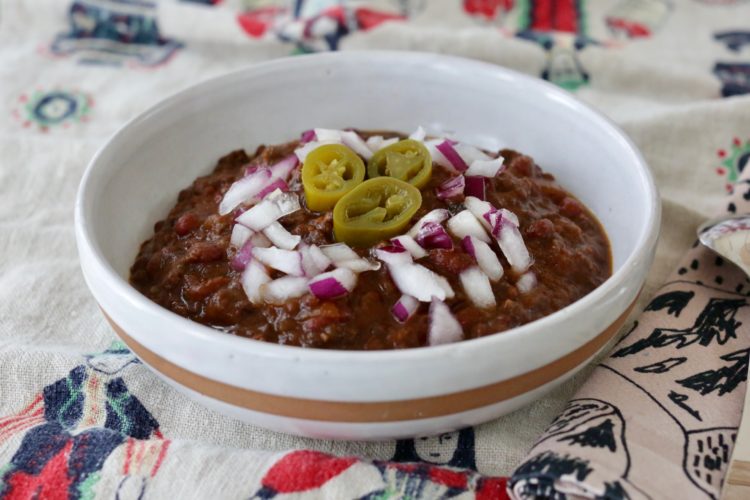 I served this vegan chili at our Super Bowl party last night (Go Rams!) as part of a Frito pie buffet and three people asked for the recipe so I figured as long as I was writing it down, I'd put it up here, too. I was kind of surprised I hadn't posted this yet, actually, since it's something I first made in the early days of Covid lockdowns, back when we were all baking our own bread and cooking with pantry staples like lentils and toilet paper.
This is a fine-textured vegan chili that is perfect for Frito pie or spooning on top of a veggie dog (as opposed to my vegetable chili recipe which is more like a chunky stew with some chili powder in it.) The combination of mushrooms, lentils and walnuts give it a dense, chewy texture without trying too hard to "be like meat". I season it heavily with chili powder, smoked paprika and cumin but the real secret to why this vegan chili is so good is the masa harina. Masa harina is the nixtamalized corn flour used for tortillas, tamales, gorditas and many other delicious foods which are fun to make if you have a little time one weekend.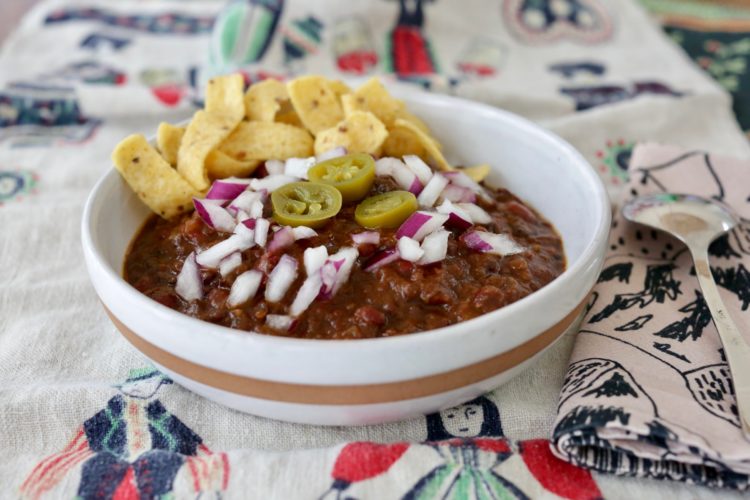 I sort of learned that trick from my dad. He would always put a torn-up corn tortilla in his Texas-style chili to thicken it. I prefer the smoother texture that masa harina provides but I know not everyone keeps that on hand. (Though it's worth a try if you have any interest at all in making your own corn tortillas.) Unfortunately, there is no real substitute in the world of flours (cornmeal won't do it) but like I said, a plain corn tortilla torn and simmered in your chili will work just fine.
Anyway, I'm off to heat up some leftover chili for lunch. Later, tater!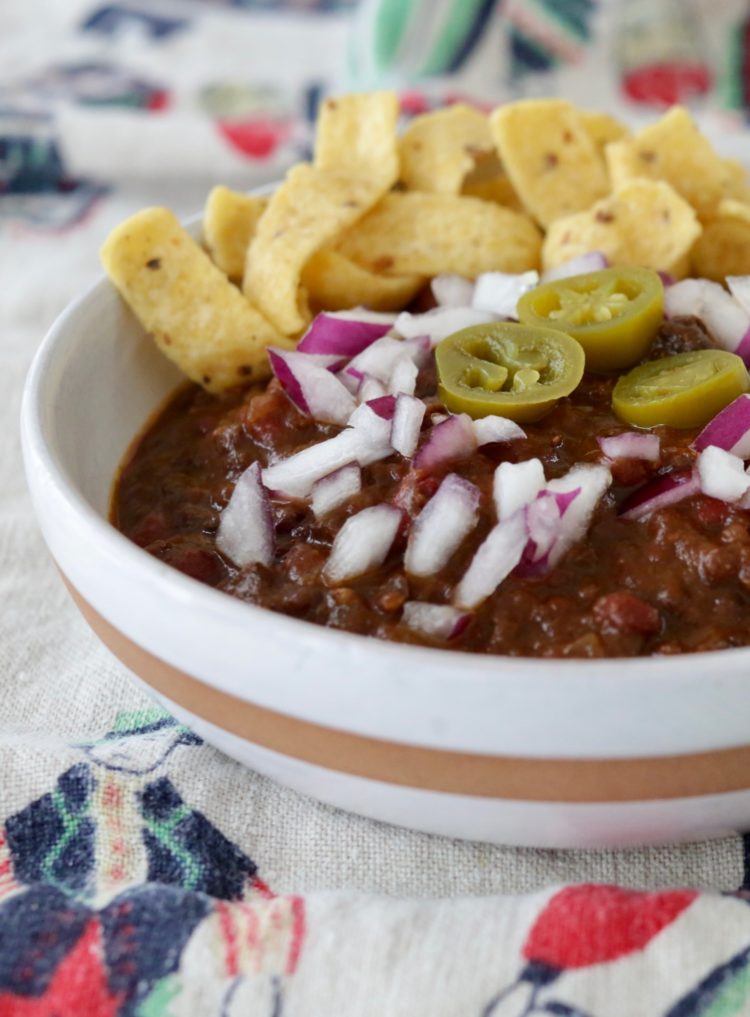 Print
Vegan Chili
A rich and thick vegan chili, perfect for vegan Frito pie
Author:
Prep Time:

15

Cook Time:

30

Total Time:

45 minutes

Yield:

8 cups

1

x
Category:

stew

Diet:

Vegan
1 cup lentils*
2 cups vegetable broth**
1 tablespoon olive oil
8 ounces cremini mushrooms, minced
1 cup diced onion
1–2 jalapeños, minced
1/4 cup finely chopped walnuts
2 cloves garlic, minced
2 tablespoons chili powder
1 tablespoon ground cumin
1 1/2 teaspoons smoked paprika
1 teaspoon dried oregano
1/2 teaspoon salt
14 ounce crushed tomatoes
15 ounce canned kidney beans, drained
1–2 tablespoons masa harina (or 1 corn tortilla, finely torn)
Instructions
Soak the lentils in the broth for an hour or so.
Heat the oil in a large pot over medium-high heat (sauté function on Instant Pot) and add the mushrooms and a pinch of salt. Cook, stirring infrequently, for 5 minutes until mushrooms are very soft and shrunken.
Add the onions, jalapeño and garlic and stir. Cook another 5-7 minutes until the onions are soft and brown in some places. Don't skip this browning, it adds necessary depth of flavor.
Add the walnuts and all the dry spices including salt. Cook 1-2 more minutes until the spices are toasted and the mixture is looking dry.
Add lentils with broth, tomatoes and beans. Mix it up good. Cover and simmer 30-40 minutes until lentils are tender (keep an eye on it and make sure it doesn't get too dry) or cook 15 minutes on high pressure in Instant Pot, natural release.
If needed, thicken with masa or corn tortilla.
Notes
*I try to use black caviar or French green lentils because they hold their shape and texture nicely, but any lentil will do
** I love "Better than Bouillon" brand vegetable broth concentrate
Nutrition
Serving Size:

1 cup

Calories:

184

Fat:

5

Carbohydrates:

27

Fiber:

10

Protein:

9