5 Meals to Make This Week #6
Week six! Cool tricks! This week's free meal plan includes a spicy steak, chicken two ways, a unique enchilada recipe, and a crispy, thin-crust, gluten-free "pizza". Enjoy!!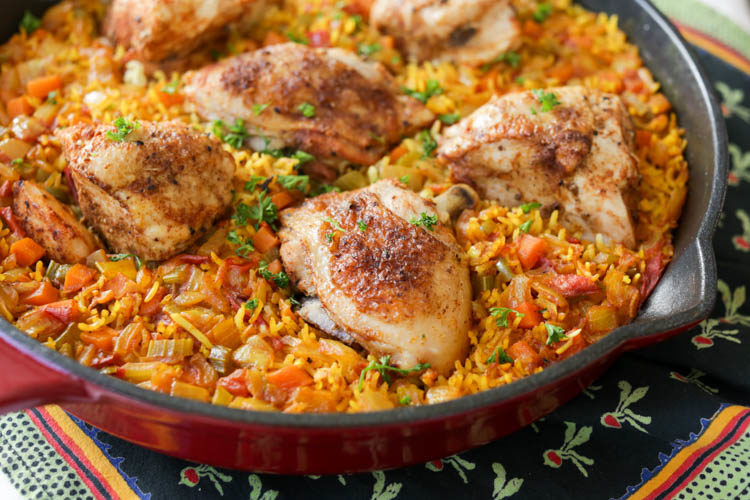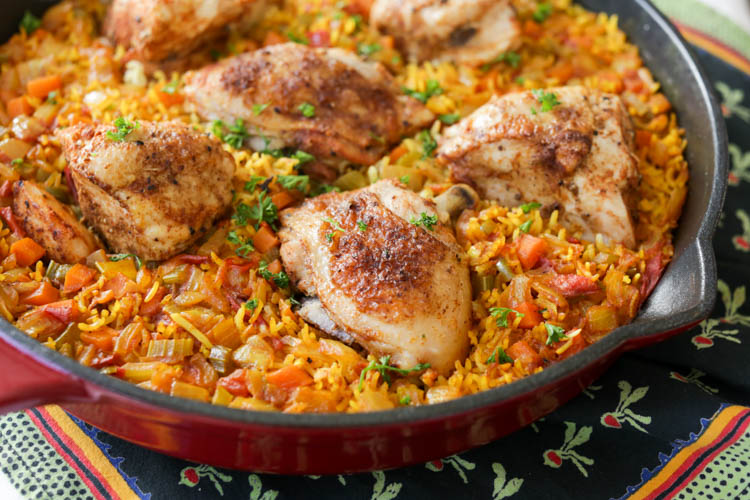 This one-pot chicken and rice recipe will most likely be a hit-and-a-half in your house. There are *some* vegetables in it — onion, carrot, celery — but not really enough to call it a true one-pot-meal IMO. You can keep it simple by adding some steamed broccoli or take a little more time and so some roasted cabbage with cumin seeds.  Roast 1/2 to 3/4 of  a head of cabbage to serve 4-6 people, and use the rest of the cabbage in peanut slaw later in the week.
Leftovers reheat well in the microwave. Dice the chicken before reheating and add a teaspoon of water to keep the rice from drying out.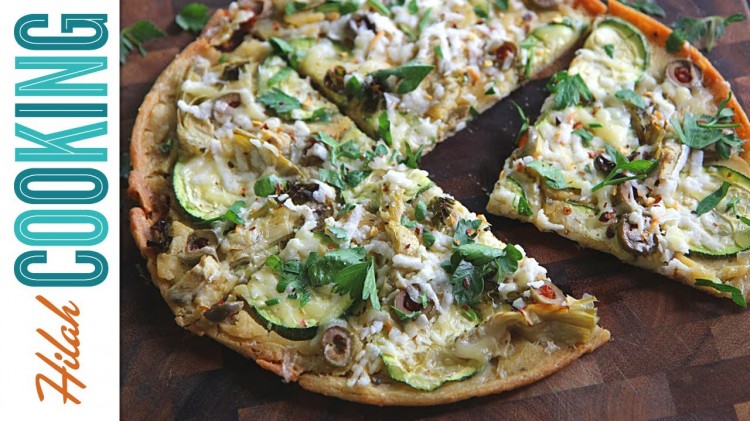 Not really a pizza, but that's okay because it's so much easier than a pizza! This technique uses chickpea (garbanzo) flour, water and oil to make a thin, cracker-like crust that you can put anything on top of. One of my favorite combinations is olives, zucchini slices, marinated artichokes and cheese. It works best if you avoid sauces, but anything else is fair game: mushrooms, onions, bell pepper, tomato slices, herbs, pepperoni or ham. And cheese, of course.
Toss a handful of baby arugula around with salt, olive oil and lemon juice until coated and throw that on the finished socca for more vegetables that you don't have to cook.
Now you have chickpea flour to use. Make baked buffalo cauliflower bites to go with this ribeye!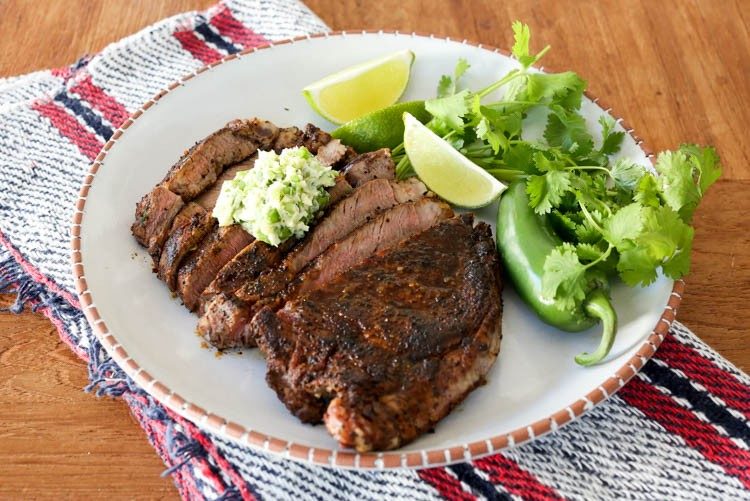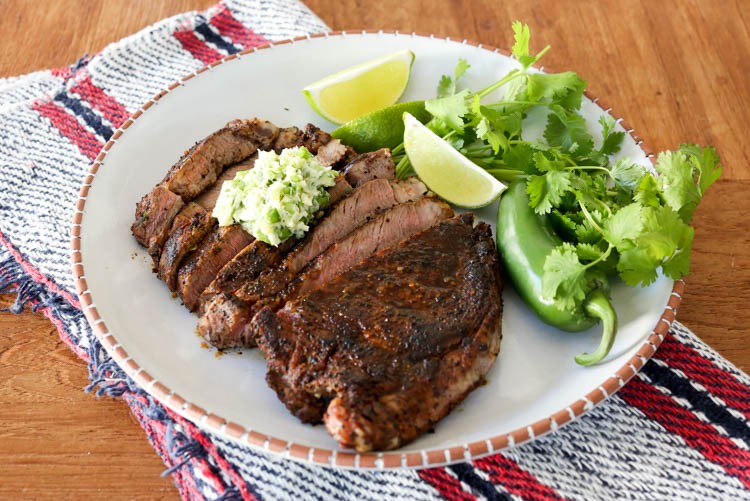 Coffee-Rubbed Ribeye with Buffalo Cauliflower Bites
People don't seem to cook steak during the week and I don't know why that is. A big ribeye cooks quickly (10 minutes or so) and can serve several people if you slice it up before serving. Pair it up with oven-baked Buffalo cauliflower for a side dish that complements the flavors of the steak and also can cook by itself while you tend to the steak. If you want a starchy side dish, too, add a baked sweet potato or some quick home fries.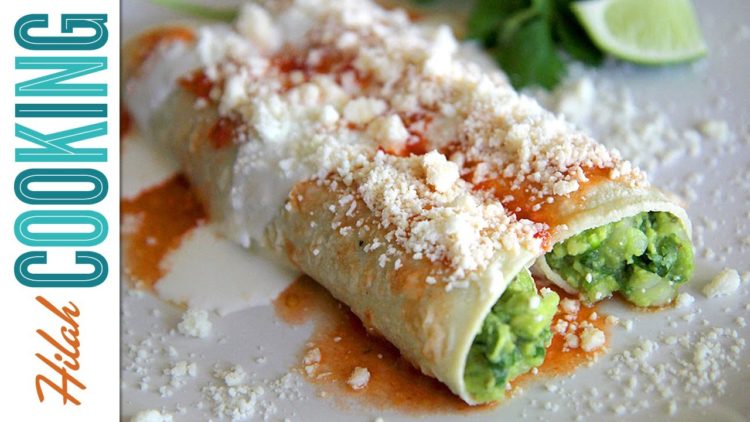 These are so easy it's unbelievable. A quick, fresh tomato salsa (which you could make a few days in advance) spooned over corn tortillas filled with guacamole and all topped with crumbled cheese and sour cream. These are very different from baked, American-style enchiladas in that they are individually rolled up and served at room temperature. If you've never had enchiladas like this, you gotta try them! They're light and refreshing. Serve with sauteed zucchini, yellow squash and corn.
Leftover salsa makes a nice, light dipping sauce for these chicken satay skewers: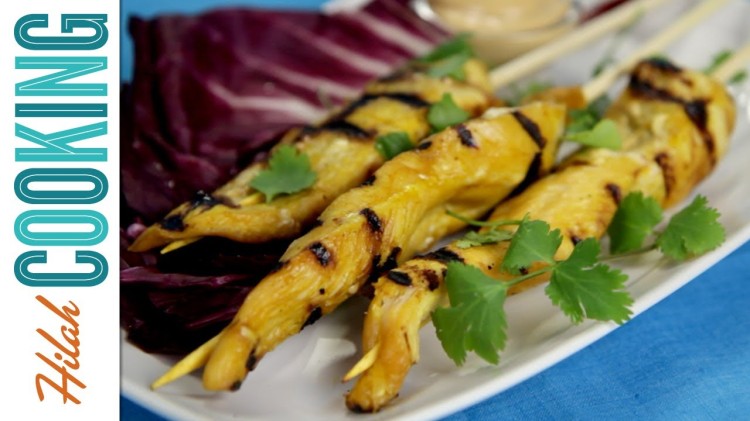 Chicken Satay with Peanut Slaw
Two great tastes that taste great together! Chicken satay is marinated in turmeric and garlic and cooks super fast on a grill pan or an outdoor grill. Serve them with any leftover salsa from the enchiladas (reheated). You can make the peanut dipping sauce, too, or just rely on the peanutty dressing on the slaw. If you're allergic to peanuts, make the slaw with almond butter instead — just as good!
Snack!
Quinoa salad! I love keeping grain and bean salads in the fridge for an available nibble whenever I feel like it. This one has roasted eggplant and sesame seeds. Sure, they're aren't your typical "snacks" that can be eaten with one hand and no fork, but just try it and you'll see.