Carne Asada Tacos: How to Grill Like a Mexican, Part 1
Carne Asada Tacos Video (scroll down for printable recipe card)
One thing that our friend Carlos and I can always always talk about is food. We both love to eat and cook and learn about food, all kinds of food, from all around the world. Carlos is also a seasoned grill-master and pretty much always brings something to put on the grill whenever he comes over. It was one of those lazy days last summer that the idea to make a video series called How to Grill like a Mexican was born. This is the first of the series, wherein he makes carne asada tacos with all — for real, ALL — of the trimmings.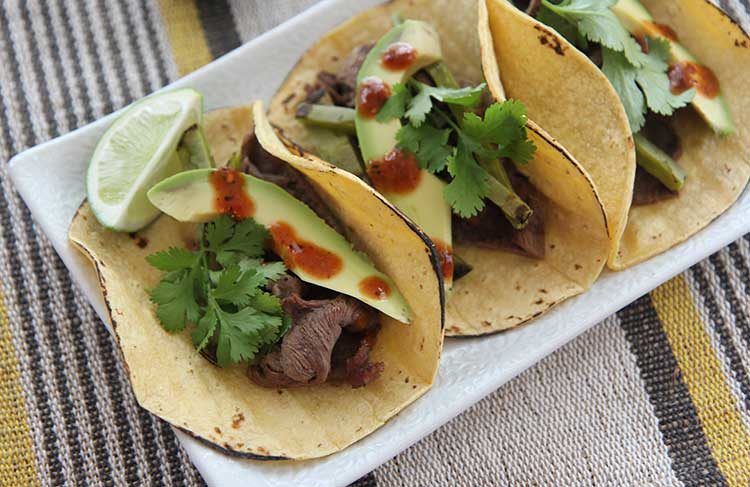 Carne asada translates to grilled meat, and it couldn't be simpler than that. Thinly sliced flank steak is marinated quickly then put on a very hot grill for all of three minutes. Add some grilled cactus, peppers and onions, and you have yourself a complete, balanced meal in hardly any time at all.
I mean, come on! Doesn't this look yummy-as-hell?!
Make some fluffy Mexican rice and charro beans to go with this meal if you like! I sure do.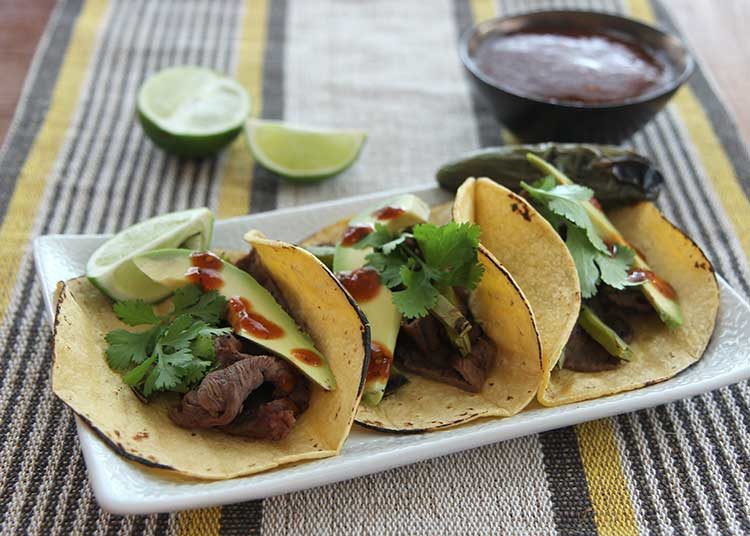 Carne Asada Recipe – Printable!
Print
Carne Asada
Author:
Prep Time:

1 hour

Cook Time:

30 mins

Total Time:

1 hour 30 minutes

Yield:

8

servings

1

x
2

pounds very thinly cut flank steak (may be labeled as carne asada)
Marinade:

12 ounces

beer

1

small onion, sliced

1/4 cup

lime juice

1/4 cup

minced garlic

1/4 cup

Worcestershire sauce

1 teaspoon

salt

1 teaspoon

chili powder

1/2 teaspoon

black pepper
Choose some or all:
Bulb onions, 2-3 bunches
Jalapeños, 6-12
Anaheim or poblano peppers, 2-3
Nopales (cactus paddles, de-spined), 3-4

1

pound Mexican chorizo links, butterflied
For Quesadillas:
Corn tortillas
Chihuahua cheese
For serving:
Salsa, tortillas, cilantro, avocado
Instructions
Put the meat in a large bowl with the marinade ingredients and mix all together. Cover and let marinate at room temperature for about one hour. In the meantime, get your charcoal started.
Once the charcoal is ready and your grill is very hot (about 450ºF) arrange the vegetables and the chorizo, placing the chorizo skin-side down. Cover and open the vents. Grill for about 10 minutes or until the chorizo are cooked on the bottom and the vegetables are getting soft. Turn everything.
Cover and grill another 5-7 minutes until the vegetables are cooked and the chorizo is brown and crispy. Peppers should be pretty well blackened and nopales turn olive green.
Keep those warm in a low oven (200ºF) while you grill the meat.
Cover the grill again and let it reheat to about 450ºF.
Lay the carne asada out in single layers, grilling for a minute or two on each side until brown with nice grill marks. You will have to do two batches. Keep warm in the oven while you make quesadillas.
Let the grill cool off to around 300-350º to cook the quesadillas and heat tortillas for tacos.
Make tacos! Slice the carne asada against the grain, slice nopales and peppers, and chop the chorizo. Serve with salsa and roasted jalapenos and bulb onions on the side.
 For more recipes by Carlos, check out these videos:
Choripanes (grilled sausage sandwiches)
Patatas Bravas (fried potatoes in spicy sauce)
Guacamole-filled Vegetarian Enchiladas (Enchiladas Bandera)
Ponche Navideño (Mexican Christmas Punch)
The salsa we used was this creamy Hatch chile sauce recipe of mine, but I made it with two roasted serrano chiles instead of Hatch. The red salsa was from the store and sadly I don not know how to make it.