Chipotle-Roasted Artichoke Hearts
I saw something about roasted jarred, marinated artichoke hearts as an appetizer and it gave me the idea to marinate my own damn artichoke hearts and roast them. And then I made quesadillas out of them and then I married the quesadillas and nobody ever saw me again. The End.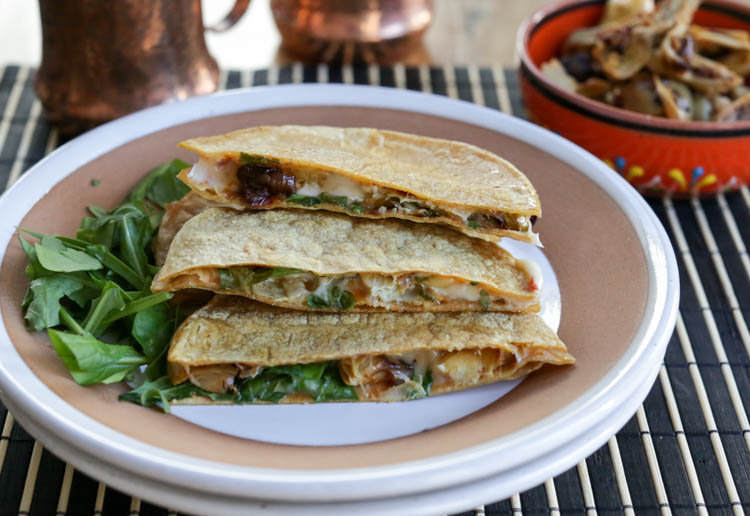 Just kidding.
It's not over.
For my version of roasted artichoke hearts, I start with a 12-ounce bag of frozen hearts. (Did you know?! You can buy them frozen! Little miracles of modern science.)
You thaw 'em, you marinate 'em, you put 'em in a hot oven for a while and the artichokes get toasted and a little crispy and all the flavors concentrate down and you'll want to eat the whole thing of 'em all by yourself.
Next time you have a party and want a light, unusual appetizer, make these chipotle-roasted artichoke hearts and just toss them out in a bowl with some toothpicks. They'll be gone in two seconds.
But if you want to go the quesadilla route, as I've been doing, then you just need some tortillas and some cheese after that. Maybe some spinach for color? That's really all it's there for. And consider serving them with salsa verde for dipping. You'll be very happy.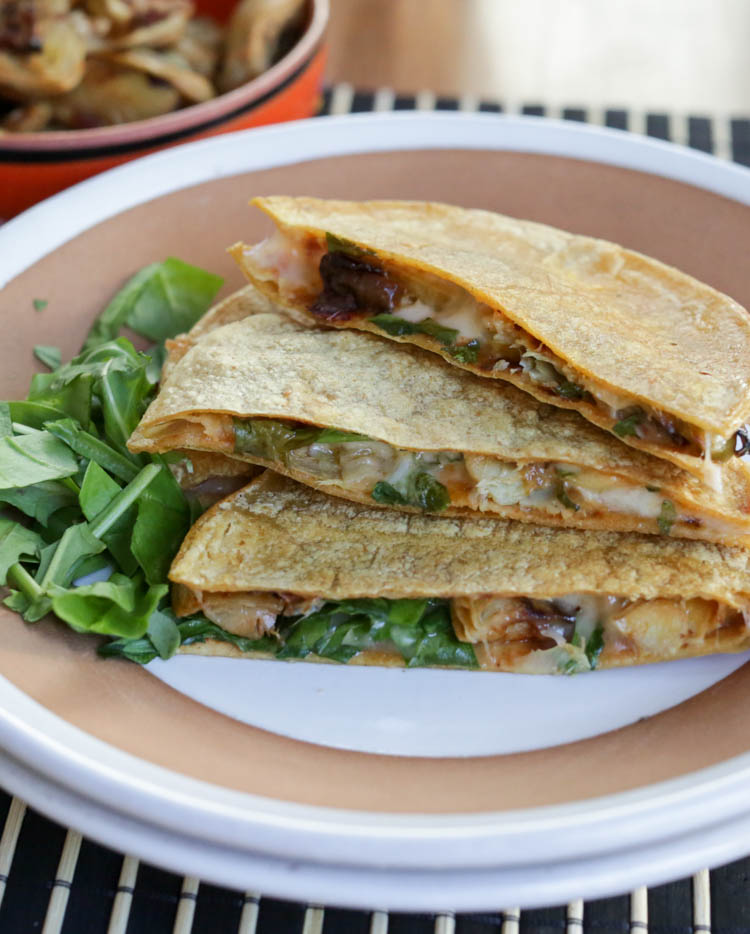 You might also like:
Shrimp and Sweet Potato Quesadillas
Chicken Pot Pie Quesadillas (Super easy!)
Print
Roasted Artichoke Quesadillas
Author:
Yield:

4

servings

1

x
12 ounces frozen artichoke heart quarters, thawed
2 tablespoons lemon or lime juice
2 tablespoons olive oil
2 cloves garlic, minced
1 tablespoon minced chipotle en adobo, divided
1/2 teaspoon salt
8 corn tortillas
1 cup grated pepper jack or Manchego cheese
Optional: small handful fresh spinach, chopped
Salsa verde for serving
Instructions
Combine thawed artichoke hearts with lemon juice, oil, garlic, 2 teaspoons of the minced chipotle, and salt. Toss together well.  Marinate up to two days, refrigerated, but at least 30 minutes.
Set oven to 450ºF. Spread artichokes into shallow baking pan and roast for about 30-40 minutes, stirring once or twice. They should be a bit dried and beginning to crisp at the edges. Remove from oven and coarsely chop. Mix in remaining 1 teaspoon chipotle.
Assemble quesadillas: tortilla, 2 tablespoons cheese, 1/4 of the artichokes (and spinach) 2 more tablespoons cheese, tortilla.
Transfer to a griddle over medium-low heat and cook until cheese is beginning to melt. Carefully turn and cook another 2 minutes or so until all the cheese is melted and tortillas are crisp.
Cut into quarters and serve with salsa verde
Nutrition
Serving Size:

1 quesadilla

Calories:

304

Fat:

17

Carbohydrates:

31

Protein:

18