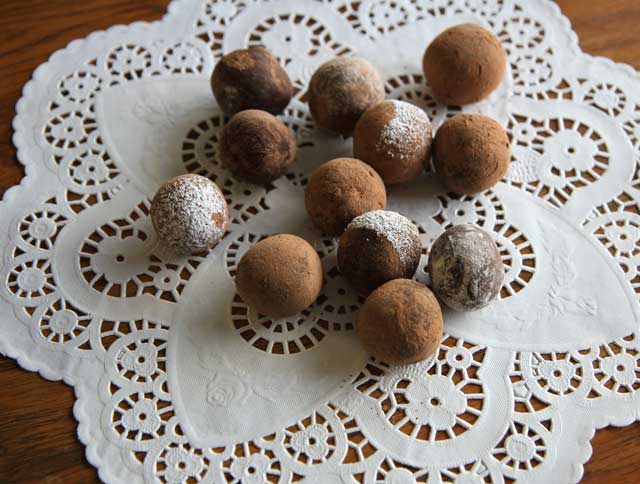 The first (and maybe only?) candy I ever learned how to make was this chocolate truffles recipe. Chocolate truffles are probably the EASIEST CANDY EVER. Seriously there are three ingredients and you don't need a thermometer or even very good fine motor skills. I guess you do need a refrigerator and a few hours, but hey, I never said they were fast. Just easy.
You can't have it both ways, guys.
BUTT … (hehee I said "butt" in the Valentine's Day post! I'm so naughty!) but, the thing that I think is superkewl about these is how they are named after the truffle fungus, the things that piggies dig up? In France? Know what I mean? That's probably a stupid thing to latch on to, but I do think it's neat, especially since it means you don't have to mess with tempering chocolate and all that mess (I've said before, I am not a wizard) and instead you can just roll them in cocoa and it's SYMBOLIC, you guys.
Symbolic of dirt, but who cares?! Symbolism is dope.
Chocolate Truffles Video How-To
Chocolate Truffles Recipe
Print
Chocolate Truffles
Author:
Prep Time:

4 mins

Total Time:

4 minutes

Yield:

2

8

1

x
12 ounces

(

2 cups

) chocolate chips

1 1/4 cups

heavy cream

1/2 cup

cocoa powder
Optional flavorings for truffle centers:

1 tablespoon

orange zest

1

–

2

drops peppermint, cinnamon, or rose oil

1/2 cup

minced glacé or dried fruit (cherries, citron, ginger)

1 teaspoon

rum or bourbon
Optional flavorings for coating:

1/2 teaspoon

cinnamon

1/4 teaspoon

cayenne

1/4 teaspoon

salt

1/2

powdered sugar instead of cocoa

1 cup

minced nuts instead of cocoa (pistachios, almonds)

1 cup

shredded coconut instead of cocoa
Instructions
Place the chocolate in a large bowl. Use a larger bowl than you think you need.
Heat the cream in a small pot over medium heat for about 5 minutes, or until steaming and just almost simmering.
Pour the hot cream over the chocolate and let sit 30 seconds. Then stir gently with a rubber spatula.
Continue to mix until the chocolate is fully melted and incorporated. This may take several minutes. If for some reason you are interrupted, you can reheat the mix gently by putting over a double boiler briefly.
Once smooth, add any optional flavorings you are using and allow the chocolate to come to room temperature. Stir occasionally (every 5 minutes or so) until the bowl no longer feels warm.
Refrigerate until solid, 3-4 hours.
Scoop tablespoons of the chocolate out and roll between palms to form rough balls. Place on wax-paper-lined plate and refrigerate again to firm up, about an hour.
Get your coatings arranged in small plates and roll the ganache balls in flavored cocoa or whatever you're using. Once coated, it will be easier to roll them into more perfect balls if you like them like that.
Store up to 4 weeks in the refrigerator, covered. Allow to come to room temperature before serving for best flavor.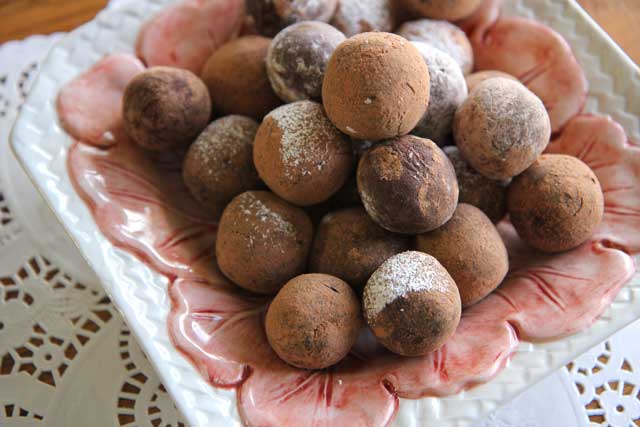 You can also watch the chocolate truffles recipe video on YouTube!
More Valentine's Day Ideas
Vegetarian Valentine's Day Meal (one of our VERY early episodes. It's weird.)
Strawberry Shortcake!
Sexy Surf and Turf (steak with fried oysters)
How to Steam a Lobster (And how to shell it!)
Flourless Chocolate Cakes (gluten-free mini fudge cakes. yum!)