Oh man, this week's been a blur-and-a-half! I shared a little about what we've been up to lately earlier in the week (meals to make when you're in a hurry sure saved my ass!) and next week is going to be even crazier. We start filming our pilot on Monday and will be working 12+ hour days all week, barely seeing our child and eating way too much take-out on set. So, to prepare for that, I'm making a few dishes today that we can reheat and eat all week for quick sustenance when we're exhausted. Salsa chicken fits the bill!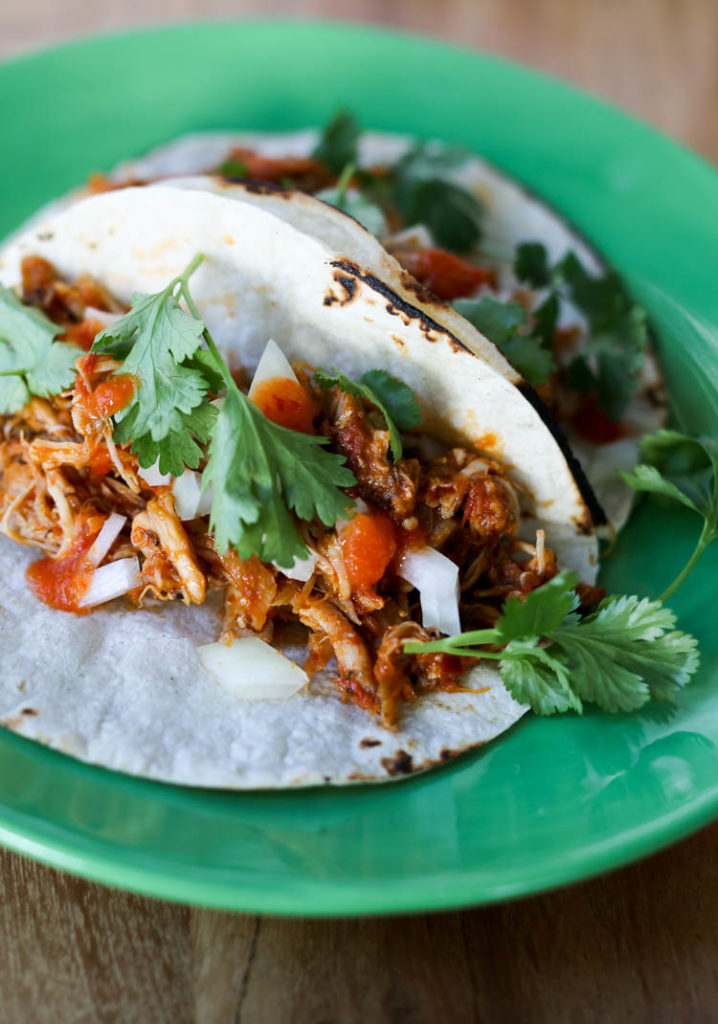 This is not an original idea — salsa chicken recipes abound online — but I make mine with homemade tomato salsa and I do it in a big pot instead of a slow cooker so I can get some crispy bits. But it's still super simple and you'll love it in tacos, burritos, on nachos, or taco salad. Double the recipe to feed more; I'm still just cooking for two and a half over here so this amount will make two meals for us.
I've also made a pot of black beans and a batch of puerco verde, in case you're curious 😉 Follow Texicali films on Instagram or FaceBook for behind-the-scenes pictures of our shoot next week!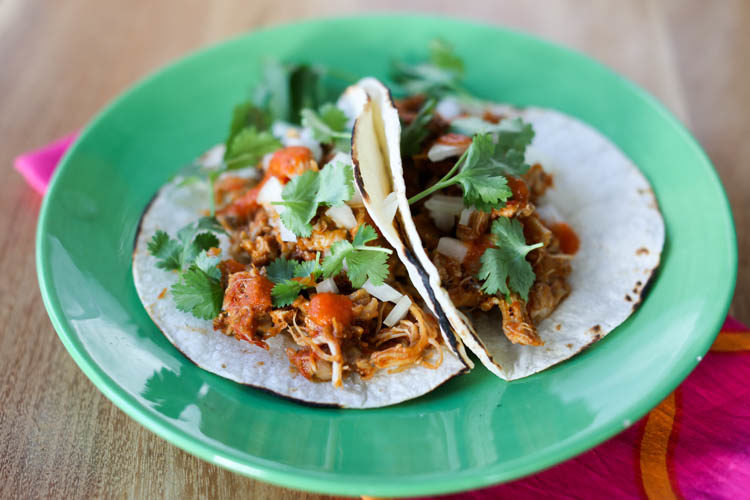 Print
Salsa Chicken
1 teaspoon cooking oil
1.5 pounds boneless, skinless chicken thighs
2 large Roma tomatoes
1–2 jalapeños, to taste
2 cloves garlic
1/2 teaspoon salt
1/2 cup water
2 tablespoons ketchup (don't judge me!)
1/2 teaspoon dried oregano
1/2 teaspoon pepper
Instructions
Heat oil in a deep pot or Dutch oven over medium-high heat until shimmery. Place chicken in a single layer and let it begin to brown for several minutes.
Meanwhile, coarsely chop the tomatoes, jalapeño and garlic and put into a small pot with salt and water. Cover and bring to boil. Boil 3-4 minutes until soft. Turn off heat and add ketchup, oregano and pepper. Blend to puree. Be careful when blending hot liquids and be sure to hold the lid of the blender down with a towel over it.
Once chicken is browned on one side, flip it and add the salsa and cover. Bring to simmer  and simmer 25-30 minutes until tender. Shred chicken in the pot. I use a pair of tongs to squeeze it apart. Increase heat to high and fry the meat until the salsa thickens and the chicken gets some crispy bits.