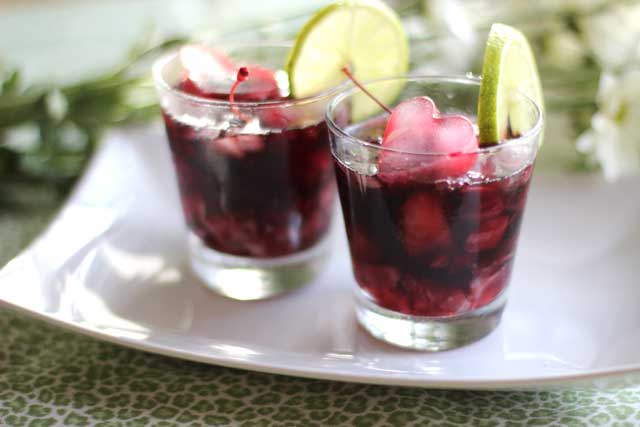 If you're looking for a special cocktail to get your lover in the mood … well, this one might do it. Vodka cherry limeade is easy drinkin' with the added benefits of all the off-color "cherry" jokes you could make. You know, about sex and other romantic stuff for Valentine's Day. Which is tomorrow. Did you remember? Well, fret not either way. If you forgot  — somehow — you can easily grab all the ingredients for this simple cocktail just about anywhere that sells booze and mixers. If you remembered, and are going to be alone and wallowing in sorrow, then this drink is probably a good idea for you, too.
Plus it has antioxidants to keep your libido from oxidizing and rusting out.

Vodka Cherry Limeade Recipe – Printable
Print
Vodka Cherry Limeade
6

parts vodka (

3 ounces

for two drinks)

6

parts black cherry juice (

3 ounces

for two drinks)

3

parts lime juice (

1 1/2 ounces

for two drinks)

2

parts sweetened lime juice such as Rose's (

1 ounce

for two drinks)
Club soda
lime wedges and Maraschino cherries to garnish
Instructions
Combine all drink ingredients except club soda in a shaker with ice.
Shake to combine.
Strain into chilled 8-ounce glasses filled with ice and top with club soda.
Garnish
For a non-alcoholic version, try my cherry lemonade recipe!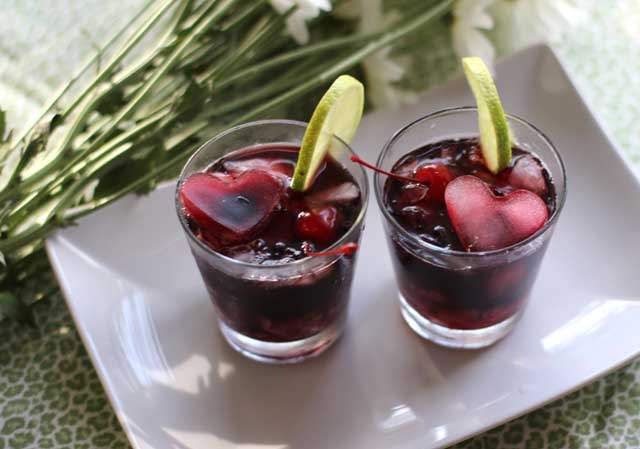 More Valentine's Day Ideas
Vegetarian Valentine's Day Meal (one of our VERY early episodes. It's weird.)
Strawberry Shortcake!
Sexy Surf and Turf (steak with fried oysters)
How to Steam a Lobster (And how to shell it!)
Flourless Chocolate Cakes (gluten-free mini fudge cakes. yum!)