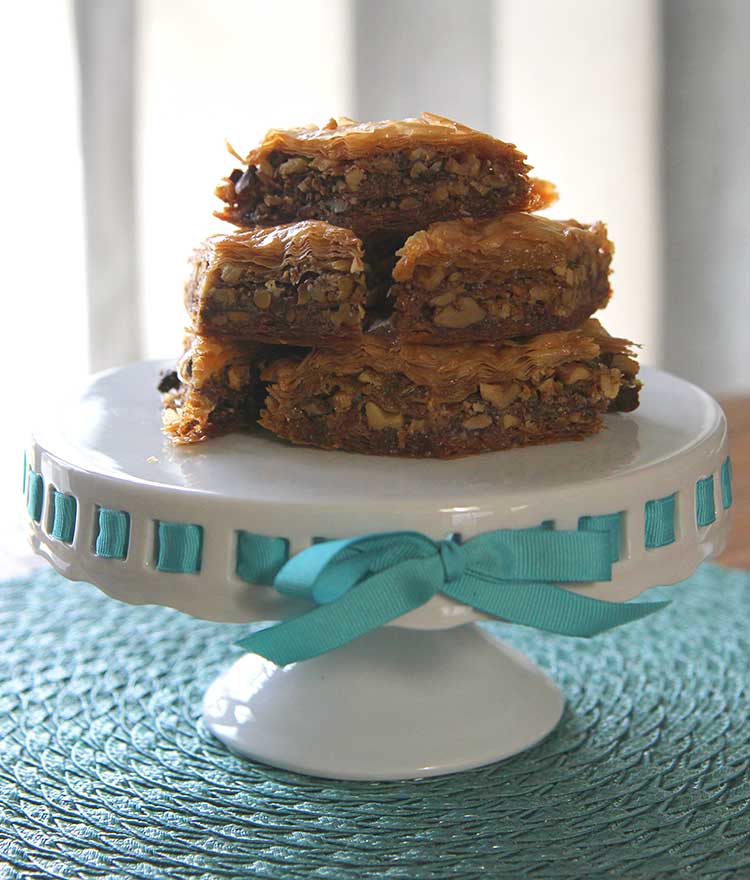 Baklava is a dessert as old as time, to use the phrase loosely. Originating from Turkey probably in the 15th century but perhaps earlier, this layered pastry has now spread throughout the Balkans and Middle East: Serbia, Bulgaria, Jordan, Lebanon, Afghanistan, Syria, Georgia, Greece.
The recipe varies slightly from country to country and region to region. All have in common thin pastry layers, nuts, and a sweet syrup. Depending on where you find it, the filling can be made from walnuts, almonds, pistachios, hazelnuts (even pecans if you're in Texas). It can be a combination of nuts, or all one type.
The pastry is called filo dough (also spelled phyllo or fillo) and means "leaf" in Greek. It is a wheat dough rolled impossibly thin; so thin it's almost translucent. I've read that in Greece, baklava is made during Easter with 33 layers of filo to represent the 33 years of Christ's life; I've also read that 40 layers are used, I guess just because 40 is a recurring number in the bible. I make mine with neither 33 nor 40 layers. I just make it as many layers as I make.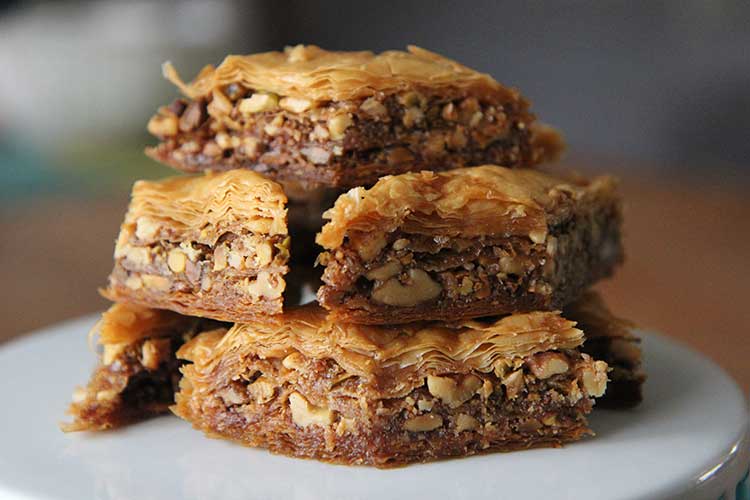 Baklava Tips
In my recipe, I use a combination of walnuts and pistachios but feel free to experiment with yours. Just be sure to use unsalted nuts, and preferably raw (though if you wanted to toast them a little first I'm sure that would be delicious). I've tried recipes using pure honey, heated until thin, as the syrup, but those to me turn out too sticky to be easy to eat. And if there's one thing I need, it's for my sweet snacks to be easy as hell to get into my mouth!
Flavor your syrup with just the lemon rind or add a few drops of rose or orange flower water for a Persian-style baklava. You can also make this with olive oil instead of melted butter, or use half and half, but I like the sweetness that butter adds.
Making the baklava in a larger pan and doubling the recipe is no more work, either, so if you have a crowd to feed, I recommend that. For just the two of us here, a big pan of baklava is way more than we need so I just make small 8×8 inch batches.
More Baklava
As I mentioned, there are many ways to make baklava but I found this recipe for Balkan Bosnian baklava over at Aida's Balkan Lunchbox site that looks particularly good. It uses walnuts and a lemon-infused syrup. I love that combination. Her recipe also makes a large batch so if you are making baklava for a crowd, try it out!
How to make Baklava Video – scroll down for printable recipe
Baklava Recipe – Printable!
Print
Baklava
Author:
Cook Time:

2 hours

Total Time:

2 hours

Yield:

1

6

1

x
1/2

pound walnuts, almonds or pistachios, or a combination

6 tablespoons

sugar

1 teaspoon

cinnamon

1/2 teaspoon

lemon zest

1/2

pound phyllo dough, thawed

1/2 cup

(

1/4

pound) melted butter
Syrup:

1 cup

water

6 tablespoons

sugar (

1/4 cup

+

2 tablespoons

)

1

T lemon juice

2

" strip lemon rind or orange rind

6 tablespoons

honey
Instructions
Set oven to 325F and line a 8×8 inch pan with parchment paper and brush with butter
Grind or chop the nuts. Be sure to use raw, unsalted nuts. Combine nuts with sugar, cinnamon and lemon zest in a bowl.
Lay 2 phyllo pastry sheets in the bottom, brush with butter, lay 2 more sheets, butter, 2 sheets, butter (8 sheets of phyllo total).
Sprinkle with a third of the filling.
Lay 2 more sheets phyllo on top and brush with butter.
Continue layering filling with 2 sheets of phyllo and butter until filling is used up.
Layer the top with 2 sheets/butter as in the first layer until phyllo is used up.
Brush top with butter.
Use a short sharp knife to cut the baklava into small diamond shapes. Cutting before cooking is necessary because once it's cooked, you won't be able to cut it without crushing the delicate crispy layers.
Bake for 30 minutes, then reduce heat to 300F and bake another 45-60 minutes until golden and puffed.
During the last 15-30 minutes of baking, make the syrup:
Combine syrup ingredients – except honey – in a medium pot and stir to dissolve.
Heat over medium-high until boiling.
Reduce heat to medium and simmer 15 minutes uncovered.
Add honey and simmer another 5 minutes. Remove from heat and remove rinds.
Pour hot syrup over hot baklava then let cool to room temperature, then refrigerate.
Notes
Recipe may be doubled and baked in an 11×7 inch or 13×9 inch pan instead.
QUICK CHILL: for an 8×8″ pan, get a very large bowl with an opening about 13″ across. Fill almost to the top with cold water and ice. Set the pan on top, so that the bottom is just touching the cold water. Baklava will be cooled within 10-15 minutes.
Nutrition
Serving Size:

1 piece

Calories:

239

Fat:

15

Carbohydrates:

25
More Easter Recipes
Fruit Tart
Roasted Asparagus
Spring Pea Salad
Jalapeño Deviled Eggs
How to Boil Eggs
Egg Salad