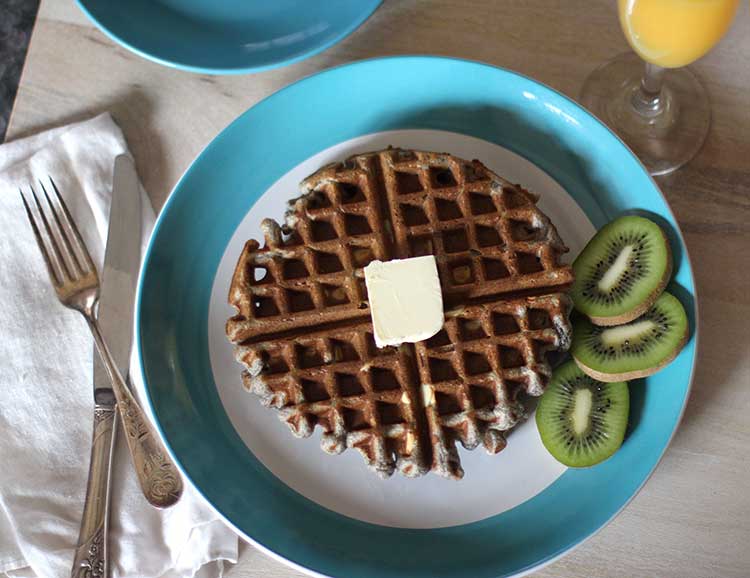 Though both of my parents were a smidge too young to really be hippies in the Woodstock-and-Vietnam-protest-sign sense, they adopted many hippie behaviors and interests: gardening and smoking doobs, eating whole grains and not eating sugar, for it is the Devil. (My dad focused mainly on the first two, my mom the latter activities.)
I have them to thank for growing up and knowing what is tofu, what is buckwheat, and why a bong must be called a "water pipe" in public spaces. While he'd still eat pretty much anything put in front of him, my father preferred more traditional food like chili, cornbread, brownies and ice cream than did my mom, or maybe my mom just put a higher value on exposing us young'uns to "weird shit" while we were still impressionable, lest we grown up to be the kind of picky adults that are not very fun to cook for.
Buckwheat was one of the grains she'd make use of occasionally, either in porridge form or pancake form. This was the early 80's and at that time, I think Sun Harvest was the only local health food store that had all those wacky non-wheat flours available in bulk bins. Sometimes she'd buy blue cornmeal, too, and we'd have blue cornmeal Johnny Cakes for breakfast. Johnny Cakes were one of my favorites and I liked them even better with that unusual blue-gray color that isn't generally considered appetizing, but to kids who've never been allowed to eat Fruity Pebbles, blue-gray is a magnificent wonder of nature.
Thinking about that, and in keeping with my efforts to eat a little better, drink a little less, yoga a little more, and be a little (or a lot) healthier than I was in 2013, I made these buckwheat waffles for breakfast yesterday to ring in the New Year. I almost never make waffles because waffles always seem like a pain in the ass. Maybe because pulling out a separate appliance to make breakfast seems extravagant; maybe because most waffle recipes use lavish amounts of butter and butter is not cheap.  But really they're no more difficult than pancakes when you get down to it so let us get down to it.
Print
Buckwheat Waffles
Author:
Prep Time:

5 mins

Cook Time:

5 mins

Total Time:

10 minutes

Yield:

4

waffles

1

x
1/2 cup

all purpose flour

1/4 cup

plus 2 tablespoons buckwheat flour

2 teaspoons

sugar

1 1/2 teaspoons

baking powder

1/4 teaspoon

salt

3/4 cup

buttermilk or kefir

1/4 cup

melted butter

1

egg

1/2 teaspoon

vanilla extract

1/4 cup

sliced almonds (or chopped pecans)
Instructions
Whisk dry ingredients together in a medium bowl. Whisk milk, butter, egg and vanilla together in another bowl.
Add wet ingredients to dry and mix quickly to combine.
Preheat a waffle iron.
Pour 1/4 cup of batter in the center of the iron and sprinkle with a tablespoon of the nuts.
Close the iron and cook 2-3 minutes or until the iron opens easily.
Serve with maple syrup or honey or whatever the hell ya want. It's your waffle; Live with it.
Nutrition
Serving Size:

1

Calories:

276

Fat:

16

Carbohydrates:

26

Protein:

7