Picnics.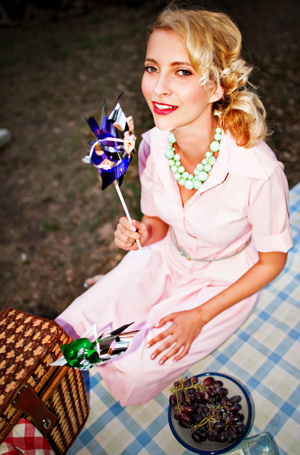 Isn't the very idea of a picnic just ROMANTIC AS HELL?? You know, in your mind, the picnic happens on a grassy knoll under a 200-year-old oak tree; a perfectly pointy blue-gray mountain range on one side and a huge crystal lake on the other (don't worry; Jason is a thousand miles away in our scenario) the sun is shining and there's a light breeze that blows your hair "just so" to delicately frame your face in the most BEAUTIFUL HAIR-DO EVERRRRRR.
But seriously, folks. Let's get our heads out of those perfectly rounded clouds that hug the tips of the mountains like marshmallow halos. In reality (I'm talking actual reality — IRL?) it's rarely so well-designed. It's often slightly too hot, or slightly too cool, or slightly too wet, or the ground is littered with glass shards or the tree is full of hornets.
Suddenly, you kinda just wanna get the fuggouttathere.
To speed your escape, I think it's a good idea to plan on bringing only foods that can be eaten out of hand with no utensils or plates needed (unless you count your lap as a plate and in that case, you're my hero). Goes for drinks, too. Cold beers fit the bill, but maybe you're more into wine. Fortunately, you can actually buy decent "personal wine boxes"
which fit perfectly in purses and pockets and aren't just great for picnics but also make any drudgery-filled obligation that requires sitting in one place a long time (think: your friend's play, your friend's performance art piece, an office meeting) a whole lot better. And here's a super-cute insulated picnic basket
I found on Amazon, too. I don't have one, I just want one. It's got a lifetime warranty, ferpetessake!
But about that food.
Here's the most finger-friendly bites I could come up with, excluding the obvious-yet-perfect menu of cheese chunks, meat chunks, olives and crackers.
Sandwiches, dude. When in doubt, make a damn sandwich.
Also, fried stuff is good for picnics…
Some Fried Apple Pies? These stay remarkably delicious even several hours after cooking. And as a bonus, you can bake them instead of frying thus avoiding the dreaded "FRY SMELL" that lingers everafter frying stuff in the kitchen. Just place formed pies on a baking sheet and cook at 425 F for 10-15 minutes. (BIG thanks to Shane for telling me how to do that in the comments section!)
Picnic Fried Chicken! There's a reason fried chicken is seen at family reunion potlucks all over the ding-dang old country and that reason – actually two reasons – is that it's easy as hell to make and tastes great hot, cold, or at room temperature. The best way to pack it for serving cool is to allow it to cool on a rack at room temperature, then move into a container that's been lined with a cloth and a paper towel. Cover the chicken with another paper towel and wrap the cloth over it. Great presentation and the paper and cloth absorb any steam that might make the chicken soggy.
…but you want to avoid a coronary on the promenade:
I also want to share this comprehensive post about picnic spots in Austin from my friend Kathryn at AustinGastronomist.com. Not only are there reviews and photos of picnic spots in town, she also offers several picnic menus.
Shoot. I really want to take my ass out on a picnic now, dudes! I hope you're feeling as inspired. Leave your favorite picnic spots, ideas and recipes below!