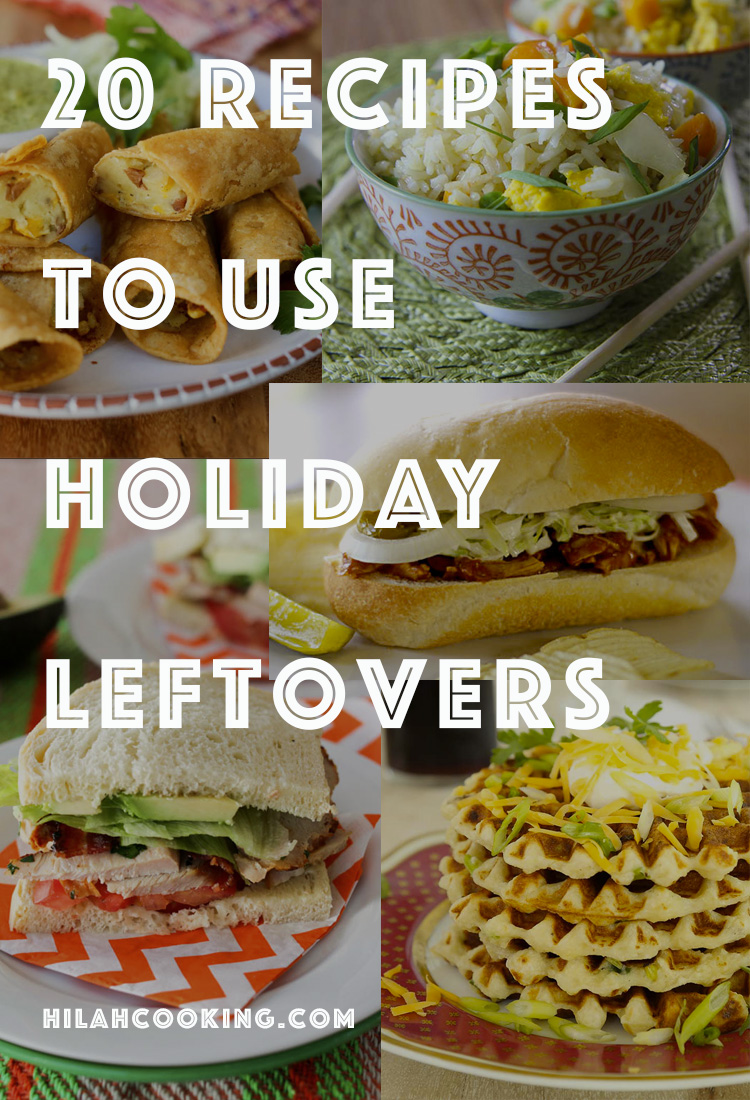 At this time of year, I obviously mean Thanksgiving leftover recipes, but these recipes are good to keep in mind after any big meal with lots of leftovers. I've grouped these by type of leftover: leftover turkey, leftover ham, leftover rolls, leftover mashed potatoes (arguably the BEST leftover to have to "deal" with) and leftover miscellaneous vegetable side dishes. Hope that's clear enough for ya! 😉 Watch the video on YouTube!!!
Leftover Turkey Recipes
Pot Pie Use leftover turkey in place of chicken in this chicken pot pie recipe
Turkey BLT Sandwiches These are what my grandmother always made after Thanksgiving
Enchiladas Verde Shred leftover turkey and make enchiladas with a spicy, tart salsa verde
Tortilla Soup The spicy, fresh flavors of this soup are a great change of pace from the heaviness of usual fall recipes
BBQ Sandwiches Shred leftover turkey and mix with a quick, homemade barbecue sauce to make easy sandwiches
Leftover Ham Recipes
Fried Rice You'll need some leftover rice to make this, too, but it's so good and quick it would be worth it to cook a pot of long grain rice just to have leftovers.
Ham and Cheese Waffles These ham and cheese yeasted waffles are perfect for people who like a savory breakfast. Make the batter the night before and have it ready to plop into the waffle iron first thing in the morning.
Crepes Leftover ham is delicious inside a warm crepe with some Swiss or Gruyere cheese
Eggs Benedict Slap some slices of your ham on a toasted English muffin and top with a poached egg and some homemade Hollandaise
Red Beans and Rice A ham bone or some dried-out ends are a delicious addition to red beans and rice
Monte Cristo Sandwich Basically a fancy grilled ham and cheese. These are a good thing to serve with leftover cranberry sauce
Leftover Bread Recipes
The best thing about extra bread is that is can be frozen nearly indefinitely then thawed out and it's basically good as new. But if you've got some leftover bread that's already gone stale, try these recipes to give your bread or rolls new life.
Crostini Use leftover French bread, baguettes or even a sourdough loaf to make crostini. Double-up on your leftovers and top them with melted cheese and turkey or ham
French Toast Stale sweet breads like brioche, challah, and Hawaiian rolls make excellent French toast, but so does French bread and sourdough!
Tiny sandwiches Warm up leftover rolls and spread generously with mayonnaise and a little mango chutney. Stuff with leftover ham or turkey.
I also save old stale bread heels in the freezer until I get a bag full, then toast in the oven to dry them a little and grind up to make bread crumbs which I also store in the freezer until I need them!
Leftover Mashed Potato Recipes
Mashed potato waffles are the reason to intentionally make too much mashed potatoes
Shepherd's Pie If you're tired of turkey, make a shepherd's pie with ground beef or lamb and top it with your leftover potatoes
Potato Taquitos Fill corn tortillas with leftover mashed potatoes and fry. Serve with salsa or sour cream, or both!
Leftover Vegetable Recipes
Leftover cranberry sauce: spread a thin layer on your turkey sandwich, or on a grilled cheese made with sharp Cheddar. Also good for dipping a Monte Cristo sandwich
Leftover stuffing or dressing can be turned into stuffin'muffins! Add an egg (and maybe some cheese or other leftovers like green beans, turkey) to your leftover dressing and spoon into greased muffin tins. Bake at 350ºF for about 20 minutes until nice and hot and toasty.
Leftover green bean casserole can be added to just about any kind of stew or soup (like this vegetable beef stew)
Leftover sweet potato sweet potato casserole can be added to milkshakes or smoothies, or mix in a couple spoonfuls to a basic pancake recipe for easy sweet potato pancakes.
Leftover roasted vegetables like broccoli, cauliflower or Brussels sprouts can be added to a pasta bake or tossed with vinaigrette and added to a big salad topped with toasted nuts!